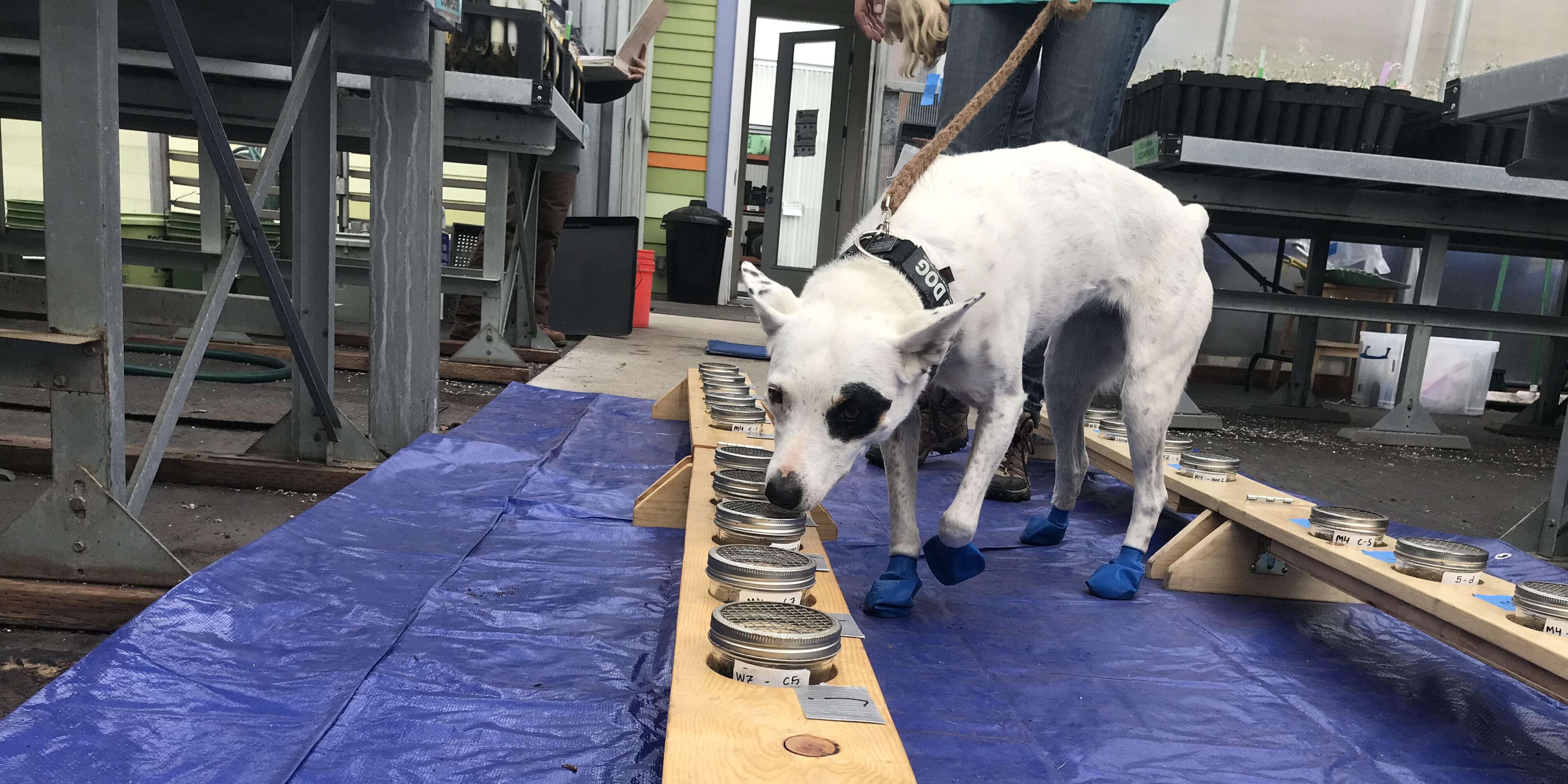 Phytophthora-sniffing dog at work in the Presidio Nursery.
Martine Glaros / Parks Conservancy
Our native plant nurseries, a cooperative effort of the Parks Conservancy, National Park Service, and Presidio Trust, grow thousands of plants for park sites throughout the Golden Gate National Recreation Area. These indigenous plants support native wildlife and restoration efforts in the parks, playing a vital part in the local ecosystem.
There is a season for everything and this is especially true in the nurseries. Every year, from March-October, depending on how many high-risk factors are present, Parks Conservancy staff in the nurseries begin the process of testing for pathogens. Around 5%-15% of the thousands of plants grown in the nursery are tested in this months-long, labor-intensive process.
"We monitor for many pathogens including Pythium and Diaporthe, and we take lots of steps to mitigate their spread into the nursery," said Martine Glaros, Seed Collector and Nursery Assistant with the Parks Conservancy. "However, Phytophthora is considered the most destructive of the species that we have the potential to harbor, and the only pathogen we conduct thorough, systemic testing for."
In 2020, researchers at UC Berkeley published findings that dogs had been able to sniff out Phytophthora, a microscopic plant pathogen that can be devastating to plants and entire ecosystems, with a 100% detection rate in a series of trials and blind tests.
Phytophthora is a microscopic plant pathogen that can be devastating to plants and entire ecosystems. For testing to take place, the temperature has to be 65 degrees Fahrenheit for three days, as its zoospores are more likely to be active then.
"Currently, it takes one and a half hours for one person to test 50-500 plants, depending on the pot size—larger pots take longer to test," said Glaros. Through this hard work, staff are able to successfully prevent the spread of Phytophthora into the nurseries.
In October 2021, working with UC Berkeley researchers and a dog trainer, the Presidio nursery hosted Phytophthora-sniffing dogs for an on-site training inside the nursery's greenhouse. It was their first time in a working environment, and they'll likely continue to return for more trainings, said Glaros, adding that she hopes the relationship continues to expand.
The dogs, who are still in training, did not sniff any nursery plants, they only worked with known samples that were brought in and set up in the greenhouse. They have already returned to the nursery to continue to test their skills in the setting!
Nurturing thousands of native plants and trees is a group effort, necessitating a robust and sustainable system of care. That includes dedicated staff and, when it's safe, trained volunteers. In the future, that group may just include a few good dogs.
February 16, 2022