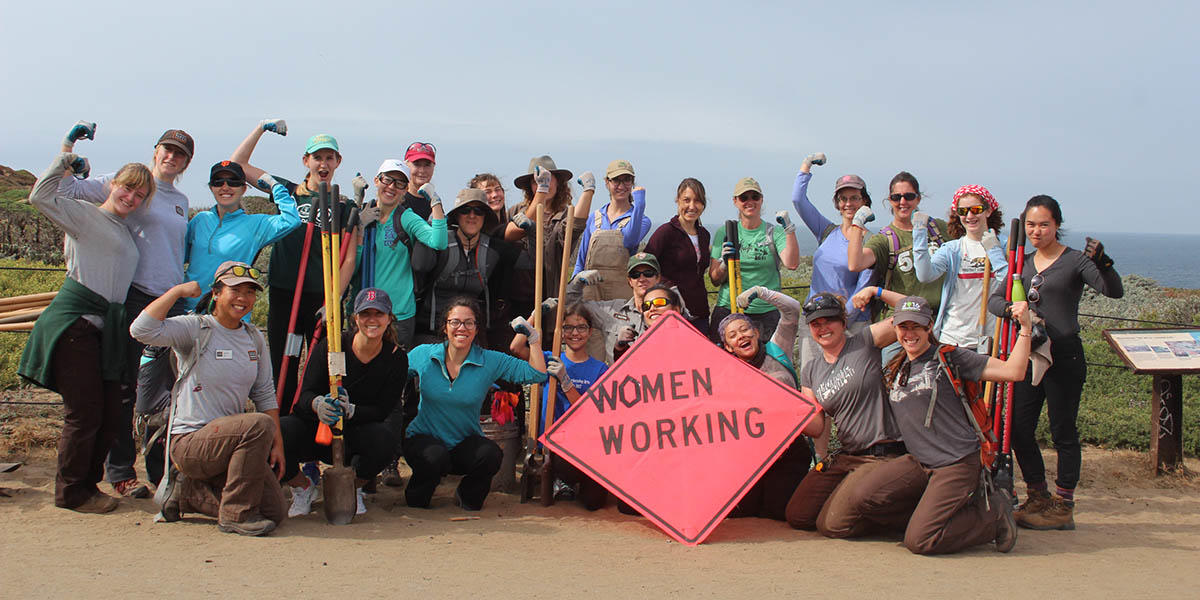 Women's Trail Day volunteers at a past event in the Golden Gate National Parks.
Jaimie Baxter / Parks Conservancy
By Elizabeth Aldenderfer
Park Stewardship Trail Program Intern
At a staff meeting for the Parks Conservancy's Park Stewardship team, then-intern Mirella Ramos brought up the idea: "Why don't we have an all-women's trail day, where we invite all self-identifying women to come work with us on the trail crew?" Since then, I have participated in two Women's Trail Days, each as affirming as the last. My favorite part is watching how people transform, just as it happened to me: each and every person blooming before my eyes.
What is it about an all-women, volunteer workday that makes us feel important, of value, and special? In the #MeToo movement era, women are committed to making a space for ourselves and to come together as a community. In 2016, 37.2 percent of the National Park Service (NPS) workforce were female-identifying. Across all industries, women still earned only 79 percent of what men earned in wages in 2014. These are only a couple reasons why we're hosting Women's Trail Days: to change the face of national parks and the national workforce. These programs are built to motivate each other to stand out against the mainstream, to work alongside others in solidarity, and to have a day to symbolically affirm our strength as women.
At my first event, I led a pair of women in installation of a fence post, an empowering opportunity I hope others can experience. The first step was to carry a heavy, dense fence post a hundred yards through the sand. The two women were skeptical at first, but determined and happy to take on the challenge. With each new task we completed, both their faces lit up a bit more, and they became more comfortable with the demanding work. By the end, I could practically feel the happiness and pride they were experiencing. They expressed how gratifying the work was, how powerful the environment felt, how they would take that feeling into their own lives.
After we paired up for work, another volunteer spoke about her pre-teen daughter, who had insisted they volunteer that day. "She didn't want to be my work partner," she said with an amused smile. "She loves this kind of stuff and didn't want me to hold her back." Indeed, her daughter was blazing through the work with an enthusiasm many of us could only hope to match.
This is what Women's Trail Day means to me. A camaraderie among women, gender non-conforming, and non-binary folks who have historically been left out of the conversation. No matter where you come from or your age, interests, or background—whether it's your first time or your 50th—you will be surrounded by a connected, supportive atmosphere amplified by that group of strong women.
Feeling revved up? Join us at the next Women's Trail Day on Saturday, March 9, just a day after International Women's Day! Register online here.
March 6, 2019