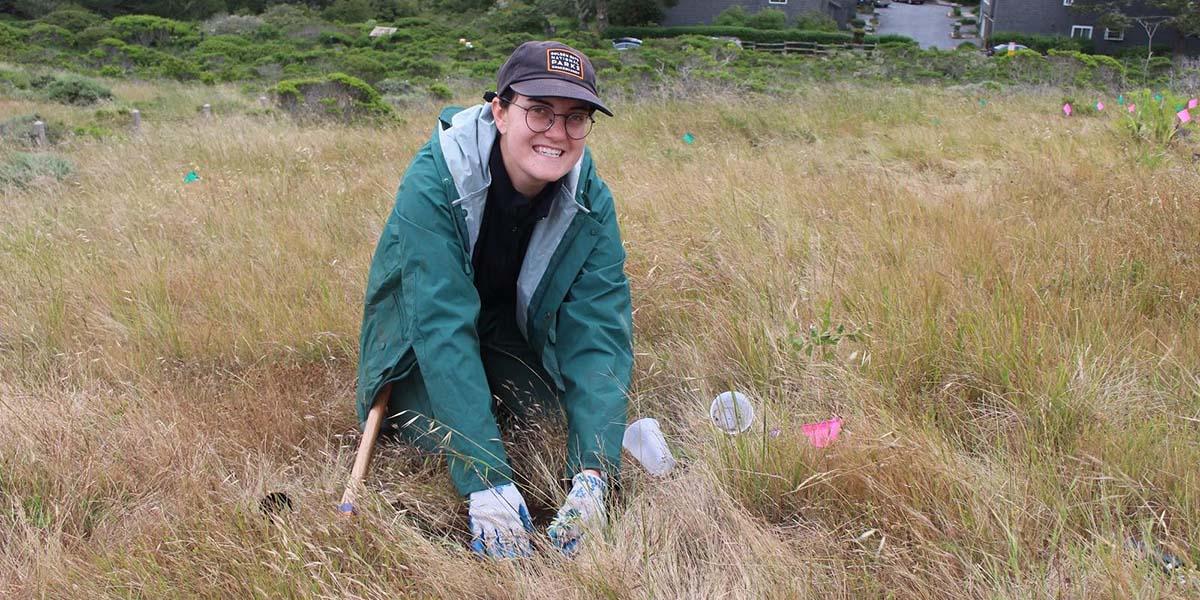 Park Stewardship San Mateo intern Laurasia Holzman Smith.
Courtesy Laurasia Holzman Smith
By Laurasia Holzman Smith
San Mateo Park Stewardship Intern
As my internship with San Mateo Park Stewardship comes to a close, I feel an immense sense of community, gratitude, and hope. Growing up in San Mateo, I found myself exploring parks like Mori Point and Milagra Ridge, but I never could have expected to understand the ecology of the plants and wildlife that reside there so intimately. These parks, including Rancho Corral de Tierra, have shown me what it means to be resilient and persevere in the face of challenges and change.
Working at Mori Point, I learned about the unique history of the land, participated in a direct seeding project in winter, which brought a stunning bloom of wildflowers to the point in spring. I restored habitat for the threatened California red-legged frog and endangered San Francisco garter snake, watched humpback whales spout not too far from shore, collected thousands of seeds from plants that will be brought back to our nursery and propagated for planting this coming winter, and helped maintain trails to allow visitors smoother accessibility. 
My time spent at Milagra Ridge focused on restoring and preserving habitat for the endangered Mission blue butterfly. This was one of the most rewarding experiences of my internship, as I dedicated a great deal of time and energy to ensuring that silver and summer lupine, host plants of the Mission blue, were planted properly and with all necessary resources like sterilized soil, water polymers, and plenty of water. After planting these species with fellow interns, co-workers, and volunteers for 4-5 months, I was able to participate in the relocation of the Mission blue from San Bruno Mountain to Milagra Ridge. I felt all the hard work paid off when I placed a female butterfly on a one-year-old lupine plant at Milagra and watched it lay 13 eggs! What a special day, moment, and feeling! I feel so fortunate to have witnessed and been a part of the whole process.
Lastly, Rancho Corral de Tierra, a hidden gem of the Golden Gate National Recreation Area, allowed me to see the direct effects of habitat restoration in a given area. Although 4,000 acres in total, our park stewardship team focused on only five acres in Rancho, on a very special hillside. This hillside is home to the rare and endangered Hickman's potentilla, a flowering herb with five yellow heart-shaped petals. In order to allow the population of Hickman's potentilla at Rancho to expand, we have been working towards maintaining a biodiverse landscape on the hill, with different grass and forb species. Just a few years ago that very hillside was essentially covered in a single species, Harding grass, and after two years of working to control it, with the help of volunteers and park staff, we are starting to see a positive change in the habitat. Because of a lack of disturbance and plentiful resources, the soil at Rancho is highly productive and plants grow big and fast—sometimes taller than us! This year, we planted over 3,000 plants at Rancho and they are already starting to grow quite tall. I look forward to visiting the hillside each year to witness how it continues to change and grow as a biodiverse home for wildlife and plants alike.
 
Leaving these parks, this community, and these plants and wildlife is not easy, but knowing that my next steps will allow me the same opportunity to grow keeps me excited and hopeful. I will be continuing on a path of restoration working as a restoration technician for the Redwood Creek Vegetation Team with the Parks Conservancy. I am eager to immerse myself in a new habitat with new plants and wildlife that I am sure to learn a great deal from. I feel grateful to my supervisors and co-workers for the opportunity to participate in such a wide cast of environmental experiences, I feel grateful to the volunteers who came out week after week and made such a positive difference in the habitat and in my life, and I feel grateful to the parks I worked in every day for allowing me to feel at home in every moment. 
September 3, 2019