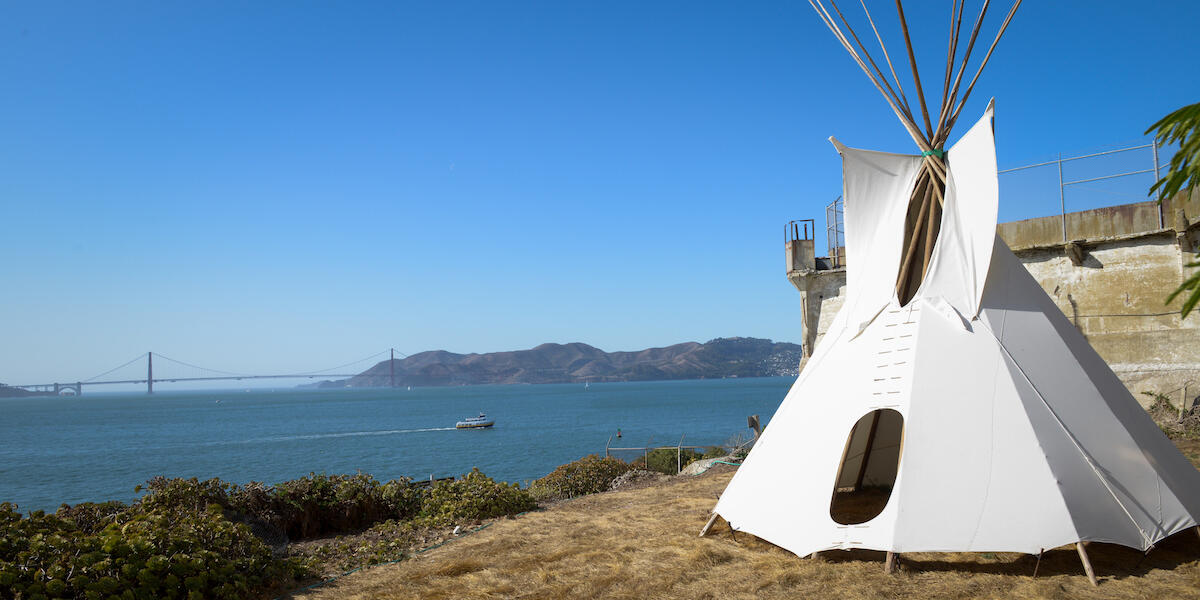 Tipi commemorating the 50th Anniversary of the Alcatraz Occupation
Ryan Curran White/Parks Conservancy
Join us in commemorating the on-going 50th anniversary of the occupation of Alcatraz by the Indians of All Tribes.
Indigenous Women played a key role in organizing and maintaining the occupation of Alcatraz Island (1969-1971) yet their story is often overlooked. This panel of indigenous women, moderated by original occupier Dr. La Nada War Jack, explores the role of women in the indigenous rights movement from the occupation to present indigenous struggles.
Saturday, August 8 at 11:00 am PST, please join the National Park Service and the San Francisco Public Library will host a a one-hour panel followed by a 30-minute Q & A with our panelists.

Please join us hear the stories of these remarkable women who continue to work for indigenous resistance and survival (in alphabetical order):
LaNada War Jack is UC Berkeley under graduate; MPA and DA, Idaho State University. She was the Chair of the UC Berkeley Native students when we took Alcatraz Island in 1969 and Executive Committee, Steering Committee of the Native American Rights Fund. She is the author of "Native Resistance: An Intergenerational Fight for Survival and Life" available at drwarjack.com.
Jonny BearCub, was 18 years old when Alcatraz became a catalyst to shape her future. Living among visionaries for 13 months nurtured a passion for public service, education, and cultural revitalization. Currently semi-retired, she works with buffalo and renewable energy development and is a recovering lawyer.
Geneva Seaboy is a 68 yrs young retired social worker. She was among the first occupiers of the November 20, 1969 Alcatraz island takeover. 
Morning Star Gali (Ajumawi band of Pit River). Morning Star is the project director of Restoring Justice for Indigenous Peoples (www.indigenousjustice.org). She is also the Tribal Water Organizer for Save CA Salmon and serves as the California Tribal & Community Liaison for the International Indian Treaty Council. https://return2heart.org/fellowship/
----
This event is part of the 2nd Saturday, Cultural Programs taking place on Alcatraz for the next 19 months in commemoration of the All Tribes Occupation on Alcatraz in 1969. 
San Francisco,
CA
94133
,
Event Type
Past Event Dates
Sat, 08/08/2020

11:00AM

-

12:30PM