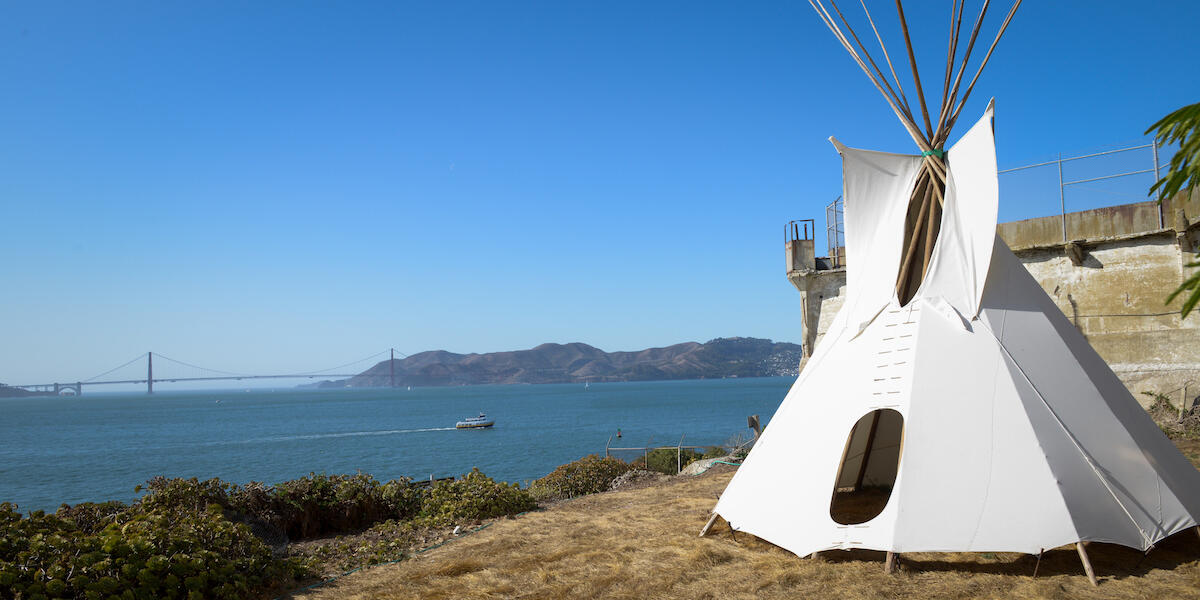 Tipi commemorating the 50th Anniversary of the Alcatraz Occupation
Ryan Curran White/Parks Conservancy
The island is closed right now, but you can still join us in commemorating the on-going 50th anniversary of the occupation of Alcatraz by the Indians of All Tribes.
Saturday, July 11 at 11:00 am PST, the SF Public Library and the National Park Service will host a virtual cultural event moderated by former occupier Kris Longoria and featuring the artists and academics whose work is displayed in the special exhibition on Alcatraz: "Red Power on Alcatraz: Perspectives 50 Years Later."
Join us for a one-hour panel followed by a 30-minute Q & A with our panelists (in alphabetical order):
Kent Blansett, Ph.D. is the Langston Hughes Associate Professor of Indigenous Studies and History at The University of Kansas and author of "A Journey to Freedom: Richard Oakes, Alcatraz, and the Red Power Movement."
Ilka Hartmann is a Bay Area photographer whose work on civil rights movements including the occupation of Alcatraz has been shown in exhibitions, periodicals, and publications around the world. You can see her work at ilkahartmann.com.
Kris Longoria is a Bay Area artist and poet known by the tag UrbanRezLife. Part of her childhood was spent on Alcatraz with her sisters and mother during the occupation.
Stephen Shames was a friend of Richard Oakes invited to photograph on the island at the start of the occupation. For over 50 years, he has used his photography to raise awareness of social issues, with a particular focus on child poverty, solutions to child poverty, and race. You can see his work at stephenshames.com.
Brooks Townes is a veteran saltwater sailor & journalist retired in the Pacific Northwest. He was a member of the Sausalito Navy, a group of private boat owners that transported the original occupiers to Alcatraz under the cover of darkness and through a US Coast Guard blockade of the island.
San Francisco,
CA
94133
,
Event Type
Audience Type
Past Event Dates
Sat, 07/11/2020

11:00AM

-

12:30PM