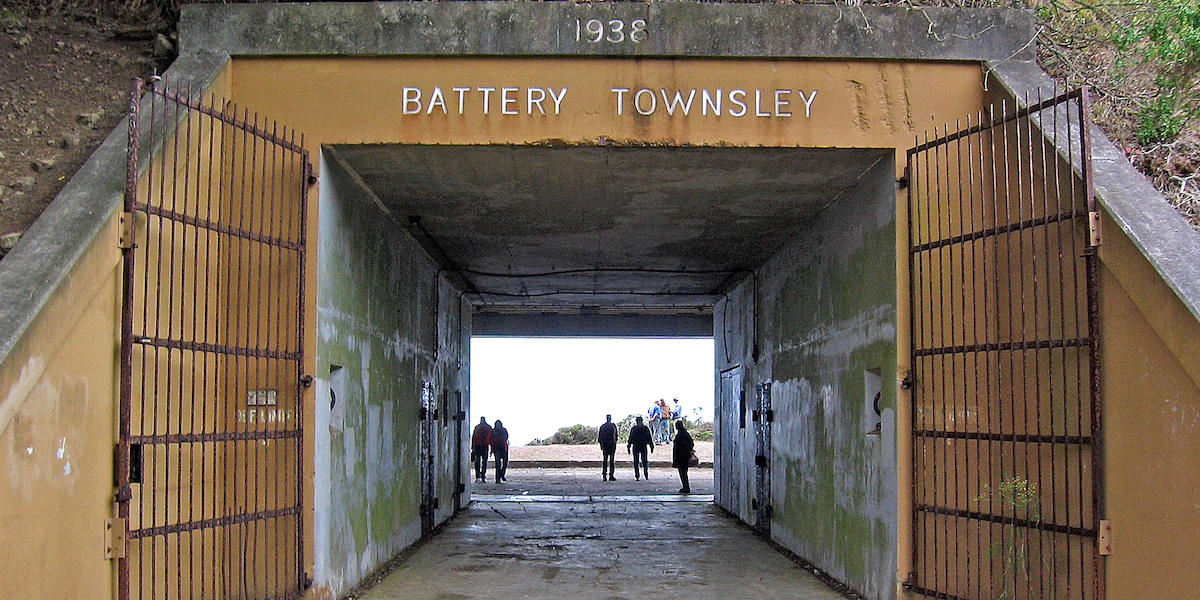 Battery Townsley in the Marin Headlands
Al Greening/National Park Service
Open the first Sunday of every month (12pm - 4pm).
Tours are given periodically throughout these open house hours
Battery Townsley, at Fort Cronkhite, was San Francisco's most extensive—and most secret—World War II military fortification.
From 1940 to 1948, it mounted two massive battleship guns and housed more than 100 soldiers in an extensive network of underground tunnels; during the Cold War, it was used as an underground research facility.

Long closed to public access, Battery Townsley has been refurbished thanks to volunteer labor and community contributions and is now ready for tours. The public is invited to visit and explore this labyrinthine fortification!
In fall 2012, the park brought to this site a 16-inch gun, from the USS Missouri. The gun, identical to the one that was once mounted at Battery Townsley, helps tell the story of the coastal defense system that later gave rise to these parklands. Learn more about this new addition.
Battery Townsley is reached via a moderately strenuous hike up the Coastal Trail, approximately one-half-mile north of the Rodeo Beach parking lot.

For more information, and further assistance to the site, please call (415) 331-1540.

Battery Townsley lighting and restoration is funded in part by a generous bequest gift from the estate of Charles F. Wofford. The Parks Conservancy is also grateful to Sam (a longtime volunteer at the coastal fortifications) and Ailene Stokes, for their generosity in underwriting restoration efforts at Battery Townsley.
Event Type
For More Information
Past Event Dates
Sun, 12/03/2023

12:00PM

-

4:00PM
Sun, 11/05/2023

12:00PM

-

4:00PM
Sun, 10/01/2023

12:00PM

-

4:00PM
Sun, 09/03/2023

12:00PM

-

4:00PM
Sun, 08/06/2023

12:00PM

-

4:00PM
Sun, 07/02/2023

12:00PM

-

4:00PM
Sun, 06/04/2023

12:00PM

-

4:00PM
Sun, 05/07/2023

12:00PM

-

4:00PM