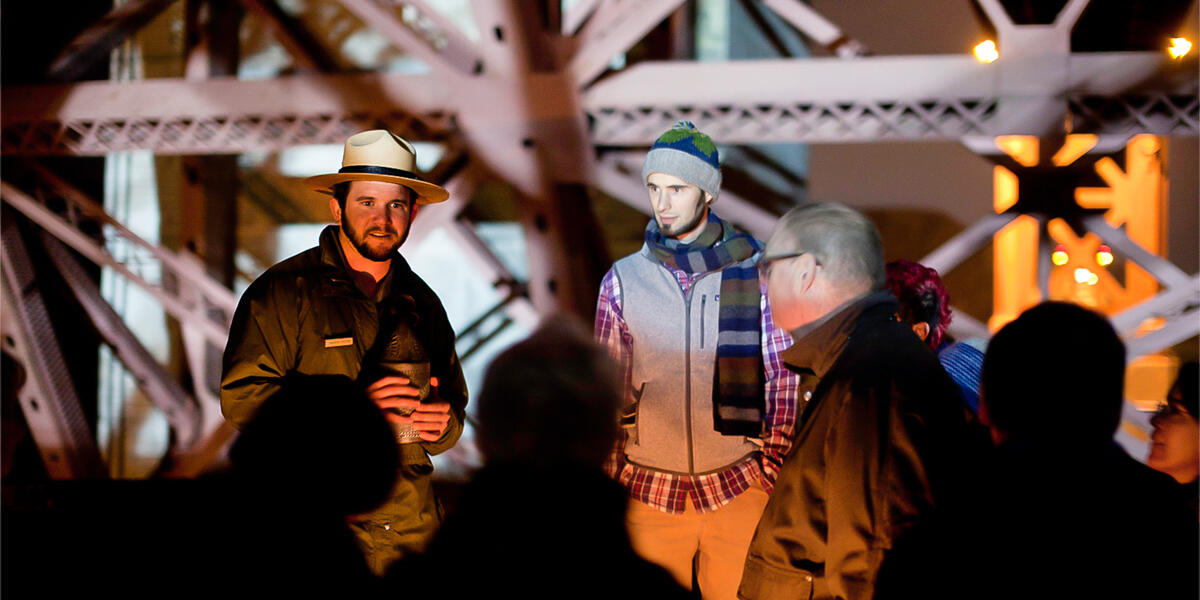 Fort Point Candlelight Tour
Scott Sawyer / NPS
The Candlelight Tour is a seasonal tour only offered from November-February.
The Candlelight Tour of Fort Point is a popular guided program that allows visitors to experience the fort in a new light. This evening tour will maze through the shadows of the historic structure by candlelight and visitors will see the glimmering lights of the Golden Gate Bridge towering up above them. Upon arrival, a park ranger will check-in guests and provide visitors with a lantern. A ranger will lead this 90-minute excursion and interpret the history and the life that once existed within the old brick walls of Fort Point.
The Candlelight Tour explores all four level of the fort including the roof (approximately 76 steps). Visitors will be invited to engage in dialogue as they learn about the fascinating and sometimes complex history of the fort, its role in San Francisco history, and its cultural relevance today. Recommended age for this tour is 12 years and up.
Visitors with reservations will begin their tour when the fort is otherwise inaccessible to the public. 
This tour is in addition to regular programming at Fort Point NHS. It requires extensive planning, scheduling and preparation. America the Beautiful National Park Passes will not be accepted for admission to this special program. We thank the public for their support and continued interest.
San Francisco,
CA
94129
,
Event Type
Adult (18+) $20 Youth (10-17) $12
Past Event Dates
Sat, 02/25/2023

6:30PM

-

8:00PM
Sat, 02/18/2023

6:30PM

-

8:00PM
Sat, 02/11/2023

6:30PM

-

8:00PM
Sat, 02/04/2023

6:30PM

-

8:00PM
Sat, 01/28/2023

6:30PM

-

8:00PM
Sat, 01/21/2023

6:30PM

-

8:00PM
Sat, 01/14/2023

6:30PM

-

8:00PM
Sat, 01/07/2023

6:30PM

-

8:00PM
Sat, 12/31/2022

6:30PM

-

8:00PM
Sat, 12/24/2022

6:30PM

-

8:00PM