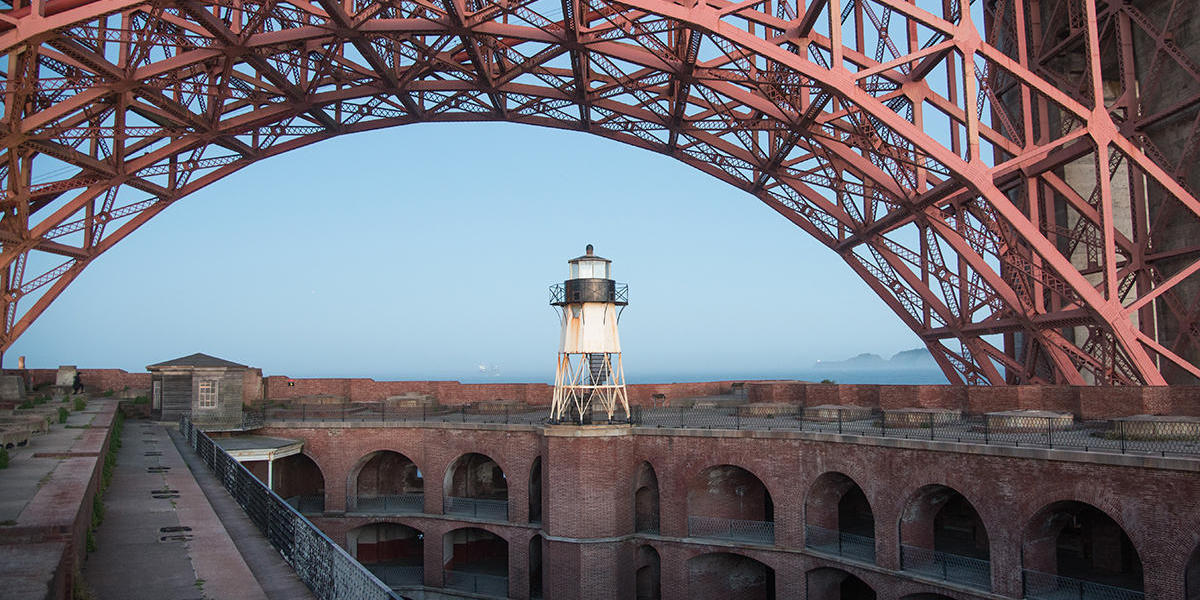 Fort Point National Historic Site
Frank Morse/National Park Service
This event is free and open to the public.

On Saturday, February 9, 10 a.m.-5 p.m., Italian artists duo TTOZOI are bringing their project, GENIUS LOCI, to Fort Point National History Site in partnership with San Francisco's Museo Italo Americano. Stop by and see the artmaking process, meet the artists, and learn about Fort Point's history.
GENIUS LOCI is a project created by Stefano Forgione and Giuseppe Rossi, who work under the pseudonym TTOZOI. The concept stems from the idea of creating works of art in situ at select historic sites, using the original technique of the natural proliferation of molds on jute, with pictorial intervention by the artists. The Latin term genius loci refers to the "spirit" of a place, something TTOZOI seeks to capture in their artworks. They first prepare the canvases with flour and water, then store them on site for a period of time, allowing the natural process of mold to interact with the canvas. This process produces works of art that are able to absorb the "soul" of the historical sites.

GENIUS LOCI was developed under the patronage of Italy's Ministry of Cultural Heritage, Activities and Tourism, and has taken place at two of Italy's UNESCO World Heritage sites and other historic locations: The Royal Palace of Caserta, the Archeological Park of Pompeii, and Rome's ancient Jewish Ghetto. This is their first site outside of Italy. 

To learn more about the artists and their current exhibition at Museo Italo Americano, please visit their website at www.MuseoItaloAmericano.org.
Parking and Public Transportation
There is limited parking at Fort Point. Additional parking is available near the Warming Hut, a ten minute walk from the Fort.
MUNI 28 bus or PresidiGo (Crissy Field Route): Get off at Golden Gate Bridge stop. Walk fifteen minutes, following trail signs northeast of the plaza to Fort Point at the base of the bluffs. The PresidiGo also stops at Crissy Field at Mason St and Crissy Field Ave, a fifteen minute walk to Fort Point.
Past Event Dates
Sat, 02/09/2019 10:00AM

-

Sun, 02/10/2019 4:55PM