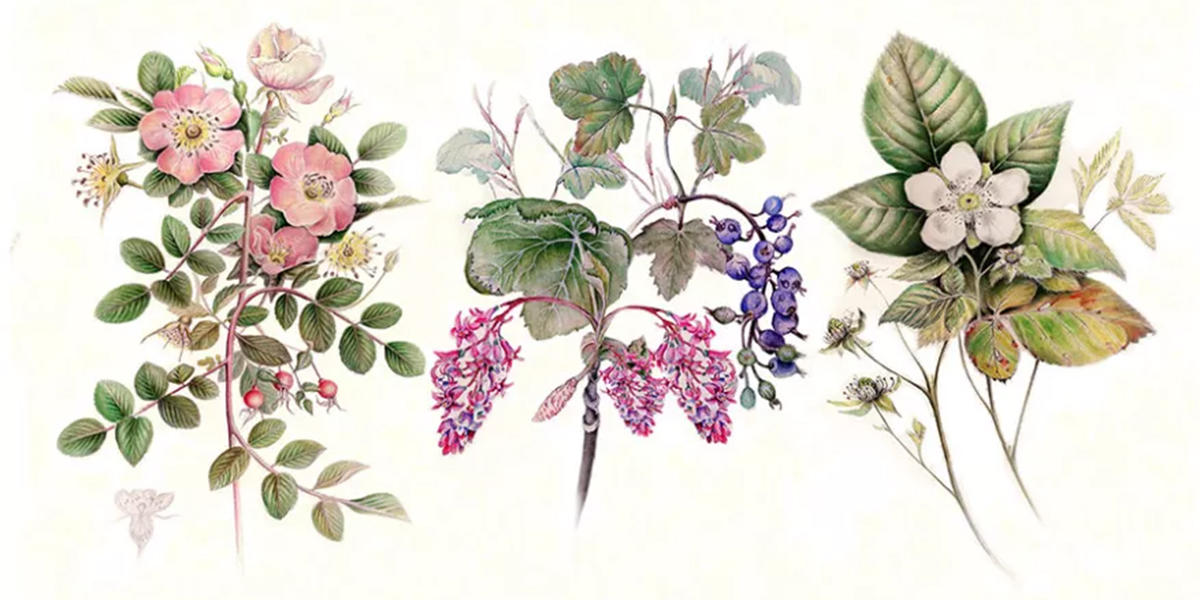 Botanical paintings of Wild Rose (Rosa californica), Pink Currant (Ribes sanguineum), Wild Blackberry (Rubus ursinus)
Claudia Stevens
Join Botanical Illustrator Claudia Stevens and the Nature Journal Club for a 1.5-hour workshop.  Through step by step demonstrations, you will learn foundation techniques and skills to carry into their next level of your art.  Bringing art to science: observation, attention to detail and plant structure, measurement, recording data, and accuracy.  Learn how to layer watercolor pencils and incorporate them into a watercolor painting. All made easy and fun with composing, layering transparent hues, and dry brush are examples of techniques covered.
Bring:
All ages and experience levels are welcome.  $20 suggested donation.
Note: We'll be meeting at our alternate location for this session: Presidio 989 (our space down by the Warming Hut). 
For a google map to the meeting location, click here >>
Please note: Park Academy classes are meant as a special perk for volunteers, members, and employees. If you do not work for the Golden Gate National Parks, are not a member, or have not volunteered with us in the past year, a donation is encouraged. Volunteer or become a member today!
Past Event Dates
Tue, 07/09/2019 12:30PM

-

Wed, 07/10/2019 1:55PM