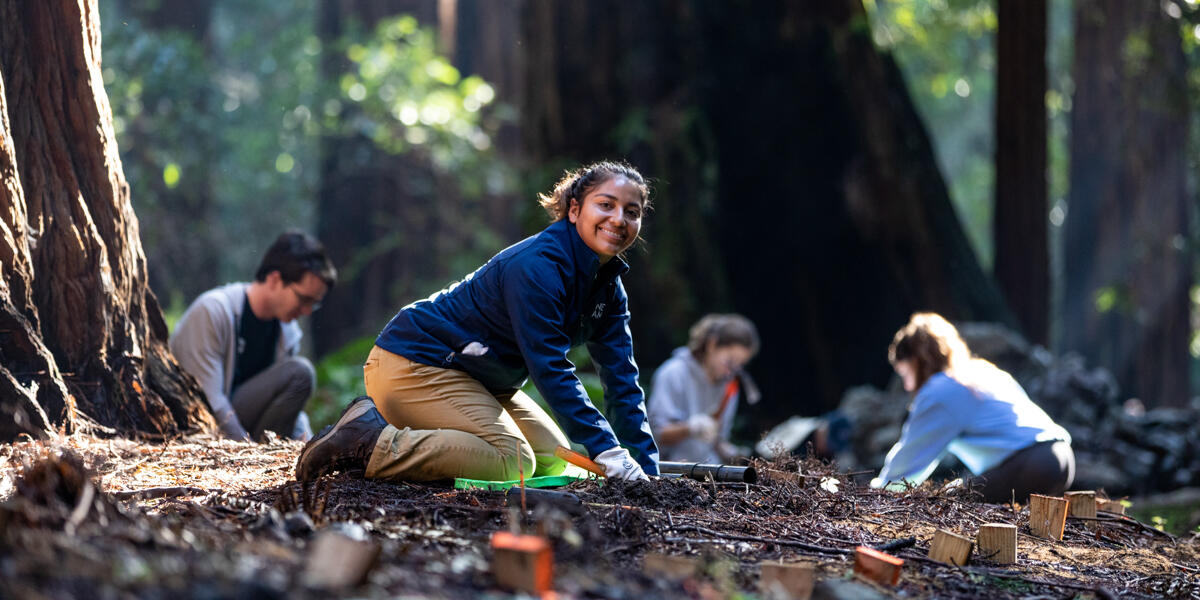 A volunteer pauses to smile for the camera during the Hands on Tam workday at Muir Woods.
Paul Myers / Parks Conservancy
For over 30 years, the park has celebrated Earth Day in Muir Woods with the support of countless volunteers. Traditionally, this workday has been held in winter since it is the perfect time to care for vegetation and perform maintenance in the woods. However, this year we are thrilled to be celebrating the occasion in April!

Join us at Muir Woods on April 24th and experience the majesty of the redwoods while lending a hand. Projects will range from habitat restoration to boardwalk care. Registration Required. 
 
Gully Stuffing: Help heal the landscape and slow the flow! Water is a precious resource, especially for Redwood Trees and Coho salmon. Volunteers in this project will install large branches and sticks into eroding gullies on the valley floor, allowing for more water to be retained in the Woods.
Deck Flossing: Help us prolong the life of the Muir Woods Boardwalk! We will be removing dirt, duff, and debris from between the spaces of the redwood deck boards, a process known as "deck flossing"! This is a fun family-friendly volunteer project, volunteers of all ages are welcome.
Weeding project: Give weeds the boot! Help remove invasive forget-me-nots and veldt grass from an important stream in the little visited Conlon Creek area of Muir Woods. This small valley is critical habitat to salmon and northern spotted owls!
All projects will range from 0.5 - 2 miles of walking, sometimes off-trail, and involve using small hand tools. We'll provide more details and assign projects upon arrival.
Parking passes will be provided and entrance fees waived for volunteers. Please register and more information will be sent closer to the event.

Check out the Redwood Renewal page for more information related to ongoing projects in Muir Woods. Carpooling, biking, hiking, or taking the Muir Woods shuttle is highly encouraged.

Do not count on having cell reception to call a shared ride. Cell reception is spotty to nonexistent.
AGE, SKILLS, WHAT TO BRING:
Volunteers of all ages 8 and up are welcome. Youth under the age of 15 should be joined by a parent or guardian. Volunteers under the age of 18 must have the parent/guardian approval section signed.

Wear clothes that can get dirty. Long pants and closed-toe shoes are required. Bring layers for changing weather and rain gear if necessary.

Bring a personal water bottle and sunscreen.

No experience necessary. Training and tools will be provided. Fulfills community service requirements.
The Golden Gate National Parks Volunteer Program is a cooperative parkwide effort of the Golden Gate National Parks Conservancy, the National Park Service, and the Presidio Trust.
Past Event Dates
Sun, 04/24/2022

8:30AM

-

12:00PM