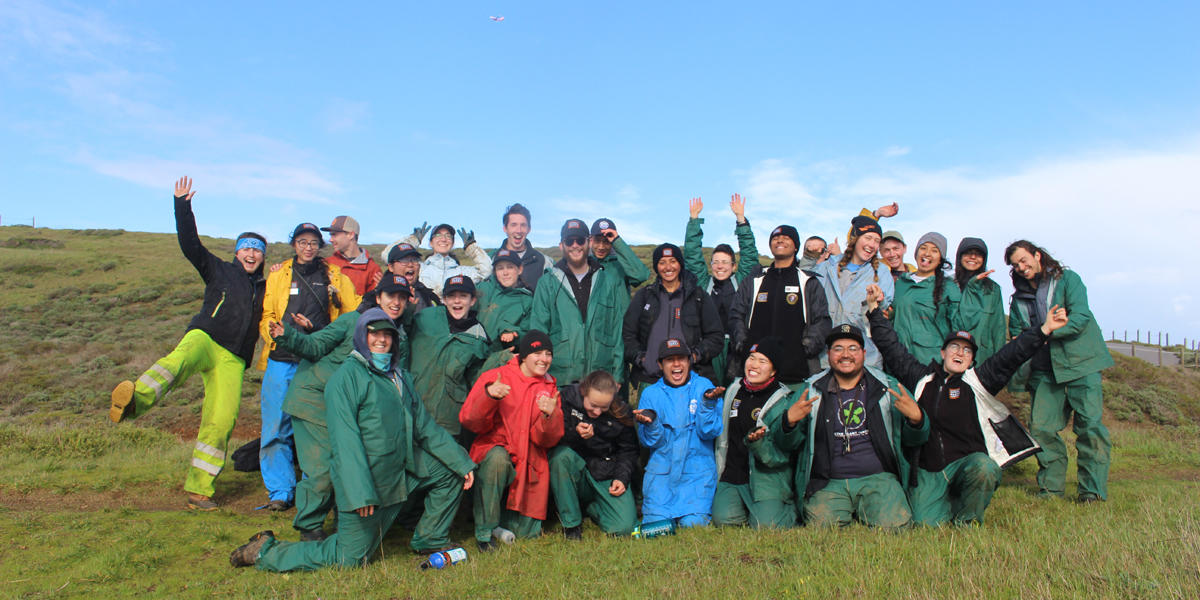 Interns stop fieldwork to pose for a photo.
Park Staff
National Public Lands Day is the nation's largest single-day volunteer event for public lands. Established in 1994 and held annually on the fourth Saturday in September, this celebration brings out thousands of volunteers to help restore and improve public lands around the country. NPLD is also a "Fee-Free Day"—entrance fees are waived at national parks and other public lands.
Projects 
Beach Cleanup at Baker Beach
9 am - noon
Did you know the largest garbage patch in the world exists in the Pacific Ocean off the coast of California? These massive patches are approximately 20 million square kilometers or about 120 times the size of the state of California. Over time, plastics break down very slowly into microplastics, but even these pieces remain in the environment for a lifetime. Nearly 80% of ocean plastic comes from land-based sources and approximately 70% of the debris sinks to the bottom of the ocean. Join us at Baker Beach to remove debris from the shores and prevent the expansion of the Pacific Garbage Patch while helping protect marine ecosystems.
Habitat Restoration at Mori Point
10 am - 2 pm
Come celebrate National Public Lands Day at Mori Point. Spend the morning enjoying nature with embodiment practice such as Qi Gong. During lunch we will share stories about the plants and animals that live at Mori Point and how public lands intersect with climate change and social justice. After lunch we will work together to restore the ecosystems at Mori Point.

COVID-specific Guidelines
Please complete this CDC health self-screening prior to joining a volunteer program.
Stay home and DO NOT attend if you:

Have any illness symptoms
Have tested positive for COVID-19
Suspect you have had contact with a COVID-19 positive case

We require 6 feet of physical distancing at volunteer programs.
Face coverings are strongly encouraged at all times, and required when you are within 6 feet of people outside of your household.

Air Quality Alerts
Above 100 (orange) - program may continue but sensitive groups should consider staying home.
Above 150 (red) - all volunteer programs will be cancelled.
Please visit AirNow for the latest air quality information.

groups
Groups of five or more require special arrangements and must be confirmed in advance. Visit our Groups volunteer page to learn more.

Age, Skills, What to Bring
Volunteers of all ages are welcome. Read our Youth Policy Guidelines (PDF) for youth under the age of 15.
Bring your completed Volunteer Agreement Form (PDF). Volunteers under the age of 18 must have the parent/guardian approval section signed.
We'll be working rain or shine. Wear clothes that you don't mind getting dirty. Long pants and closed-toe shoes are required. Bring layers if weather conditions change or if it rains on the day of the event.
Bring a personal face covering, water bottle, sunscreen, work gloves, and snacks.
No prior experience necessary to participate. Training and tools will be provided. Fulfills community service requirements.
The Golden Gate National Parks Volunteer Program is a cooperative parkwide effort of the Golden Gate National Parks Conservancy, the National Park Service, and the Presidio Trust.
Past Event Dates
Sat, 09/25/2021

9:00AM

-

12:00PM