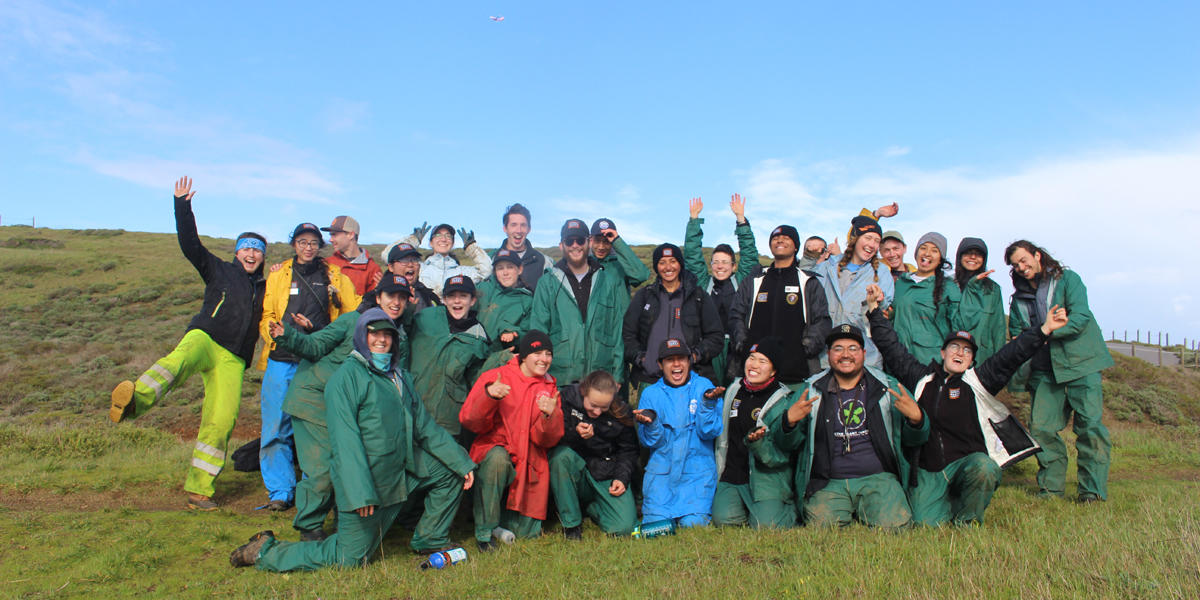 Interns stop fieldwork to pose for a photo.
Park Staff
National Public Lands Day is the nation's largest single-day volunteer event for public lands. Established in 1994 and held annually on the fourth Saturday in September, this celebration brings out thousands of volunteers to help restore and improve public lands around the country. NPLD is also a "Fee-Free Day"—entrance fees are waived at national parks and other public lands.
Join us for a great day at Muir Woods and the Golden Gate National Recreation Area, giving these special park sites some TLC!
Projects 
Registration is required - please register here.
Deck Flossing at Muir Woods
9 am - noon
Help us maintain the boardwalk that meanders through Muir Woods! Clearing out the organic debris that settles into the grooves of the boardwalk helps to maintain the life of the walkway so that visitors can continue to enjoy strolling through the woods. This is a fun, all ages and abilities project!
Weeding at Muir Woods
9 am - noon
Come learn about the plants of Muir Woods while removing invasive species from the Redwood Creek watershed! You can help to restore the health of the watershed by pulling the invasive species that compete with native plants for water and light. 
Maintenance on Alcatraz
8 am - noon
Join us in celebrating National Public Lands Day on Alcatraz! Volunteer project will entail cleaning theater spaces and cannon rooms in the historic buildings. Involves sweeping, dusting, using a cobweb duster, and cleaning windows.
NOTE: Volunteers must be at Pier 33 for the 8:20 am boat departure. The project leader will meet you at the Pier and volunteers will receive free ferry transportation. 
groups
Groups of five or more require special arrangements and must be confirmed in advance. Visit our Groups volunteer page to learn more.

Age, Skills, What to Bring
Volunteers of all ages are welcome. Read our Youth Policy Guidelines (PDF) for youth under the age of 15.
We'll be working rain or shine. Wear clothes that you don't mind getting dirty. Long pants and closed-toe shoes are required. Bring layers if weather conditions change or if it rains on the day of the event.
Bring a personal face covering, water bottle, sunscreen, work gloves, and snacks.
No prior experience necessary to participate. Training and tools will be provided. Fulfills community service requirements.

COVID-specific Guidelines
Stay home and DO NOT attend if you:

Have any illness symptoms
Have tested positive for COVID-19
Suspect you have had contact with a COVID-19 positive case

Face coverings and social distancing are encouraged, but not required.

Air Quality Alerts
Above 100 (orange) - program may continue but sensitive groups should consider staying home.
Above 150 (red) - all volunteer programs will be cancelled.
Please visit AirNow for the latest air quality information.
The Golden Gate National Parks Volunteer Program is a cooperative parkwide effort of the Golden Gate National Parks Conservancy, the National Park Service, and the Presidio Trust.
Past Event Dates
Sat, 09/24/2022

9:00AM

-

12:00PM