Women Warriors Creating a Beloved Community
Women Assuring Access and Equity Through Neighborhood Nature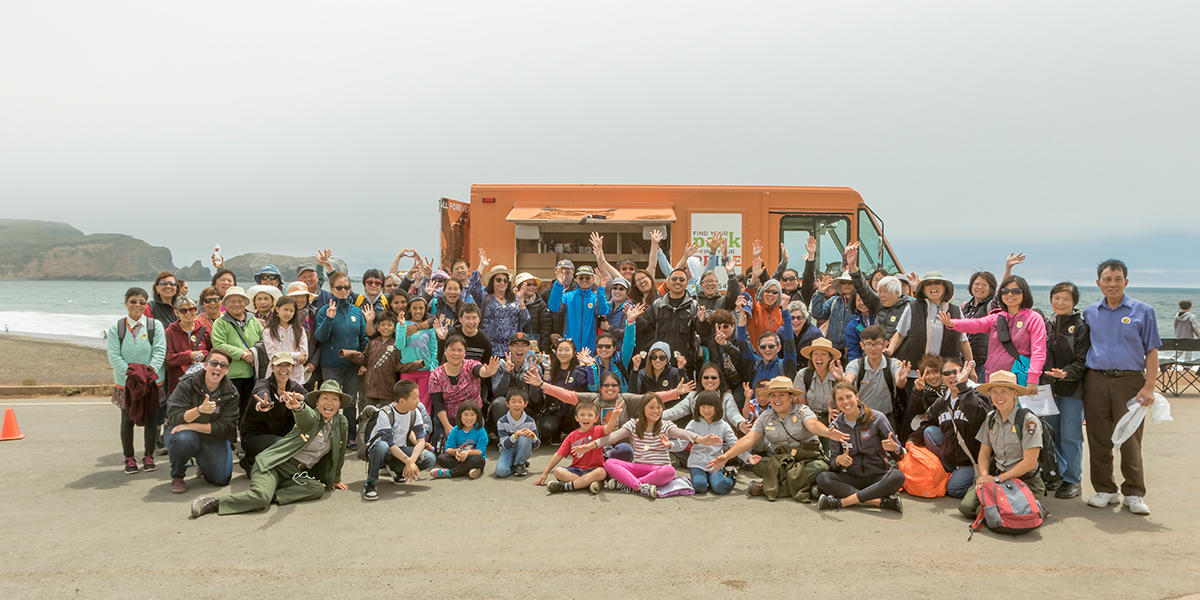 This group of park visitors at Rodeo Beach might never have visited the park if it weren't for the NPS Centennial partnership with the San Francisco Public Library, through which shuttles brought community members from branch libraries to nearby park sites this summer. These people had such a good time visiting with the rangers and volunteers, and learning about the parks in their own backyard. It was a joy to see the excitement on their faces.
Kirke Wrench/National Park Service
We invite you to an inspiring panel of San Francisco women working to create a beloved community, listening deeply to meet their community needs and advocating for access and equity in park spaces and nature. Learn from what inspires them; and the challenges and barriers they face. Bring your questions, perspectives, and ideas for collaboration! 
Register in advance for this meeting.  After registering, you will receive a confirmation email containing information about joining the meeting.
Meet our Panelists: 
Mariana Mendez. Mariana Mendez is a Community Health Worker, Youth Advocate Specialist, and a Mexican Degreed Nutritionist with over six years of experience, building awareness and addressing community needs with unique solutions. Her passion is to share her expertise and knowledge on Health Education topics to provide the best care to everyone, and helping people connect with resources around San Francisco; while also planning and executing virtual workshops and webinars, bringing critical topics for the Bayview Community such as: healthy eating, mental health awareness, and active living  by promoting movement and the healing power of nature.  
Alyssa Gimenez. Alyssa Gimenez is a Master's student studying Cell/Cellular and Molecular Biology at San Francisco State University and is planning to pursue a career in scientific research and academia. Her career interests focus on bridging the disciplines of public and global health research with the traditional benchwork of laboratory science to see how exposure to nature can improve the health and wellbeing of vulnerable communities of color affected by health disparities in the Bay Area by analyzing biological markers for DNA degradation and long-term stress. 
Adama Bryant. Adama is a third generation San Franciscan raised in the Fillmore district. She spent most of her childhood exploring the city with cousins on weekends in Vallejo, where she picked fruit from trees, camped and raised chickens. It is the freedom gained from these experiences that she wants to bring to the youth she works with. Her greatest passion is working with our youth. She is the mother of three, and graduate of CSEB and the USF. For more than 10 years, she's been an active volunteer in the SFUSD.  She is also the founder of Weekend-Adventures, a youth serving non-profit. 
Ieeshea Romero. Ieeshea Romero is a Bayview Hunter's Point native, who has spent over 20 years increasing higher education and employment opportunities for youth of underrepresented communities. Based on her personal path to higher education, Ieeshea has invested and created programs and pathways that not only support diversity and access, but prioritize retention, quality, and build self-sustainability. Ieeshea has developed and created an amazing program that serves TAY-Youth of color within San Francisco that prepares them to become EMTs.  
Tamara Walker. Tamara Walker is a full-time production and community engagement director. An experienced and creative community organizer, Tamara has an innovative spirit and learned her vocation from her grandfather, Harold D. Madison, who worked tirelessly for the betterment of San Francisco's Bayview neighborhood, where Tamara was born and raised. His diligence and devotion to the community taught Tamara the value of planning, preparation and deep investment in relationships to help people in need. Tamara embraced these values and her organizing skills when she faced her own tragedy. In 2000, she co-founded the organization "Mothers Against Guns" alongside other survivors of gun violence. She is also an advocate for Mothers for Justice for birth of Black and Brown Babies and a strong voice behind the Buchanan Mall parklet in San Francisco.  
Past Event Dates
Fri, 03/05/2021 11:30AM

-

Sat, 03/06/2021 12:55PM