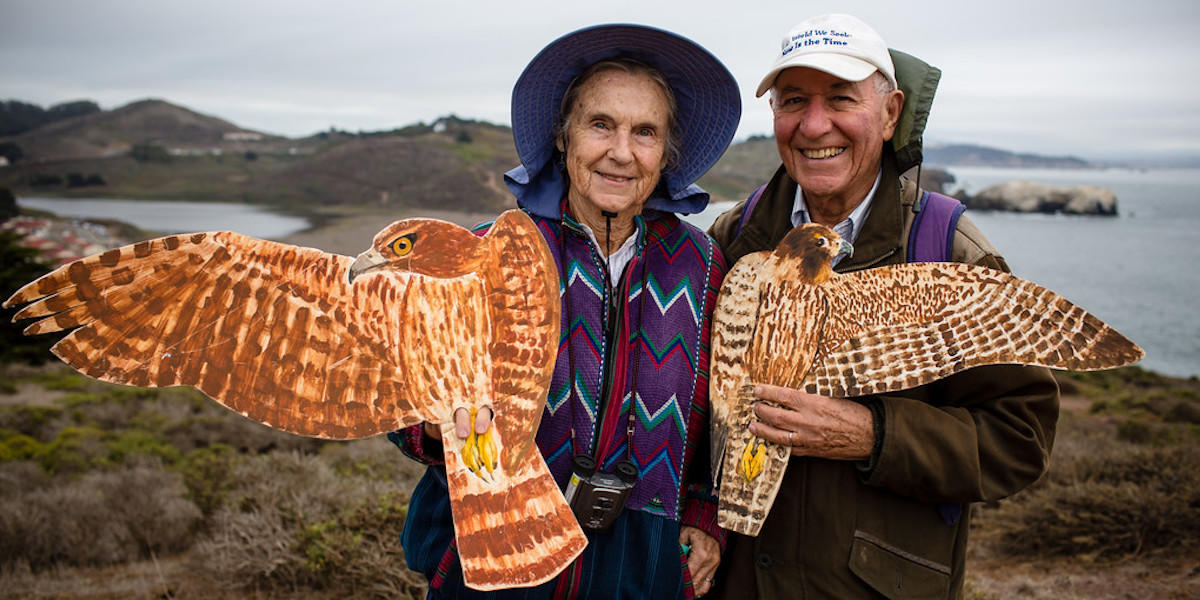 Member portraits at Fort Cronkhite
Paul Myers/Parks Conservancy
Many thanks to the Conservancy supporters who responded to our fall 2019 members survey. You shared with us who you are: architects, educators, a master gardener, a Buddhist priest, a pilot, scientists, an aerospace engineer, a yoga instructor, physicians, and attorneys. You shared with us who inspires you to engage with the parks, such as rangers John Martini, George Durgerian and Mia Monroe, Rep. Phillip Burton, former General Superintendent Brian O'Neill, your teachers, family and friends.
My favorite memories are the many times my family had picnics and hiked at Ft. Funston. I greatly admire the GGNRA and applaud all the efforts to maintain and conserve the parks.  — Marian Hardin, Daly City
You come daily, monthly or rarely; on school field trips, for volunteer activities, members walks; with your children, pets, out of town guests; to stroll, walk, hike, bike, camp, run, exercise your dog. 
Your connections to the parklands are personal and diverse: family interment at the National Cemetery, banding on Hawk Hill, living in the Presidio, running along Crissy Field, birdwatching at El Polín Spring, whale-watching at Mori Point, restoring historic fortifications, hanging out at Sutro Baths as a teenager in the 1950s. You have had first dates in the Marin Headlands, danced at the Presidio Officers Club, toured Muir Woods at sunrise, walked your canine at Fort Funston, overnighted at Fort Point.
The Parks Conservancy is a remarkable organization. The dedication of those who volunteer their time to help sustain our parks in the backbone of why this Conservancy is successful. My introduction to the park sites began at Hawk Hill years ago. Trying to name a favorite park site is like trying to name a favorite child—all are fantastic. — Joyce Kami, Tiburon
With your help, we will continue our work in sustaining a healthy and welcoming park for all. We're delighted that the parks are a part of your life adventure!
Every time I spend time in the GGNRA, it makes me incredibly grateful to live so close to such an inspiring part of the planet. It grounds me, fills me with gratitude, delights my eyes, and makes my heart swell with love for the place I call home. — Robert Kastigar, San Francisco
 
Interested in becoming a member? Here's how you can ensure these parks will be here for all for generations to come.
February 25, 2020