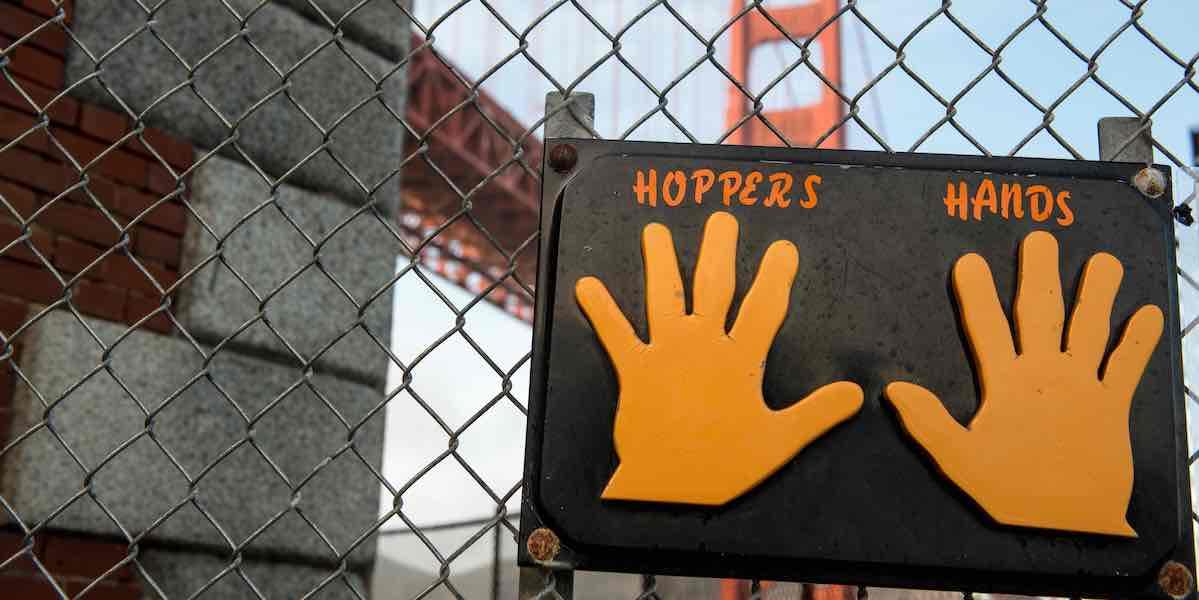 Hopper's Hands at Fort Point National Historic Site
Paul Myers/Parks Conservancy
Observant visitors to Fort Point National Historic Site in San Francisco might notice a pair of yellow and black hands on a metal sign, attached to the chainlink fence at the rear of the Civil War-era brick structure. The label "Hopper's Hands" is emblazoned just above.
For years, this simple sign has encouraged many visitors, runners, and passersby to challenge themselves to tap the hands once they've reached this scenic destination. But how did the hands get there? And who exactly is Hopper?
First off, Hopper is Ken Hopper—an ironworker on the nearby Golden Gate Bridge. According to Ranger Jose Roldan, former Interpretive Site Supervisor at Fort Point, the hands first appeared after the National Guard left the area in 2000. At that time, a fence was installed to prevent visitors from venturing into more dangerous areas behind the fort.
As an ironworker, Hopper had access to these off-limit areas, and he noticed runners were approaching the newly installed fence and clapping it before turning back.
"I guess he and a couple of his buddies [at the Golden Gate Bridge, Highway and Transportation District] put up the hands as a gag, because [the fence] looked a little plain and needed to be more welcoming," Roldan explains.
The sign started off as just a basic design with a pair of black hands on a white background. But, due to wear and tear from all the double "high fives" ("high tens?"), the sign has evolved through several iterations. It is now a yellow and black combination. Roldan believes Hopper uses the District's metal shop to create each version.
"He's made several different versions over the course of several years until the one we have now [a yellow and black combo]," Ranger Roldan mentions. "He once had the sign in 49ers colors."
In observing people use the sign, Hopper noticed many joggers also had their furry companions tap the endpoint. So he later added a set of paws a few inches off the ground to match the handprints.
Hopper's hands have become a beloved destination for people to reach. Next time you're at the fort, give the sign a "high ten" and touch a new, wonderful tradition in the Golden Gate National Parks.
February 25, 2020