@Large: Ai Weiwei on Alcatraz featured a series of seven site-specific installations by Ai Weiwei—a Chinese contemporary artist known for his socially, politically, and culturally incisive work. The exhibition, which ran from September 27, 2014 through April 26, 2015, offered a new cultural lens through which to experience the former penitentiary-turned-national park.
The seven installations in the exhibition, presented by the FOR-SITE Foundation in partnership with the National Park Service and the Golden Gate National Parks Conservancy, can now be seen online. Through a partnership with the media technology company, Matterport, @Large can be viewed in immersive 3D that captures the magic experienced by visitors during the course of the exhibit.
Matterport's technology uses a patented camera to capture 3D and 2D images of an interior space. The camera rotates on a tripod that the user places around a room to capture every aspect of the space. Matterport's proprietary software then stitches together all of this data to create one complete 3D mesh overlaid with high-definition images. These resulting Matterport Spaces are then ready for viewers to explore online via a web browser or through fully immersive VR headsets like Samsung's Gear VR.
Visitors can now revisit—or view for the first time—this once-in-a-lifetime installation of art within the confines of Alcatraz. To fully enjoy the immersive experience of the 3D videos, line up the virtual circles so you can swoop over, step through, glide across, and zoom through the exhibits!
With Wind, New Industries Building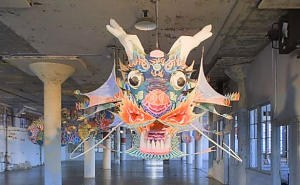 Trace, New Industries Building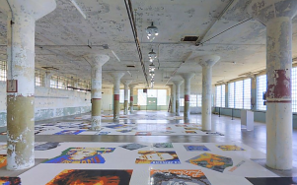 Refraction, with secret tunnel access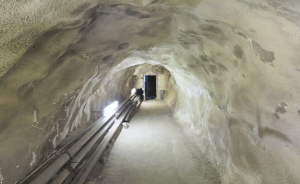 Refraction, New Industries Building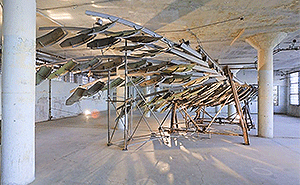 @Large was a signature program of the Golden Gate National Parks' Art in the Parks program. The program invites established and emerging artists from around the world to create and temporarily display contemporary art in park settings to foster different ways of experiencing and exploring the cultural and natural themes of the Golden Gate National Parks.
Ai Weiwei's art posed challenging and urgent questions about human rights and freedom of expression—and responded to the potent and layered history of Alcatraz as a place of detainment and protest. @Large asked visitors to consider the broader social implications of incarceration and the possibilities of art as an act of conscience.
For Ai, this exhibition was not simply an exploration of social issues or artistic themes; it is rooted in the reality of his life. In spring 2011, Ai was detained by the Chinese government for 81 days on charges of tax evasion. Following his release, he was prohibited from leaving Beijing for one year and only recently received his passport back from the Chinese government. The large-scale sculpture, sound, and mixed-media works were installed by his assistants in four locations on Alcatraz, normally off limits to visitors:
The two-story New Industries Building, where "privileged" inmates were permitted to work;
The main and psychiatric wards of the Hospital;
The A Block cells, the only remaining section of the military prison that was constructed in the early 20th century;
And the Dining Hall.
The seven installations can now be experienced online by clicking on the images above.
About Art in the Parks
Art in the Parks—a cooperative effort of the National Park Service, the Golden Gate National Parks Conservancy, and the Headlands Center for the Arts—works with a variety of community partners to bring the arts to park settings and provide new ways of experiencing and learning about place. The FOR-SITE Foundation has been a significant contributor to Art in the Parks, with exhibitions in the Presidio and at Fort Point. To learn more, visit parksconservancy.org/visit/art.
About Ai Weiwei
One of the most prominent cultural figures of the 21st century, Ai Weiwei is a Beijing-based artist and activist whose work encompasses sculpture, installation, photography, film, architecture, and social criticism. His work often responds to conditions in China, including limits placed on free speech and expression, as well as his personal experience of incarceration. Ai's art has been featured in major solo exhibitions including the touring retrospective Ai Weiwei: According to What?, which was organized by the Mori Art Museum, Tokyo, in 2009 and traveled to North American venues in 2013-14; and Evidence at the Martin-Gropius-Bau in Berlin, 2014. Ai's work was previously presented in the Golden Gate National Parks in 2010-11 as part of the FOR-SITE exhibition Presidio Habitats, for which artists and designers created animal habitats.
About Alcatraz
Beyond its notoriety as a world-famous former federal penitentiary (1934-63) that once held criminals like Al Capone, Alcatraz has undergone numerous incarnations that have contributed to its unique and deeply layered history. First inhabited by native peoples who arrived more than 10,000 years ago, the island was recognized for its strategic value as a military fortress in the Civil War era, and later catalyzed the Native American Red Power movement with the revolutionary 18-month occupation by the Indians of All Tribes from 1969 to 1971. Today, Alcatraz is part of the Golden Gate National Recreation Area and stands as one of the country's most popular national park sites and visitor destinations, attracting more than 1.4 million people each year. The island is also the site of the West Coast's first lighthouse and home to gardens, tide pools, and nesting birds.
About Matterport, Inc. 
Matterport enables anyone to digitally reconstruct real-world spaces for use in VR, AR, web, and mobile applications. Using Matterport's end-to-end immersive media platform, users can easily create, modify, navigate and share Matterport Spaces for use in a variety of industries and applications. To learn more about how Matterport is working to allow anyone to experience anyplace at matterport.comanytime, please visit ‪matterport.com.