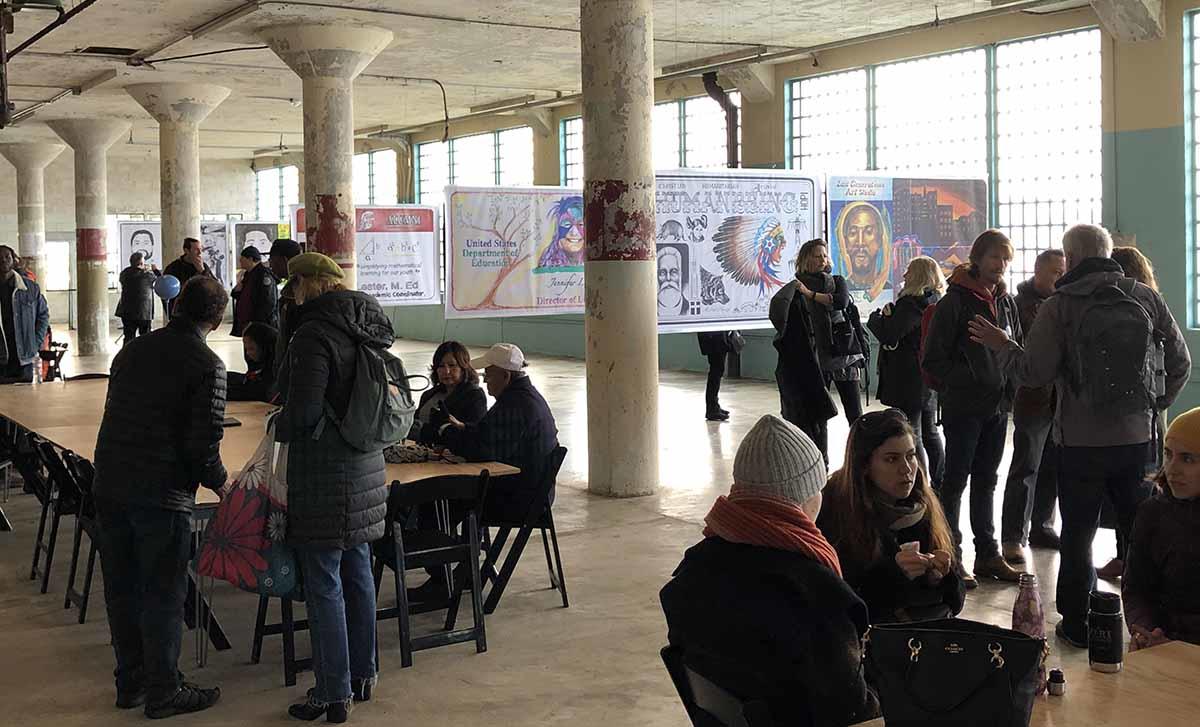 Participants at the Future IDs at Alcatraz 'Day of Public Programs' on Feb. 16, 2019, at the New Industries Building on Alcatraz Island.
Peter Hockaday / Parks Conservancy
The program mission of Arts in the Parks is to provide programs to connect our visitors with creative experiences in the park that are transformative, unexpected, and inspirational.
Since the earliest days of the National Park Service, artists have drawn inspiration from these parks. Through Art in the Parks, visitors can experience a wide range of site specific experiences that reflect and respond to the beautiful setting and unique history of the Golden Gate National Recreation Area. Art in the Parks has been highlighted as an element of the National Park Service Director's Call to Action, a strategic vision for the agency that encourages national parks to illuminate the meaning of parks to new audiences through dance, music, visual arts, writing, and social media. Check out our current and past programs as well as opportunities to get involved.
Future IDs at Alcatraz Release Party, July 20th
Join us at our current exhibition, Future IDs at Alcatraz, for the Release Party. From 10:00 AM to 5:00 PM visitors can enjoy a variety of programs and community activities. Come for part or all of the programs.  Many of the programs will feature first-hand accounts by people who have felt the impact of incarceration directly and are using their experiences to improve their own lives and the lives of others.  The programs will also consider the far-reaching impact of incarceration on families and communities. 
Invited participants include representatives of the California Department of Corrections and Rehabilitation, as well as individuals whose personal ID artworks are featured in the exhibition. Building on their success with artistic programs while inside prison, many are now leading those same programs on the outside. The day will conclude with a workshop/performance led by alumni from Actors' Gang Prison Project.
Tickets to Alcatraz sell out fast. If you plan to attend, buy your tickets soon. Check availability through Alcatraz Cruises at AlcatrazCruises.com.