Golden Gate National Parks Conservancy Executive Katherine Toy named first-ever Deputy Secretary for Access at the California Natural Resources Agency
Katherine Toy to Lead California's Outdoor for All Initiative, Spearheading Efforts to Improve Access to Parks and Public Lands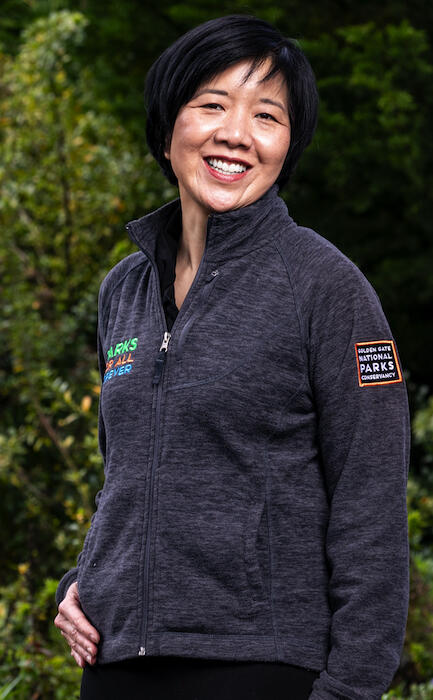 This month, Governor Gavin Newsom appointed Katherine Toy to a newly created role in his administration, Deputy Secretary for Access in the Department of Natural Resources for the state of California. (Press Release, California Natural Resources Agency Newsroom)
The Governor secured more than one billion dollars within California's budget to improve access to parks and natural, historic and cultural resources, creating a landmark opportunity for real change. Katherine will oversee the Outdoors for All initiative across the Natural Resources Agency's 27 departments, commissions and conservancies, as well as through an interagency working group and partnership with federal, Tribal and local governments.
"Katherine has brought tremendous leadership and heart to the Parks Conservancy. We celebrate Katherine's next chapter in this state appointment, and know she'll bring her incredible passion, experience, talent and vision to an essential movement for equal access to public spaces," said Christine Lehnertz, President & CEO, Golden Gate National Parks Conservancy.
For the past four years, Katherine led the Parks Conservancy's youth, education, community engagement and volunteer programs. More recently, her portfolio expanded to include visitor services, interpretive retail, park projects, innovation, and impact and evaluation.  
"I am excited to embark on this new role with the Department of Natural Resources and the State of California," noted Toy. "I firmly believe access and belonging in our public spaces are not nice-to-haves, they are essential to our democracy. I am also passionate about supporting inclusive programming that reflects the diversity of Californians."
Katherine will begin her new role at the end of the year.