Home Land Security exhibit
Site Responsive Exhibition Convenes 16 International Artists To Reflect On Human Impact And Increasing Complexity Of National Security In Our Time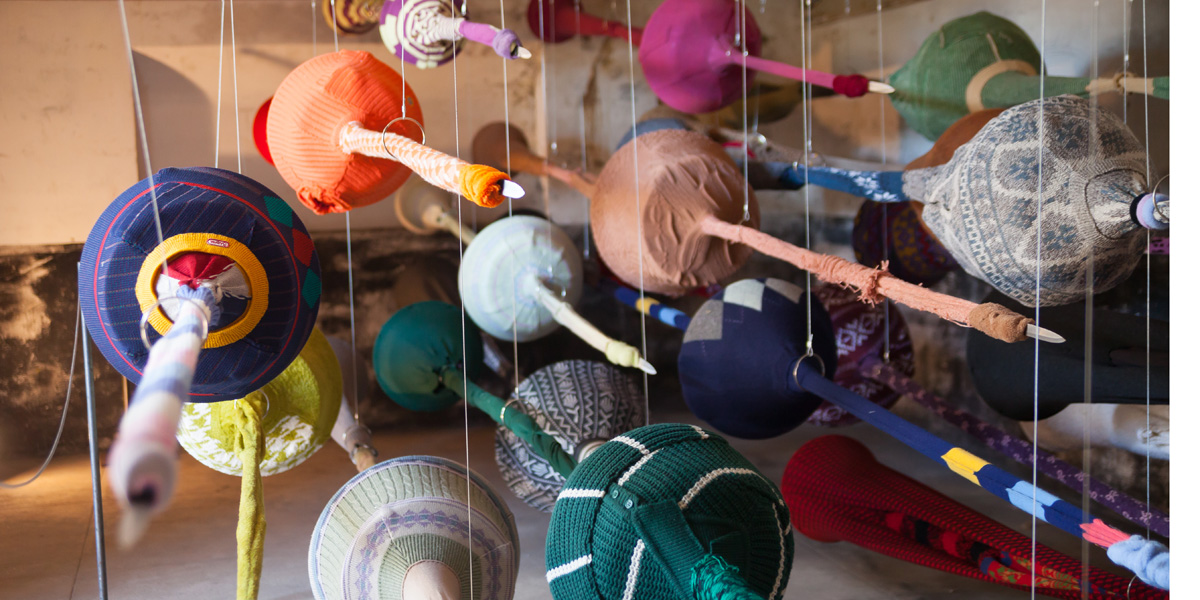 • Art in the Parks Background (PDF)
San Francisco, CA, June 23, 2016—Continuing its focus on art about place, the FOR-SITE Foundation, in partnership with the National Park Service, the Golden Gate National Parks Conservancy, and the Presidio Trust, presents Home Land Security (September 10 through December 18, 2016). Curated by FOR-SITE Foundation Executive Director Cheryl Haines, the thematic, site responsive exhibition will be installed in former military structures overlooking the San Francisco Bay—some open to the public for the first time—and brings together work by 16 contemporary artists and collectives from around the globe to reflect on the human dimensions and increasing complexity of national security, including the physical and psychological borders we create, protect, and cross in its name.
"The recent experience of presenting artworks by Ai Weiwei on Alcatraz Island has furthered my interest in working with artists whose ideas create dialogue around social change," says Haines. "By placing art that examines security's human cost inside former military sites, Home Land Security provides a powerful context for considering the perceived need for defense and surveillance, and looking at how fear of 'other' can obscure the commonality of humanity experience and contribute to cultural misunderstanding."
New commissions and recent works in various media—sculpture, painting, installation, performance, and video—will take over five historic structures at Fort Winfield Scott, the former headquarters for coastal defense of California at the Golden Gate. The complex of deactivated military buildings includes a series of gun batteries and a regimental chapel—all located in the heart of the world's largest national park in an urban area, the Golden Gate National Recreation Area. The exhibition sites are part of a former US Army base park and represent distinct chapters in the region's coastal defense history.
The participating artists have roots in nine different countries, and each provides a unique lens on universal themes: definitions of home and safety, ideological extremism, forced migration in the wake of conflict, the constant shift of weaponry and targets, and the unwavering belief in the necessity for defense.
Highlights include videos from Bill Viola's immersive Martyrs series, about the endurance and infliction of suffering for beliefs (Earth Martyr, Air Martyr, Fire Martyr, and Water Martyr, 2014); The Propeller Group's sculptural freeze frames of bullets fired into ballistics gel designed to simulate the effect of wounds (Universe of Collisions series, 2015); Liza Lou's hovering, gatelike sculpture covered in millions of gold plated beads and providing no real protection (Barricade, 2007−8); and a commissioned wall drawing by Tirtzah Bassel (Concourse, 2016) that examines how familiar emblems of airline travel—freedom, adventure, global connection—have become entangled with notions of vulnerability and disempowerment.
The full list of exhibition artists includes: Shiva Ahmadi (born Iran, based in United States); Tamman Azzam (born Syria, based in Dubai); Tirtzah Bassel (born Israel, based in United States); Yashar Azar Emdadian (Iran); Al Farrow (born and based in United States); Díaz Lewis (Cara Megan Lewis and Alejandro Díaz Perera) (established Cuba, based in United States and Cuba); Liza Lou (born United States, based in United States and South Africa); Mandana Moghaddam (born Iran, based in Sweden); Trevor Paglen (born and based in United States); Shahpour Pouyan (born Iran, based in United States); Michele Pred (born and based in United States); The Propeller Group (Matt Lucero, Tuan Andrew Nguyen, and Phunam) (established Vietnam, based in Vietnam and United States); Do Ho Suh (born South Korea, based in United States, United Kingdom, and South Korea); Bill Viola (born and based in United States); Krzysztof Wodiczko (born in Poland, based in United States); and Yin Xiuzhen (born and based in China).
 
"The Presidio Trust has been embracing place-based art as an innovative way to welcome the community to explore and connect with their national park," says Michael Boland, acting executive director of the Presidio Trust. "Home Land Security represents an extraordinary opportunity for visitors to rediscover a lesser-known sites in the area while experiencing thought-provoking art about important contemporary issues."
Home Land Security is the latest in a series of collaborations between the FOR-SITE Foundation, the National Park Service, the Presidio Trust, and the Golden Gate National Parks Conservancy that create new models for engaging park visitors through site-specific art presented on public land. The project also helps commemorate the National Park Service's 100th anniversary, activating historic sites for broader public appreciation and signifying the innovative use of urban lands that the park service envisions for the future.
"The exhibition resonates with a key theme of the National Park Service's 100th anniversary, which is to connect our individual lives with the larger world around us through meaningful experiences on park land," says Christine Lehnertz, superintendent of the Golden Gate National Recreation Area. "Carefully selected artworks installed in the long-abandoned coastal gun batteries of the Golden Gate invite reflection on the timely subject of border defense in the United States and beyond."
To encourage dialogue about the exhibition's multilayered themes, Home Land Security will provide a team of art guides positioned at the installation sites, offering background about the artworks and the history of the area. Additional facets of the project will be shared through social media (#HomeLandSecurity) and FOR SITE's blog, Field Notes.
Art in Conversation with Historic Sites
Fort Winfield Scott and the coastal artillery batteries were built in the western part of the Presidio at the turn of the 20th century, when the United States Army took on greater responsibility for coastal defense. The fort housed 17 large gun batteries—among the first modern military installations using concrete and electricity—that overlooked an underwater minefield at the Golden Gate; they were armed and manned between 1891 and 1946. By the end of World War II, coastal defense had changed dramatically and the artillery system was replaced by modern air power, amphibious warfare, and nuclear weapons. In 1956, Fort Scott officially closed as a military post.
Battery Godfrey, a partially underground, reinforced concrete bunker, held the largest of the defense system guns, the first of their size to be mounted in the US—a sign of the importance placed on the defense of San Francisco's harbor, which was second only to New York in strategic value.
Battery Boutelle, a two-story concrete structure, was armed with three 5 inch guns that could fire up to 30 rounds per minute to defend against minesweepers and fast torpedo boats. A shell fired from Battery Boutelle could reach seven miles out to sea.
Battery Marcus Miller housed three above ground, large caliber guns and a 43 man crew during wartime. A local news report from 1907 describes how the city's notorious weather affected firing exercises: "The tests were stopped at noon by a heavy fog which settled down where the targets were anchored off the entrance to the harbor."
The Nike Administration Building was headquarters for the Military Intelligence Group Detachment and its Nike Missile Program. With 12 launch sites surrounding the bay, the program was part of a sophisticated national security system spawned by Cold War tension between the United States and the Soviet Union as they competed for advantage in weapons technology.
Fort Scott Chapel was built in 1941, when military infrastructure was under rapid construction in the Presidio as the expanding army mobilized for World War II. With a capacity for 300 worshippers, the symmetrical wood frame chapel was intended to serve all denominations.
Diverse Voices Address Contemporary Issues
Krzysztof Wodiczko's multimedia account of war and sacrifice in Iraq and Afghanistan fills the long silent chambers of Fort Scott with the voices of soldiers once again (Veterans' Flame, 2009); Mandana Moghaddam's haunting video of abandoned baggage floating on the ocean recalls the human lives adrift and displaced through forced migration (Exodus, 2013). San Francisco−based sculptor Al Farrow uses scale models of a church and a mosque fashioned from spent ammunition and weapons' parts to turn a spotlight on the role religious extremism plays in instigating violence (Mosque III, 2010).
Korean artist Do Ho Suh's larger than life suit of armor—composed of thousands of military dog tags—embodies the idea of power in numbers and the tension between individual and collective identity (Some/One, 2013). Chinese artist Yin Xiuzhen contributes a suspended installation of projectiles made from used clothing and other found textiles, contrasting the objects' material softness with their suggested designation as instruments of harm (Weapon, 2003−7).
Bay Area artist Michele Pred's assemblage of sharp or combustible items collected from airline passengers at San Francisco International Airport captures how the events of 9/11 transformed innocuous household items into symbols of threat (Encirclement, 2003). In Yashar Azar Emdadian's video performance Des Integration (2012), the artist shaves his torso in a public space, his body becoming the boundary between a migrant's molting of personal identity and his integration into another culture. Shiva Ahmadi's animation Lotus (2013) addresses abuses of power and corruption in a delicate, ornate, watercolor style that recalls the Persian and Indian traditions of miniature painting.
In the performance piece 34,000 Pillows (2016–ongoing), artist duo Díaz Lewis takes on the US Congress's mandate that government immigration agencies maintain a "bed quota" of 34,000 detained immigrants per day in their facilities. Inviting participation from exhibition visitors, the artists will sew pillows on site from used clothing donated by undocumented immigrants and former detainees.
Creating new work for the exhibition, Syrian artist Tamman Azzam returns to his roots as a painter with a triptych that conveys the magnitude of devastation in his homeland through abstract cityscapes ravaged by war. Also presenting commissioned work for Home Land Security, Shahpour Pouyan continues his ongoing "projectile" sculpture series, which, informed by his childhood experience of living through the Iran Iraq war, merges forms resembling missiles and drones with those of artisan-crafted Iranian helmets and elegant antique chainmail.
About the FOR-SITE Foundation
Established in 2003 by curator Cheryl Haines, the FOR-SITE Foundation is a nonprofit organization dedicated to the creation, understanding, and presentation of art about place. Recent projects encompass commissions, artist residencies, and educational programs, and include the acclaimed exhibition @Large: Ai Weiwei on Alcatraz; International Orange, a group show honoring the 75th anniversary of the Golden Gate Bridge; Presidio Habitats; and a series of land art installations by Andy Goldsworthy currently on view in the Presidio. More at for site.org.
About the Presidio Trust
The Presidio Trust is an innovative federal agency created to save the Presidio and employ a partnership approach to transform it into a new kind of national park. Spanning 1,500 acres in a spectacular setting at the Golden Gate, the Presidio now operates without taxpayer support; is home to a community of residents and commercial tenants; and offers unique recreation, hospitality, and educational opportunities to people throughout the San Francisco Bay Area and the world. The trust's Art in the Presidio program welcomes a wide range of artists to respond to park sites. Ten exhibitions to date have encouraged more than 100,000 visitors to see the park's natural and cultural treasures in a new light. More at presidio.gov/trust.
About the National Park Service
The National Park Service (NPS) is a federal agency within the US Department of the Interior charged with managing the preservation and public use of America's most significant natural, scenic, historic, and cultural resources. The NPS manages the coastal areas of the Presidio and Golden Gate National Parks, as well as 400 other park sites across the United States. More at nps.gov.
About the Golden Gate National Parks Conservancy
The Golden Gate National Parks Conservancy is the nonprofit membership organization that supports the most visited outpost in the US national park system. The conservancy provides aid for site transformations, trail improvements, habitat restoration, volunteer and youth engagement, and interpretive and educational programs. Conservancy funded projects, in partnership with the National Park Service and Presidio Trust, are visible across the parks' 80,000 acres—including the Presidio, Crissy Field, Muir Woods, Lands End, Alcatraz, and others. More at parksconservancy.org.
CALENDAR EDITORS, PLEASE NOTE:
FOR-SITE Foundation presents Home Land Security
Sixteen artists and collectives from around the globe converge on the Golden Gate National Recreation Area, activating former military sites with artworks that examine security and the physical and psychological borders that we create, protect, and cross in its name. Includes work by Bill Viola, the Propeller Group, Trevor Paglen, Tirtzah Bassel, and more. Organized in partnership with the National Park Service, the Golden Gate National Parks Conservancy, and the Presidio Trust.
Exhibition dates: September 10 through December 18, 2016
Location: Fort Winfield Scott and the Presidio, in San Francisco's Golden Gate National Recreation Area
Hours: Wednesday through Sunday, 10 a.m. to 6 p.m.
Admission: free
Information: for site.org
Photo credit: Battery Boutelle, one of five Home Land Security exhibition sites overlooking San Francisco's Golden Gate; photo: Nina Dietzel
# # #
MEDIA CONTACTS:
FOR-SITE Foundation and exhibition
Robyn Wise, Streetwise Communications
wiserobyn@gmail.com; 415.269.7043
Alison Konecki, FOR SITE Foundation
alison@for site.org; 415.362.9330
National parks and Presidio
David Shaw, Parks Conservancy
dshaw@parksconservancy.org; 415.561.3064
Howard Levitt, National Park Service
howard.levitt@nps.org; 415.561.4730
Dana Polk, Presidio Trust
dpolk@presidiotrust.gov; 415.561.2710