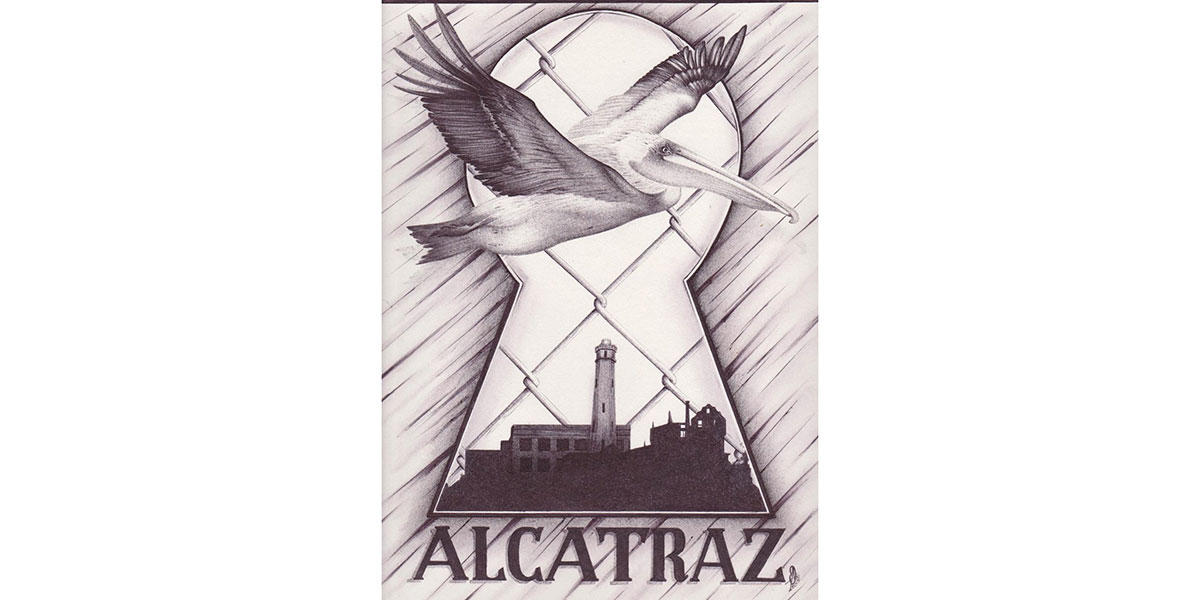 Illustration of Alcatraz as seen through a keyhole, behind a chain link fence as a pelican flies by
Art by Omar Avila
Presented by Prison Arts Touching Hearts (P.A.T.H.), the National Park Service, and the Golden Gate National Parks Conservancy, Art Escape at Alcatraz was exhibited in the Band Practice Room of the Cell House May through June of 2017.
P.A.T.H., a Marin based non-profit arts organization founded and directed by Bay Area artist Leslie Lakes, has gathered a collection of original works of art by incarcerated artists from across the U.S. These art works, varying from painting and drawing to poetry and story, respond directly to the Island's deep history, exploring the military era, prison era, the Native American Occupation, as well as the gardens and birds of Alcatraz. With each work, the inmate artists have provided a quote and an artist bio. The artists hope to use their artwork as their voice, drawing inspiration from this national park to help share their story.
The artwork in this show has been created by whatever materials are available to the respective inmates, as well as dependent on the rules and regulations of each prison in which they are incarcerated. The most widely used art tools are the commonplace blue or black ball point pen, #2 lead pencils, charcoal, pastels, colored pencils, watercolors and/or acrylic paints. On occasion, oil paints are available. Sometimes, inmates will use his/her own hair from which to fashion a paintbrush and use the food color dye from vending machine Skittles or M&M's hard candies. Tea and coffee are also sometimes used as a stain or wash. Paper can range from standard 8-1/2 x 11 loose leaf binder paper to more professional art Bristol paper, regulation square white handkerchiefs, canvas or cardboard...even bed sheets!
Visitors may also view privately curated collection of vintage ephemera and smaller pieces of inmate artwork will be on display at both the Belvedere/Tiburon and San Rafael (Anne T. Kent Room at the Civic Center) public libraries during their regular hours of operation. To learn more about P.A.T.H., please visit prisonartstouchinghearts.org.