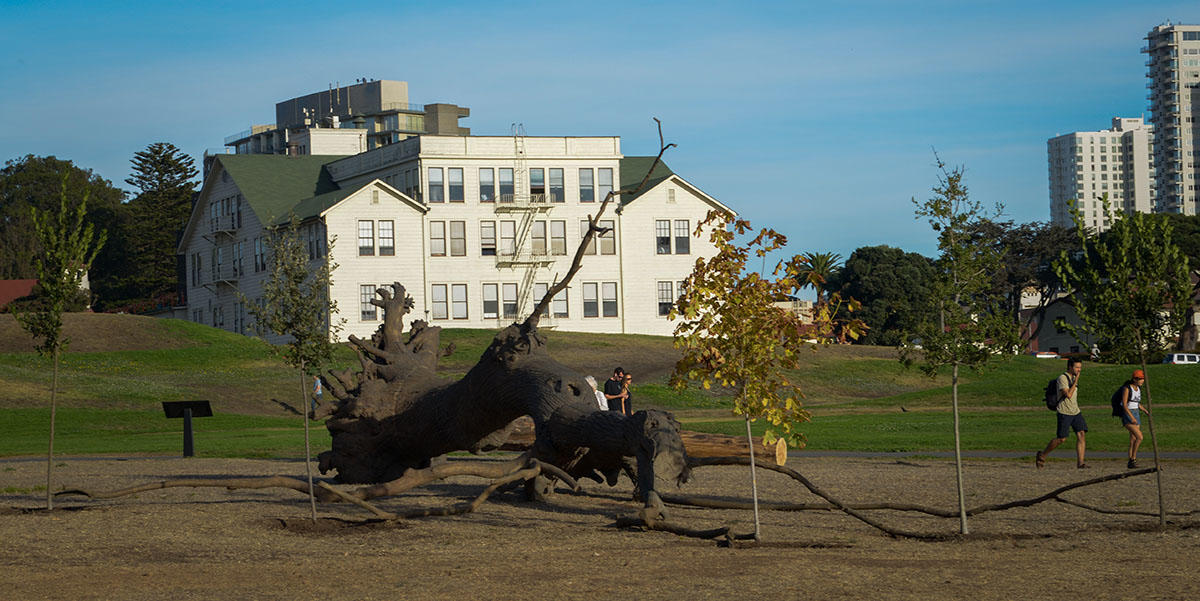 Giuseppe Penone's "La logica del vegetale" on display at upper Fort Mason
Ryan Curran White / Parks Conservancy
We are happy to announce that Giuseppe Penone at Fort Mason will be extended until March, 2021.
Great Meadow, Upper Fort Mason
October 24, 2019 - March 31, 2021
Free and open to the public
The Golden Gate National Recreation Area and the Parks Conservancy have partnered with internationally renowned art gallery Gagosian to present a year-long outdoor installation by the distinguished Italian artist Giuseppe Penone in Fort Mason, a historic site within the Golden Gate National Recreation Area. Penone's sculptural investigation of the perpetual give-and-take between humans and nature offers a poetic analogy to the evolution of the park itself.
Penone conceived this installation of two large-scale sculptures in response to the landscape of Fort Mason. In each work, a bronze cast of a tree is combined with natural elements, evoking the vital forces and life cycle of the surrounding growth. In La logica del vegetale (The Logic of the Vegetal, 2012) the tree lies on its side, its gnarled root system exposed. Five living saplings native to California—valley oak, coast live oak, bigleaf maple, and two California bay laurels—sprout at the tips of its sprawling branches. In Idee di pietra (Ideas of Stone, 2004), large river stones nestle in the high branches of the bronze sculpture. The narrow tree standing tall and straight as it supports the stones high into the air suggests a force resisting the planetary burden of gravity.
Penone uses objects from the natural world to document the intertwined relationship between humans and nature in evolution over a geological timeline. He was a proponent of the Arte Povera movement, beginning in Italy in the 1960s, which used "poor" and unconventional materials such as soil or plant matter to evoke a preindustrial age and subtly critique systems of industrialization, mechanization, and art. Penone's earliest works included site-specific sculptures situated in the woods around his Piedmont hometown—the start of an enduring fascination with the arboreal realm that is still prevalent in his work today.
The bronze trees on view at upper Fort Mason were cast using molds from actual trees felled by natural causes. For Penone, trees are more than a material or an image; they are "not objects but individuals, with their own life and a shape different from ours but with the same dignity." By recognizing, altering, re-creating, and interacting with the natural forces and cycles of the environment, he blurs the distinction between our physical selves and the natural world.
The areas protected by the National Park Service have long provided inspiration for artists; in return, the park sites have used art to deepen the public's enjoyment, appreciation, and understanding of these natural treasures.
THE TREES OF FORT MASON
The towering trees planted strategically in rows at upper Fort Mason, and at other park sites such as the Presidio, once had a military role. During Fort Mason's 200-year-long history as a military fort under Spanish, then Mexican, then United States control, trees were used as a resource, a way to block the strong Pacific winds, build structures, and provide a visual separation between military areas and the rest of San Francisco. Hundreds of trees—including eucalyptus, Monterey pine, Monterey cypress, and palm—survive from the military era at Fort Mason. Now within a national park site, these aging trees live where the human-altered landscape coexists with the wild. Learn more about Fort Mason's history at nps.gov.
ABOUT THE ARTIST
Giuseppe Penone was born in 1947 in Garessio, Italy, and currently lives and works in Paris and Turin, Italy. His work is held in collections including the Museum of Contemporary Art, Los Angeles; Metropolitan Museum of Art, New York; Museum of Modern Art, New York; Tate, London; Centre Pompidou, Paris; and the Louvre Abu Dhabi. Presentations of his work include exhibitions at the Musée des Arts Contemporains du Grand-Hornu, Belgium (2010); Drawings and Sculptures, De Pont Museum, Netherlands (2010); 22 Opere a Versailles, Château de Versailles, France (2013); Ideas of Stone (Idee di Pietra), Madison Square Park, New York (2013–14); Being the River, Repeating the Forest, Nasher Sculpture Center, Dallas (2015); Anafora, Reggia di Venaria Reale, Italy (2016); and Matrice / Matrix, Palazzo della Civiltà Italiana, Rome (2017). In 2017, Germination, Penone's permanent, site-specific installation for the Louvre Abu Dhabi, was presented at the inauguration of the museum. Penone has received numerous accolades, including the Praemium Imperiale, Japan Arts Association (2014).
ABOUT GAGOSIAN
Gagosian is a global network of seventeen exhibition spaces in North America, Europe, and Asia. In addition to its vibrant contemporary art program featuring leading international artists, Gagosian also presents unparalleled historical exhibitions, including a series of groundbreaking surveys on the art of Pablo Picasso. The gallery publishes scholarly exhibition catalogues, artist monographs, catalogues raisonnés, and the Gagosian Quarterly, an innovative magazine on the gallery's art and artists as well as related topics in contemporary art.