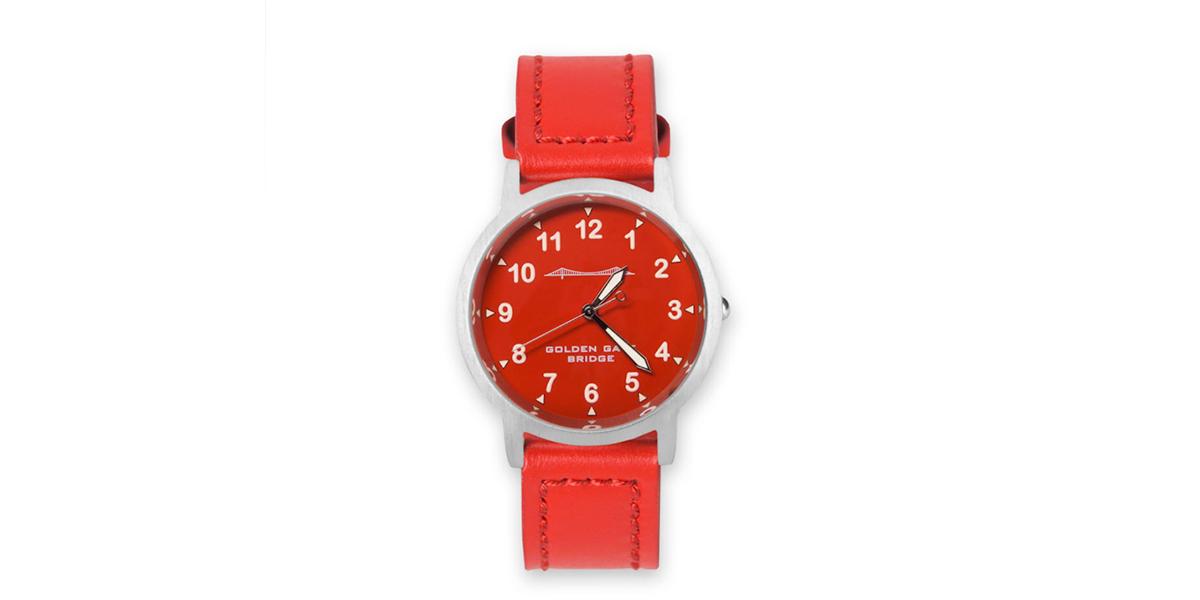 Modeled after the landmark span's toll plaza clock, this sporty timepiece features glow-in-the-dark numbers and hands that echo the clock's neon lights
Why get up at darkness-o'clock to battle mall zombies during the holidays? At www.parksconservancy.org/store, you can shop in comfort and joy from your cozy couch. Get started with our 2013 Gift Guide—featuring a hand-picked selection of this season's must-haves—and find something for all the park lovers on your list!
Become a member of the Parks Conservancy and enjoy even bigger discounts! As another benefit of membership with the Conservancy, you can enjoy 15% off at all park stores, all year-round—as well as the satisfaction of knowing your purchases help support vital park programs.
Don't Be Late: Time your arrival with our exclusive GOLDEN GATE BRIDGE WATCH. Modeled after the landmark span's toll plaza clock, this sporty timepiece features glow-in-the-dark numbers and hands that echo the clock's neon lights, and an Italian leather strap in the Bridge's signature International Orange. A look everyone will notice. Premium Japanese quartz movement, $85/Member price: $72.25
Glorious Graphic: Our new silkscreened LANDS END PRINT will inspire many visits to this glorious coastal setting on the city's wild western edge. Created by Marin artist Michael Schwab, Lands End is the latest in the series of award-winning graphics loved by locals and out-of-town visitors alike. 22" x 28", $24/Member price: $20.40
Twice the Fun: Looking for a great way to spend a rainy day? Try our new double-sided MUIR WOODS PUZZLE! This durable, 1,000-piece jigsaw puzzle is made from recycled materials and features two stunning images for you to assemble and enjoy. Frame the finished puzzle for an intriguing piece of art perfect for home or office. Photographs by Bay Area photographer Stephen Joseph. 18" x 24", $14.95/Member price: $12.71
Make a Statement: Our comical cotton TODDLER ONESIE is perfect for the little cribber in your family. Art by Bay Area painter, illustrator, and cartoonist Dan Piraro in collaboration with Andy Cowan. 12 & 24 month, $14.95/Member price: $12.71
West Coaster: This stylish SUTRO BATHS COASTER SET features vintage advertising signs for what was once the world's most exotic swimming palace. A great gift for both locals and out-of-towners, the six unique cork coasters come in a durable, handsome box with a magnetic closure. 3.5" x 3.5", $12.95/Member price: $11.01
Wearable Art: In its day, Sutro Baths was the world's largest indoor swimming facility. Now, its ruins are among the many attractions at Lands End. Our stunning full-color SUTRO BATHS SILK SCARF captures the beauty of this remarkable place during its heyday and commemorates the site's rich history. 70" x 18.5", $45/Member price: $38.25
December 30, 2013