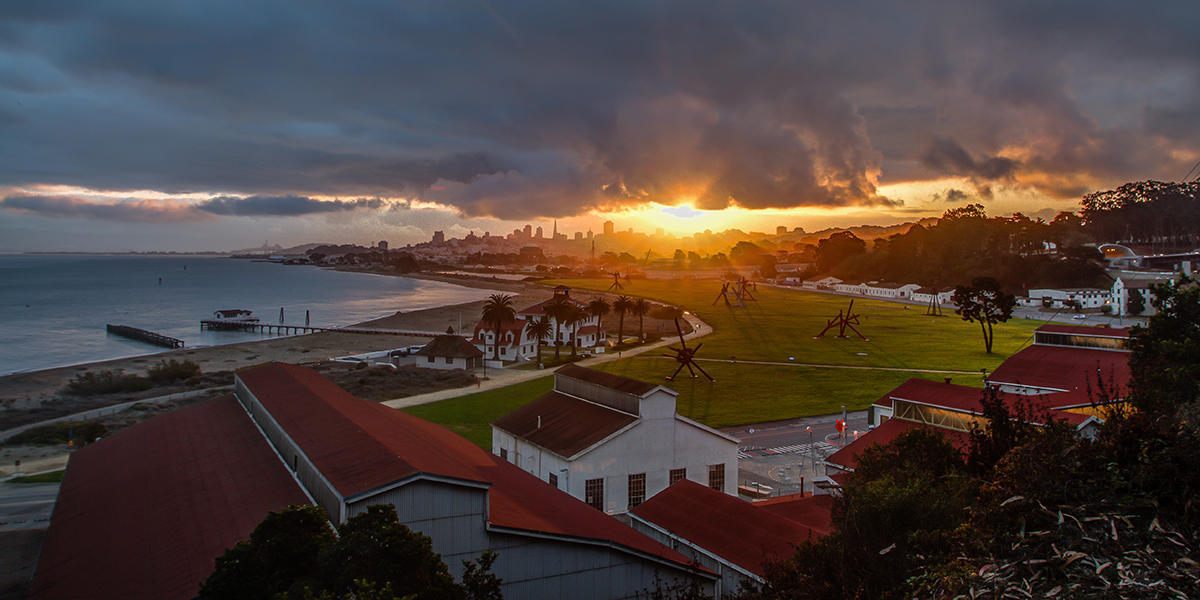 Crissy Field sunrise
Kirke Wrench/Parks Conservancy
The past year has been a remarkable one for the Institute at the Golden Gate. We started 2013 with a list of ambitious goals focused on one key mission: making parks and public lands part of the solution to some of society's biggest challenges. We're thrilled to report that 2013 may have been our most successful year yet! Here are some of the highlights.
Our food program marked a milestone achievement with the announcement by the National Park Service in June that it was adopting new food policies that will affect tens of millions of meals served in national parks each year. This exciting new development was the culmination of three years of work by the Institute to inspire and help co-design a new food policy for parks across the country. More widely, it shows how parks and public lands can be part of the wider movement toward a more sustainable food system.
This year the Institute also co-hosted the first national summit on sustainable food service with the Rockefeller Brothers Fund and Stone Barns Center for Food and Agriculture, convening food industry leaders from parks, hospitals, schools, retail outlets, and museums to design collaborative sustainable food solutions at scale. Galvanized by these successes, we're now planning the next stage of our food work, including projects regionally and nationally, as well as initiatives right here in the Bay Area. 
Over the past year, the Institute's Health program has worked to strengthen the role that parks and public lands can play in preventive healthcare. Locally, health and park agencies united to provide over 100 culturally relevant, introductory, and free programs in dozens of parks in all nine counties of the Bay Area. 
At the national level, the Institute co-hosted a workshop in Houston, Texas, to strengthen and scale-up the park prescriptions movement. Globally, we are participating in an international Healthy Parks Healthy People taskforce to elevate the role parks and public lands play in making our populations healthier. With support from donors like Kaiser Permanente and the S.D. Bechtel, Jr. Foundation, the pilot programs we're testing in our own backyard—such as the Bayview Hunters Point park prescriptions program—are helping to create best practice guidelines that are now supporting activities across the United States and beyond! 
Meanwhile, our climate education program focused on the role parks can and should play in informing, educating, and empowering the public on critical challenges such as climate change. In May 2013, we released a well-received report that identified more than a dozen examples of innovative and high-impact educational programming in parks around the world.
Following this publication, we hosted a dynamic conference in November, with more than 140 people from as far afield as Australia gathered in Sausalito, California, to brainstorm about the role our beloved parks can play in educating and empowering people on climate change. The event attracted experts and innovators not just from our country's parks, but from many other sectors engaged in ground-breaking educational programs, including leaders from schools and universities, museums, the media, and Silicon Valley—as well as youth activists and well-known authors like Jonah Sachs and Mark Hertsgaard. With generous support from groups like the Ayrshire Foundation, we plan on taking our work to the next level in 2014. 
Closer to home, the Institute continued its work welcoming environmental and government groups to hold their meetings at beautiful Fort Baker. By offering discounted bookings for overnight guests and meeting space in conjunction with Cavallo Point–the Lodge at the Golden Gate, the Institute helped more than 1,200 professionals hold their meetings in 2013 at this inspiring and affordable venue overlooking the Golden Gate Bridge. Some of the many environmental friends and colleagues that took advantage of this opportunity were the Gordon and Betty Moore Foundation, The Nature Conservancy, Student Conservation Association, Institute for the Future, and WildAid.
With 2013 coming to a close, we're already ramping up for an exhilarating and eventful 2014. Thank you for your continued support and best wishes to all for a happy and healthy New Year!
January 30, 2014