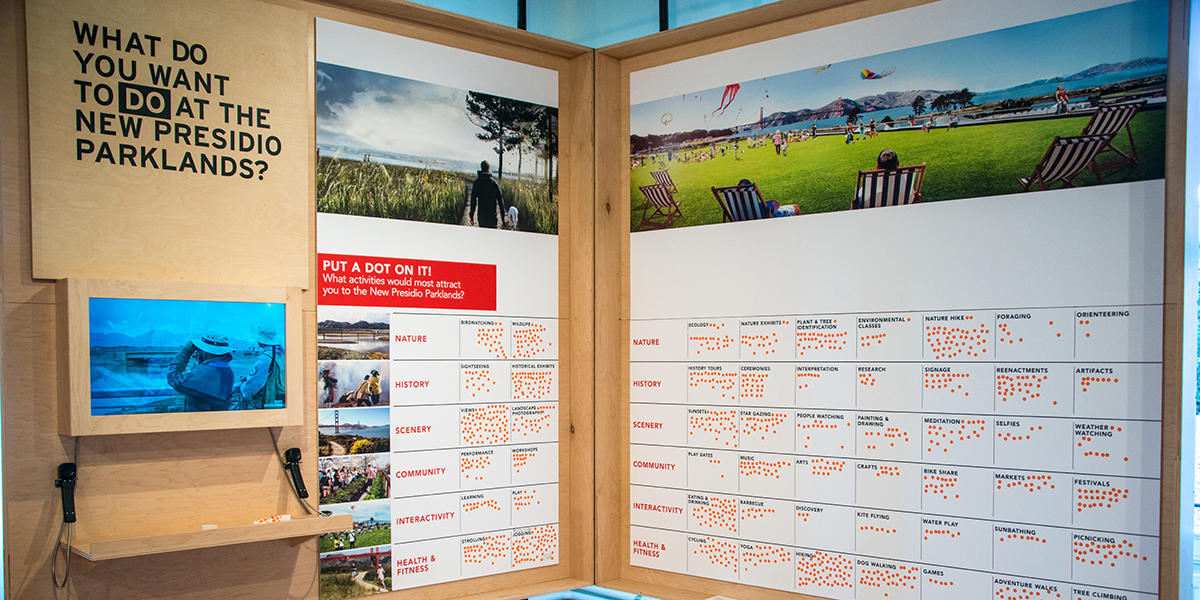 Presidio Parklands Project
Paul Myers/Parks Conservancy
The new 13-acre swath of national parkland, atop the Presidio Parkway tunnels and connecting the Main Post with Crissy Field, represents a major, historic park-making opportunity. The mission is to create an innovative destination that respects the environment and provides cutting-edge programming for locals and visitors alike.
James Corner Field Operations—the creative minds who designed the much-admired High Line in New York City—seems up to the task.
Early in December 2014, the Presidio Trust, Parks Conservancy, and National Park Service (NPS) announced that Field Operations best met the selection criteria, as a firm capable of designing and delivering a world-class result—while working closely with the public.
The New York-based firm was one of five internationally recognized and highly worthy finalists, including CMG Landscape Architecture, OLIN, SNØHETTA, and West 8. Earlier in 2014, these teams introduced their initial creative concepts, which sparked a robust community discussion on the vision for this breathtaking new space in the Presidio.
Field Operations—renowned for major projects such as Seattle's Central Waterfront, Chicago's Navy Pier, London's Queen Elizabeth Olympic Park, and Hong Kong's Tsim Sha Tsui Waterfront—will now launch in earnest into the "Design" phase of the New Presidio Parklands Project.
In the coming weeks and months, stay tuned for opportunities to help shape and comment on the design, both online and in public workshops and meetings. The project, which includes an expanded youth campus for environmental education, is tentatively slated for completion in 2018.
The New Presidio Parklands Project is made possible through a lead gift by the S.D. Bechtel, Jr. Foundation and the generosity of community donors. To learn how you can contribute to this landmark effort, contact Kathryn Morelli at (415) 561-3050 or kmorelli@parksconservancy.org. Learn more at newpresidioparklands.org.
January 1, 2015