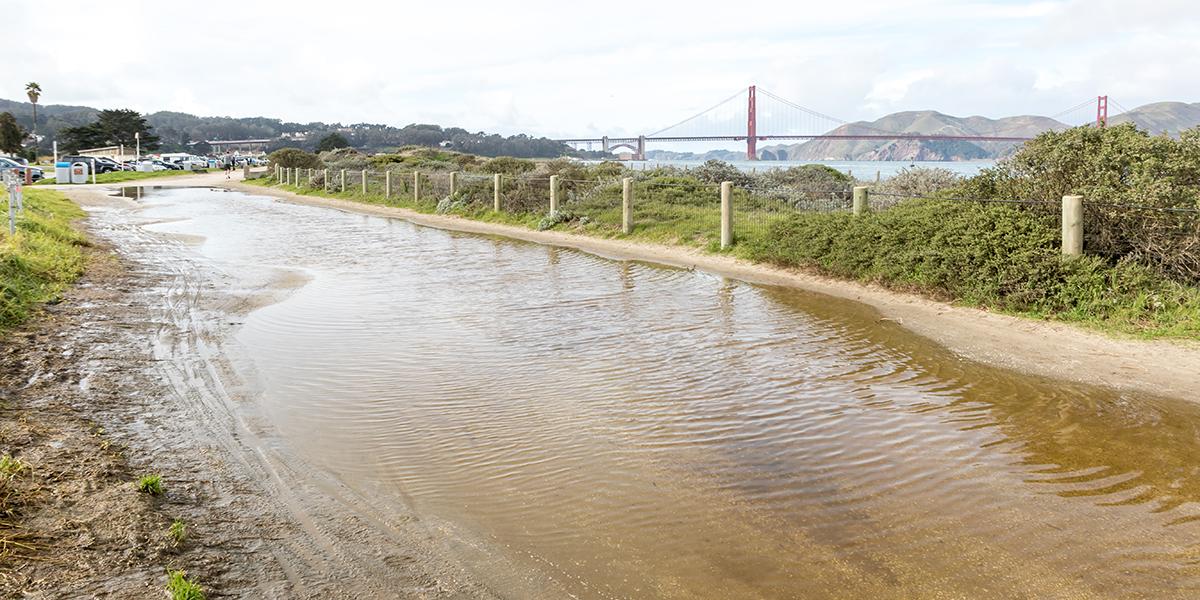 Water pooling on path along East Beach near Crissy Field Center
Kirke Wrench/National Park Service
With more than 1.2 million annual visitors every year, the Crissy Field Promenade has become a must-visit San Francisco icon for tourists and a favorite recreational destination for locals. Urban hikers, weekend cyclists, and running enthusiasts all share their love of the outdoors at Crissy Field.
Connecting East Beach, Crissy Marsh, Crissy Airfield, and West Bluff, the 1.5-mile-long promenade is a small but spectacular portion of the 500-mile San Francisco Bay Trail. A beloved route in the Golden Gate National Parks along San Francisco's northern waterfront, the promenade boasts unparalleled views of the San Francisco Bay, the Golden Gate Bridge, and city skyline.
Since its opening in 2001, the multi-use Crissy Field Promenade has welcomed more than 18 million people from across the globe and has suffered continuous wear and weather-related damage (see photos). Now the promenade is ready for its first major repair project since the original restoration of Crissy Field more than 15 years ago.
The entire length of the promenade—from Crissy Field Center to the Torpedo Wharf—will receive some much-deserved TLC. The new tread will be more durable, enhance accessibility, and reduce puddling and erosion.
Beginning in March, the promenade will be closed and reopened in sections as the repair work proceeds. Detour signage, as well as project information coordinators, will direct park visitors around the construction zone. The beaches, marsh, and airfield—as well as nearby Presidio destinations—will remain open.
This vital work is made possible by $2.5 million from the National Park Service Centennial Challenge Program, in celebration of the agency's 100th anniversary, with a generous match by the Evelyn and Walter Haas, Jr. Fund and contributions from Parks Conservancy members.
Crissy Field was transformed in 2001 from a neglected military site into a beloved national park by the Parks Conservancy and National Park Service, with community support inspired by lead gifts from the Haas, Jr. Fund and Colleen and Robert Haas.
For more information, please read: Crissy Field Promenade Repair: A National Park Service Centennial Challenge Project
Photos by Kirke Wrench
March 1, 2017