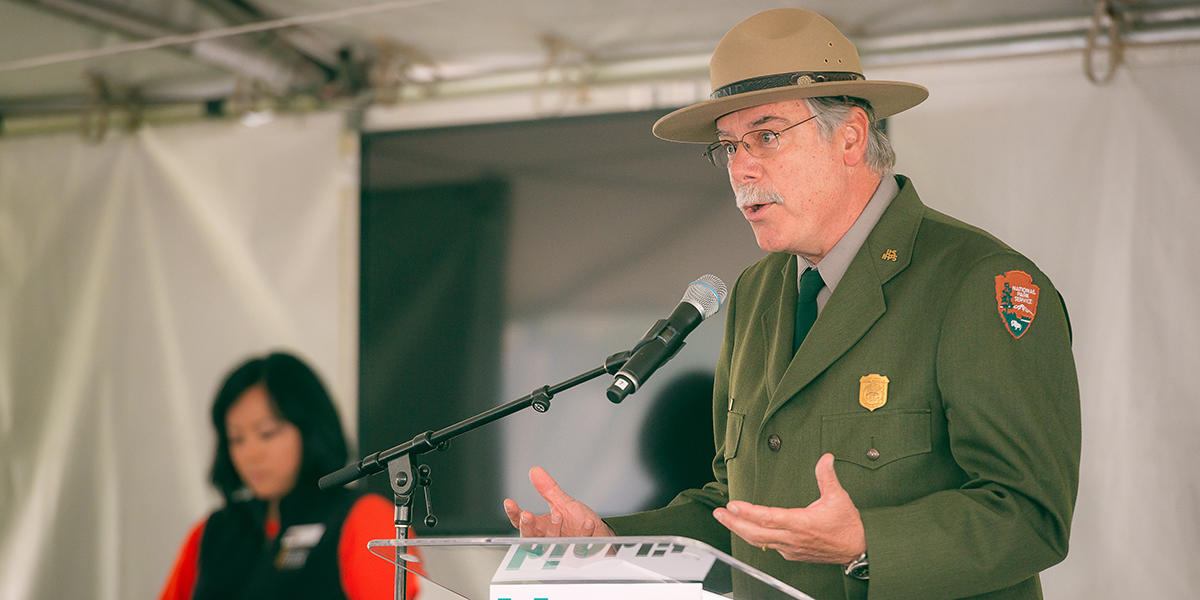 Frank Dean
Mason Cummings/Parks Conservancy
In 2016, the National Park Service (NPS) will celebrate its 100th anniversary. For nearly 40 of those years, Frank Dean has donned the green and gray uniform and iconic flat-brimmed hat.

His first park ranger job was in 1976, as a seasonal hire on Alcatraz, in the heart of our parks. After stops at Erie Canalway, Saratoga, the Grand Canyon, Yosemite Sequoia/Kings Canyon, Point Reyes, and the national office in Washington, D.C., Frank is completing the grand circle of his career. He is retiring this month as the General Superintendent of the Golden Gate National Recreation Area.
When he became the park's "top ranger" in 2010 as superintendent of the Golden Gate National Parks, Frank faced the daunting prospect of filling the larger-than-life shoes of a beloved predecessor, the late Brian O'Neill. But, in looking back on the past five years, Frank has carried forward and expanded upon Brian's legacy of engagement and innovation in park-making and friend-raising.

As the NPS strives to grow its reach and appeal to keep pace with America's changing demographics, it would do well to look at Frank's successes at Golden Gate in making the parks relevant to a variety of constituencies. Through the efforts of park staff (and partnership with the Parks Conservancy and Presidio Trust), Frank advanced initiatives that have brought new audiences to the parks, and enlarged the conception of what parks and park partnerships can be.

Under Frank's visionary leadership, Golden Gate was instrumental in bringing world-class art to the park through Mark di Suvero at Crissy Field and @Large: Ai Weiwei on Alcatraz and the site-specific performances by We Players (such as Macbeth at Fort Point).

Golden Gate partnered with National Geographic to bring scientists and citizen-scientists for a BioBlitz documenting the amazing biota of the park.

Golden Gate continued to pioneer how parks can serve and educate young people through its involvement in the Park Youth Collaborative.

Golden Gate played a key role in coalescing the Tamalpais Lands Collaborative, a groundbreaking five-way partnership to secure a better future for Mt. Tamalpais.

And Frank supported the work of the Institute at the Golden Gate, which is leveraging parks as solutions for healthier people, more sustainable food systems, and more impactful climate change education.

Frank's influence has been vast because his heart is immense. His engaging persona, his unfailing integrity, and his genuine leadership have benefited these parklands tremendously. We cannot thank him enough for his service.

Like so many of you, I will miss Frank very much, but I am pleased to know that his warm personality and unique skills will continue to serve the cause of public lands. Frank has been named as the President and CEO of our sister nonprofit, the Yosemite Conservancy, and we wish him all the best in this worthy endeavor on behalf of one of America's most cherished places.

And here in the Golden Gate National Parks, we look forward to working with the next Superintendent, who will further grow our shared vision for an ever more inclusive, engaging, and relevant park—a vision, indeed, to guide national parks into its next 100 years and beyond.
March 1, 2015