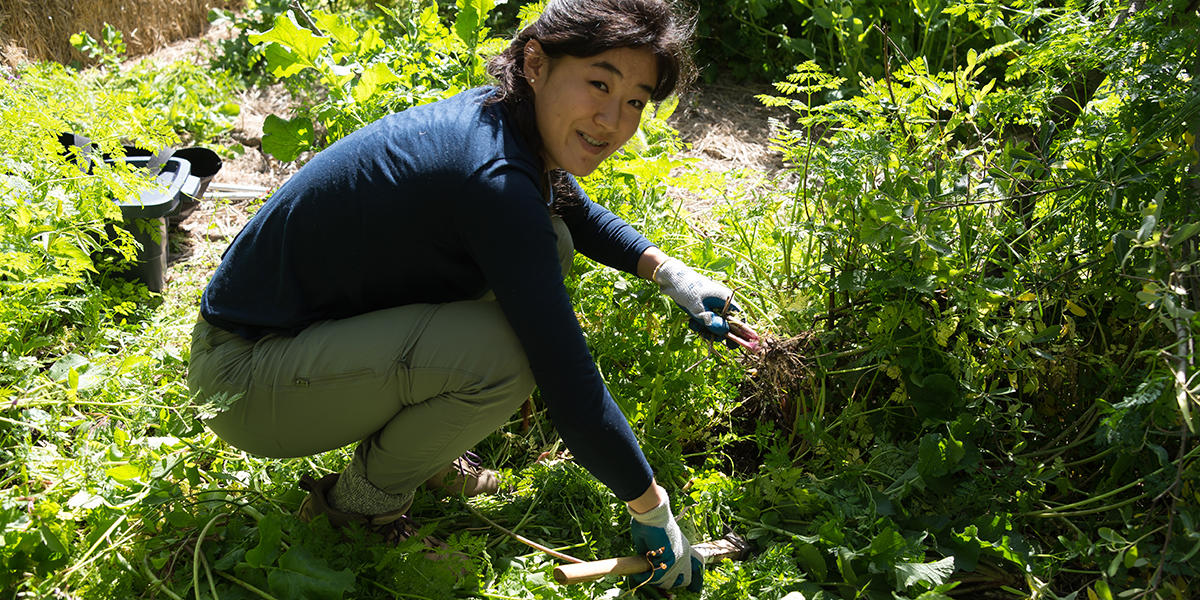 Gardening
Alison Taggart-Barone/Parks Conservancy
Across the parks, volunteers root out nonnative plants to help restore wildlife habitat. But did you know that those weeds can be quite tasty? Just in time for holiday meals, enjoy these recipes that use nonnative species found in the Bay Area!

CAUTION: As always, be sure to positively identify wild plants before consuming. Consult with authoritative texts and expert, experienced foragers to ensure correct ID.


Salad Course

Dandelion, Nasturtium, and New Zealand Spinach Salad

Ingredients:
1 cup dandelion greens, chopped if necessary
1 cup nasturtium flower petals
1 cup New Zealand spinach, chopped if necessary
1 pound baby spinach leaves, washed and picked through for rocks
Vinaigrette dressing

Directions:
Toss ingredients with your favorite vinaigrette dressing and chill for at least 15 minutes.
Makes 10 servings.

DID YOU KNOW: Dandelions are members of the Asteraceae, or sunflower family. This is a very large plant family globally, and its members constitute the biggest group among California native species—from tiny annual plants such as tidy tips (Layia platyglossa) to large shrubs such as coyote brush (Baccharis pilularis).
Soup Course

Potato Soup with Mustard Greens and Wild Onions

Ingredients:
2 tbsp. olive oil
2 onions, finely diced
6–10 wild onions, chopped
3 small bay leaves
3 pounds potatoes, peeled
4–6 cups wild mustard greens (or radish greens)
Salt and freshly cracked pepper
4 tbsp. chopped parsley
1 tsp. Italian seasoning
2–3 garlic cloves, roasted
2 tsp. garlic powder
3 tbsp. fresh parsley, chopped

Directions:
Heat oil over medium heat in a heavy soup pot. Add onions and bay leaves, and cook slowly. Meanwhile, quarter each potato length-wise, and then thinly slice. (Irregular pieces are fine—the smaller ones will fall apart, giving body to the soup.)

Add the potatoes and wild mustard greens, raise the heat, and sauté, stirring frequently, until the onions begin to color and a glaze builds up on the bottom of the pan (about 10 minutes). Add 2 tsp salt and 1 cup of water. Scrape the bottom of the pot to loosen the solids.

Add 2 quarts of water and bring to a boil. Add roasted garlic. Lower the heat to simmer, partially cover, and cook until the potatoes are soft about 30 minutes. Remove the bay leaves, season with pepper, Italian seasoning, garlic powder, and extra salt if necessary. Stir in the fresh parsley.

Note: Substitute milk or soy milk for some of the water for a creamy soup!

—Adapted from Vegetarian Cooking for Everyone, by Deborah Madison

DID YOU KNOW: Wild mustard and radish greens are both members of the Brassicaceae, or mustard family. The Golden Gate National Parks are home to a rare and beautiful member of the mustard family—the coast rock cress (Arabis blepharophylla).
Main Course

Fava Bean Pasta with Wild Fennel and Wild Onions

Ingredients:
2 tbsp. olive oil
2 cups fava beans
8–10 wild onions, diced
10–20 wild fennel roots, diced
10 oz. (dry weight) bow tie pasta, cooked

Directions:
Steam fava beans for 3–4 minutes, rinse with cold water, and remove skins. Heat the
olive oil in a large skillet or wok, and add fava beans, fennel, and onion. Stir on medium
heat until onions are transparent. Toss with hot pasta. Salt and pepper to taste. Makes 4 servings.
DID YOU KNOW: Wild fennel, a member of the Apiaceae, or carrot family, is related to an edible native plant—the Yampah (Perideridia sp.). Its roots were a staple food for indigenous peoples of western North America.


Dessert Course

Fennel Cookies

Ingredients:
1 tbsp. fennel seeds (if seeds are chewy, chop them)
2 tbsp. boiling water
2/3 cup sugar
1/2 tsp. baking soda
1 egg
2 cups flour
3/4 cup butter or margarine

Directions:
Heat oven to 400 degrees. Combine seeds and water and let stand, while mixing dough.
Cream butter with sugar and baking soda. Beat in egg. Drain seeds and add with flour. Mix well.

Shape dough into 1/2-inch balls and place on greased baking sheet. Bake for 10 minutes. Makes about 4 dozen.

For a prettier cookie, roll in powdered sugar after removing from the oven. Dough may be made ahead and refrigerated before baking.

—From Edible and Useful Plants of California, by Charlotte Bringle Clarke
December 1, 2014