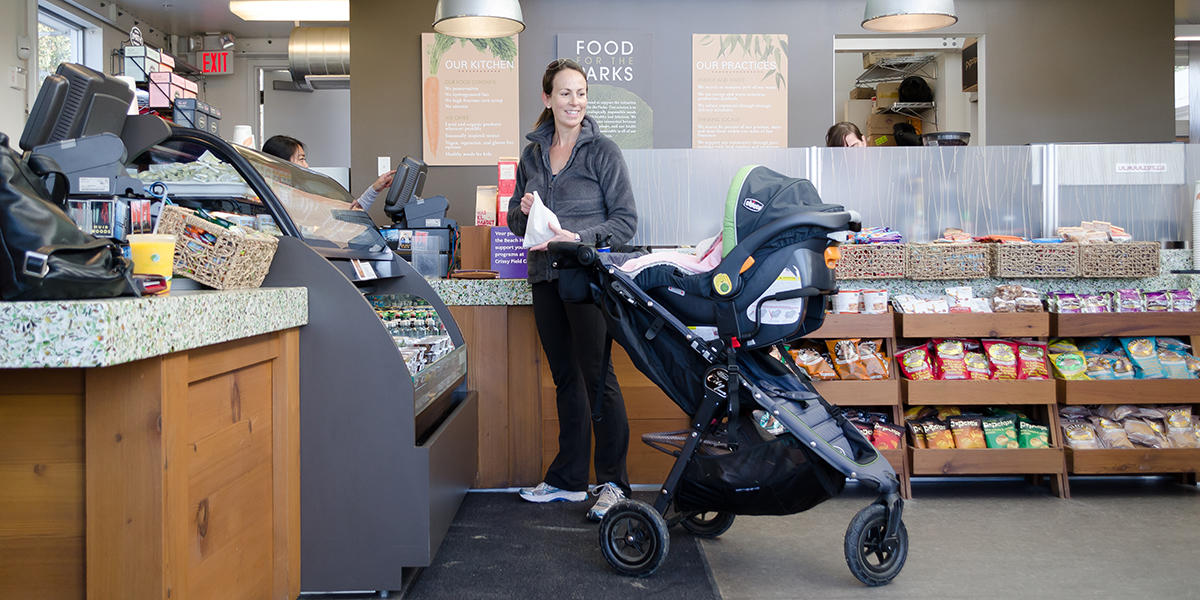 Beach Hut Cafe
Alison Taggart-Barone/Parks Conservancy
Last week, the Institute at the Golden Gate, in partnership with the Rockefeller Brothers Fund and Stone Barns Center for Food and Agriculture, brought together food service executives from across the nation to share best practices and address common challenges in expanding healthy and sustainable food service. This dynamic group of individuals representing our national parks, hospitals, school systems, airports, and retail outlets demonstrated the opportunity for collaboration in creating a healthier and more sustainable food system.
Over the two-day Summit, 75 food pioneers and industry leaders discussed the history and future landscape of institutional food service in the U.S. and heard from inspirational innovators including: Fred Kirschenmann, Stone Barns Center; Walter Robb, Whole Foods Market; Dan Barber, Blue Hill Chef; Kirsten Tobey, Revolution Foods; Gary Nabhan, MacArthur Fellow; Steve Ells, Chipotle; and Fedele Bauccio, Bon Appétit Management Company.
Participants actively participated in lab workshops centered on four universal themes in sustainable food service: Customer Choice & Educational Opportunities, Pricing & Cost, Sourcing & Seasonality, and Retraining & Retooling. By the end of the Summit, new connections and partnerships were formed, and participants were inspired to create new collaborative working groups to work across sectors on developing new food policy, practices, and programs. Participants stated it was one of the best—if not the best—convening they had ever attended.
At the Summit, the Institute presented its Food for the Parks program and its success in expanding the availability of nutritious, local, and sustainable food in our parks, catalyzing systemic policy change nationwide. The Institute also highlighted the Golden Gate National Parks' local food work at Muir Woods Café, which not only serves as a national model of local and organic food sourcing, sustainable packaging, waste management, and customer education, but also thrives as a local culinary hotspot.
Over the past few years, the Institute has published national reports inspiring food leaders to action and the development of new healthy and sustainable food initiatives in parks across the country. The Institute first published Food for the Parks: Case Studies of Sustainable Food in America's Most Treasured Places, to highlight concessioners and parks at the forefront of the healthy food movement. As a follow-up report, the Institute developed Food for the Parks: A Roadmap to Success as a toolkit for parks and food service providers, offering strategies and incremental improvements toward developing sustainable, healthy food programs.
In the coming years, the Institute will host regional food forums and develop new tools and resources to make healthy and sustainable food options available at the 10,000 local, state, and national parks across America (and for the 35 million meals served annually in our national parks!). The Institute also will continue to bring together food industry leaders and innovators to support collaborative efforts aimed at improving our nation's food system.
What an exciting sneak peek into the future of Food for the Parks and beyond!
April 28, 2013