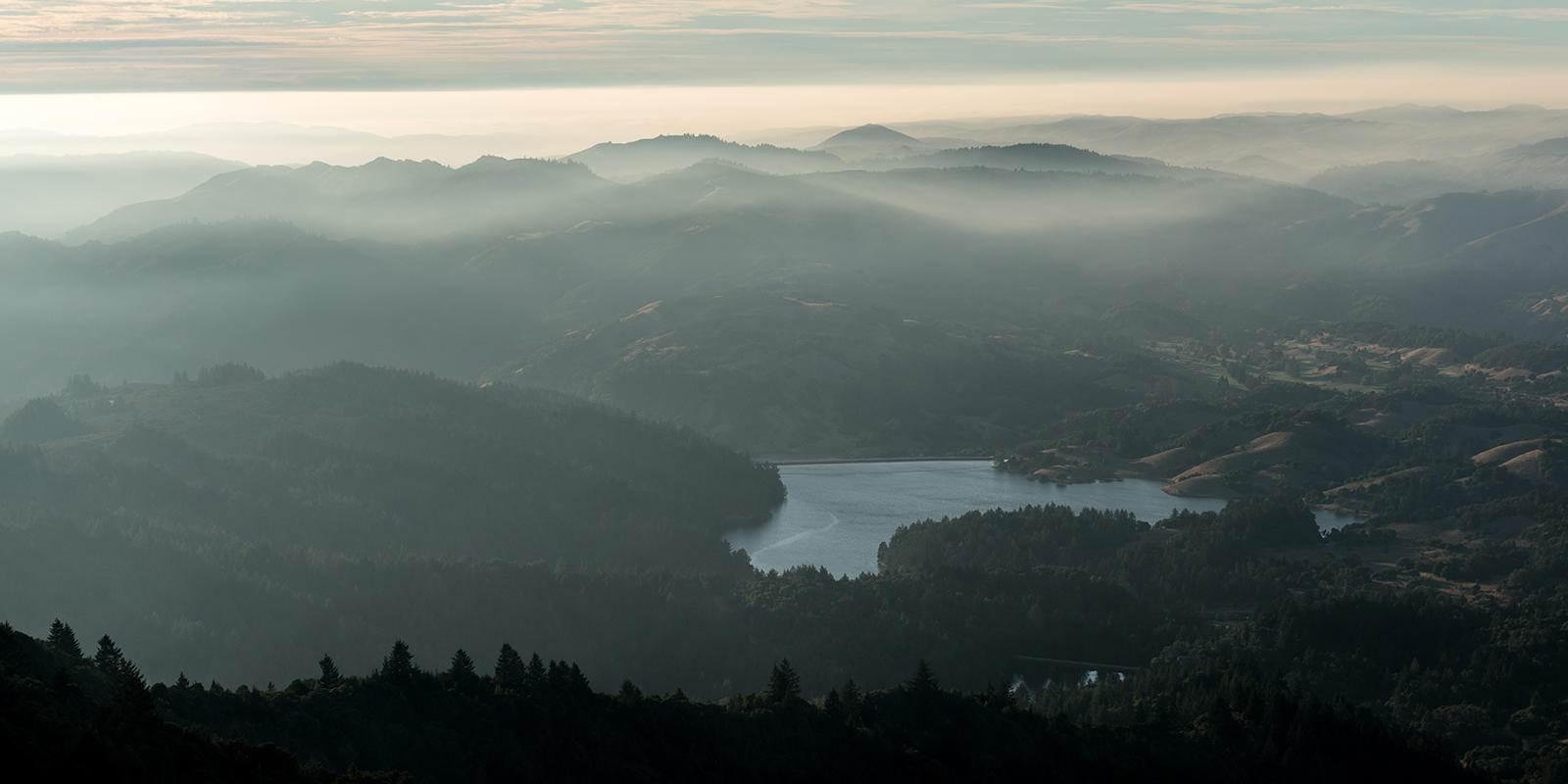 East Peak, Mount Tamalpais
Paul Myers/Parks Conservancy
For people living in the San Francisco Bay Area, Mount Tamalpais is more than just a mountain; it's a cherished open space that encompasses some of the most beautiful, ecologically rich, and well-loved trails and parklands in the region. The birthplace of mountain biking and a source of inspiration for singers, songwriters, artists, and filmmakers, Mt. Tam and its watershed are also a critical source of drinking water for 75 percent of Marin County's population.
As part of "One Tam," a community campaign to raise awareness and build community support around efforts to care for Mt. Tam's treasured resources, the Tamalpais Lands Collaborative (TLC) has launched a visually stunning, dynamic web portal that allows supporters to share their memories and stories of Mt. Tam and leave their "virtual mark" on the mountain.
Created by Goodby Silverstein & Partners (GS&P), OurTam.org is an interactive 3-D re-creation of Mt. Tam that allows visitors, organizations, schools, and others to travel to their favorite spots on the mountain and leave their personal stories in the form of text, photos, or videos. Through the website, users can pinpoint their location on the mountain by using their phones, or they can add memories from their computers at home. Once visitors have "left their mark" on the mountain, they can read and enjoy stories shared by fellow Mt. Tam lovers and supporters.
"In our efforts to build stewardship and support for our parks, we're always seeking ways to engage the public and provide opportunities for people to connect with these special places," said Greg Moore, President & CEO of the Golden Gate National Parks Conservancy. "OurTam.org uses technology in a creative way to shine a light on the many memories and stories that have been created on Mt. Tam, and to serve as a reminder that we need to care for the mountain as much as it nurtures and cares for us."
OurTam.org was created by GS&P for the TLC, which includes the Marin Municipal Water District (MMWD), National Park Service, California State Parks, Marin County Parks, and the nonprofit Golden Gate National Parks Conservancy. Rich Silverstein, co-chairman and creative director of GS&P, has been an avid visitor and fan of Mt. Tam for decades. Through OurTam.org the TLC and GS&P hope to encourage 10,000 people and organizations to add their voices to the virtual mountain and demonstrate how important a healthy Mt. Tam is to the Marin County community and beyond.
"The Miwok Indians believed the mountain was sacred," said Silverstein. "We want to keep that respect alive by using 21st-century technology to celebrate its open space."
About Goodby Silverstein & Partners:
Goodby Silverstein & Partners is one of the world's most respected and most awarded advertising agencies. GS&P is headquartered in San Francisco and has an office in New York City. GS&P San Francisco serves Comcast/XFINITY, Frito-Lay, eBay, Princess Cruises, the California Milk Processor Board ("got milk?"), Adobe, Cisco, SONIC Drive-In and others. GS&P is part of the Omnicom Group. For more information about GS&P, please visit www.goodbysilverstein.com. GS&P on Twitter: www.twitter.com/GSP.
About the Tamalpais Lands Collaborative (TLC) Partners:
California State Parks
The California State Parks are dedicated to providing for the health, inspiration and education of the people of California by helping to preserve the state's biological diversity, protecting its most valued natural and cultural resources, and creating opportunities for high-quality outdoor recreation. www.parks.ca.gov.
Golden Gate National Parks Conservancy
The Golden Gate National Parks Conservancy is the nonprofit membership organization that supports the Golden Gate Recreation Area. Since 1981, the Parks Conservancy has provided support for site transformations, trail improvements, habitat restoration, research and conservation, volunteer and youth engagement, and interpretive and educational programs. In Marin, the Conservancy has restored habitat and trails, engaged youth and volunteers, and managed a variety of wildlife and plant monitoring programs. Learn more at www.parksconservancy.org.
Marin County Parks
Marin County offers an extensive system of regional and community parks, open space preserves, and trails for public use and enjoyment. It is dedicated to educating, inspiring, and engaging the people of Marin in the shared commitment of preserving, protecting, and enriching the natural beauty of Marin's parks and open spaces, and providing recreational opportunities for the enjoyment of all generations. www.marincountyparks.org.
Marin Municipal Water District
Marin Municipal Water District is a public utility providing water to 186,000 people in south and central Marin County, and managing 21,635 acres of watershed lands open to public use. In operation since 1912, MMWD is the oldest municipal water district in California. The district's mission is to manage natural resources in a sustainable manner and to provide customers with reliable, high-quality water at a reasonable price. www.marinwater.org.
National Park Service
The National Park Service (NPS) is a federal agency within the U.S. Department of the Interior charged with managing the preservation and public use of America's most significant natural, scenic, historic, and cultural treasures. The NPS manages the Golden Gate National Recreation Area, which includes Mount Tamalpais, as well as 406 other park sites across the U.S. www.nps.gov/goga.
April 1, 2015