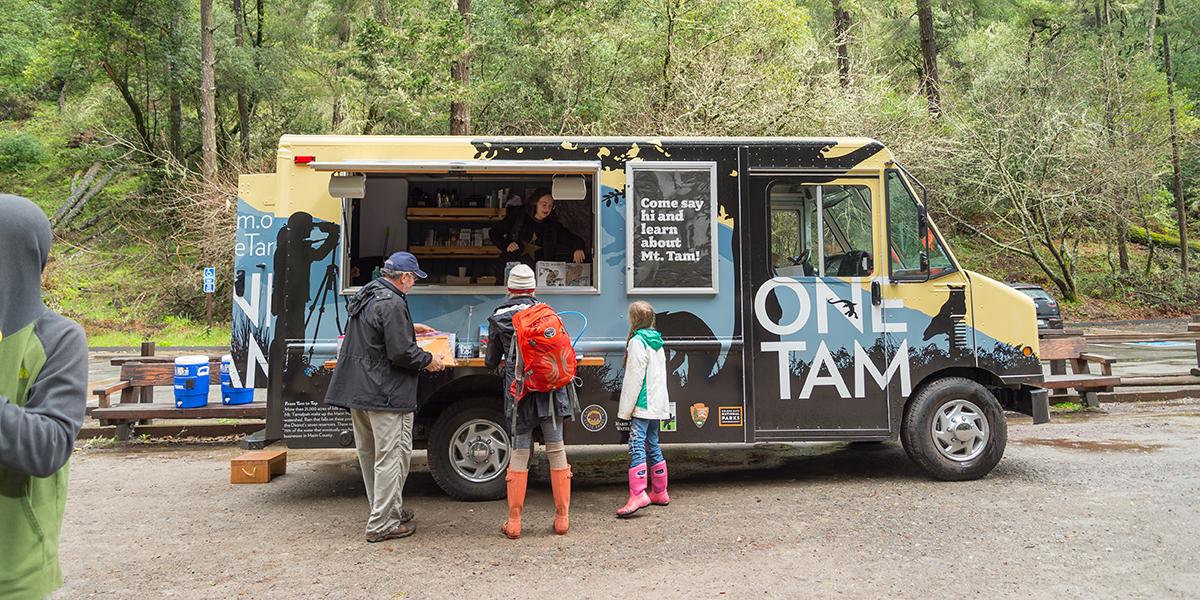 One Tam Roving Ranger
Alison Taggart-Barone/Parks Conservancy
A delightful sight and welcome resource at far-flung locations throughout the Golden Gate National Parks and community events across the Bay Area, the first Roving Ranger has been spreading park information and fun since 2013. In September 2016, we rolled out our second "mobile trailhead" to support One Tam and serve Marin County.
"With One Tam really taking off, this new Roving Ranger will help further promote and share opportunities for the community to get involved with our stewardship efforts on Mt. Tamalpais," said Camey Yeh, a project manager with the Golden Gate National Parks Conservancy.
Building upon lessons learned through the first version, Roving Ranger 2.0 comes fully loaded—and ready to inspire and inform the public of our work on Mt. Tam and nearby parklands. The truck features:
• A 3-D topographic model of Mt. Tam and surrounding communities
• A pull-down map of the mountain
• Additional storage space for books and brochures about natural and cultural resources
• A sound system and furnishings
• Instant-photo cameras for picture-perfect park selfies
• An on-board spigot for filling bottles—a nod to the mountain's watersheds and the Marin Municipal Water District
The One Tam Roving Ranger truly symbolizes the collaborative spirit of the Tamalpais Lands Collaborative, as it's the result of input from staff at the Marin Municipal Water District, California State Parks, Marin County Parks, National Park Service, and Parks Conservancy.
And, once again, the wizards at BASE Landscape Architecture led the transformation of this former delivery truck—only the third "mobile trailhead" in the world (the others are the original Roving Ranger, and another at Santa Monica Mountains National Recreation Area).
Designers at L Studio created a brilliant "wrap" for the new Roving Ranger. Each side of the truck depicts a different ecosystem on Mt. Tam—as well as some of the iconic plants and animals that can be found in those habitats (can you spot them all?).
Look for the One Tam Roving Ranger—and come meet our friendly and knowledgeable staff—at the Mt. Tam Day of Thanks on Nov. 19!
November 1, 2016