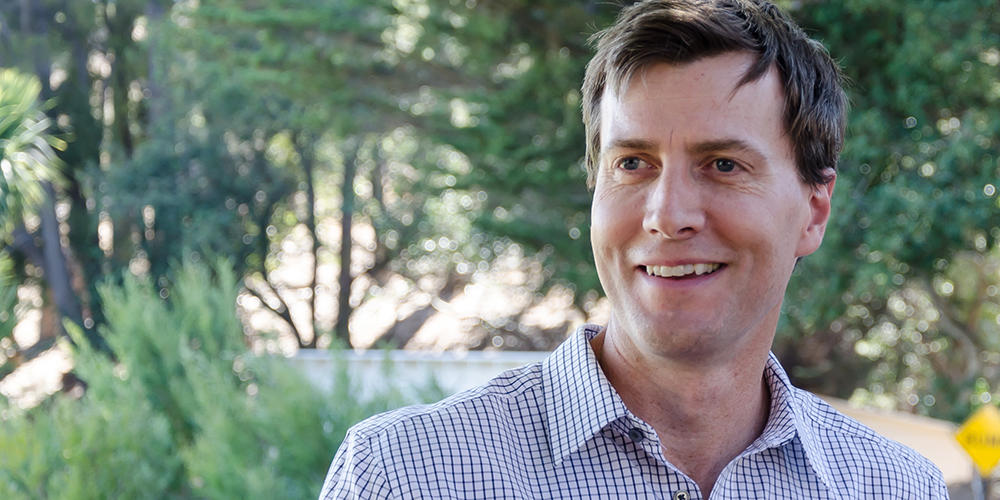 New Institute at the Golden Gate Director Chris Spence
Alison Taggart-Barone/Parks Conservancy
New Institute at the Golden Gate Director Chris Spence tells us about his vision for the Institute—and his formative childhood experiences in the "spectacular countryside" of Bingley, England.

1. Can you give us a short highlight tour of your history?
I was born in England and spent most of my formative years in Britain and New Zealand. For the past decade, I've lived mostly in the U.S.—first in New York and more recently in the Bay Area.

Professionally, I've always worked for causes in which I have a strong interest and belief. I started out in politics as a researcher and speechwriter on conservation, environment, and foreign affairs. I also ran a non-profit in New Zealand focused on public health issues, before moving to New York, where I worked on environmental issues as an adviser to the United Nations and several other organizations.

For the past seven years, I was deputy director at a think tank called the International Institute for Sustainable Development. I was responsible for the day-to-day management of a team of experts working on international diplomacy and decision-making. Our aim was to create greater transparency and accountability in terms of what countries are doing—or, in some cases not doing—on some of the biggest challenges our world faces today, such as climate change, water, energy, conservation, and the management of our natural resources.  

2. What intrigued you about the Institute at the Golden Gate?
I believe in thinking globally and acting locally. If you look at the Institute's mission, it seeks to do precisely this. Its aim is to inspire action on environmental preservation and global sustainability by connecting groups and individuals with a passion for making our world a better place.

The Institute is uniquely placed in this respect, for several reasons. First, it is part of the Parks Conservancy, which has a remarkable, 30-year track record in promoting conservation and park stewardship locally in the Bay Area. Second, it has extraordinary partners, such as the National Park Service. And last but certainly not least, it has a great team of staff and a marvelous home in Fort Baker, which boasts top-notch conference and meeting facilities.

Because of these assets, the Institute is well-positioned to help connect the dots, bringing the lessons learned and success of the Parks Conservancy in the Bay Area to the world—and the world to the Bay Area! Already, the Institute has enjoyed noteworthy success as a conference host and thought leader. My aim is to help it build on these achievements in the coming years and take things to the next level.

3. Are you a park user? How and where?
Yes. I've enjoyed national parks for as long as I can remember. As a child, my family lived just minutes from the Yorkshire moors described so powerfully in Emily Bronte's Wuthering Heights. In New Zealand, I spent a lot of time in Tongariro National Park, which has an active volcano that's also a ski resort! Since moving to the Bay Area, my wife and I regularly take the kids to Crissy Field, Muir Woods, and the Marin Headlands. This weekend, we'll probably head over to Stinson Beach.

4. Is there an experience in your life that helped to form your environmental point of view?
My childhood in England certainly had an effect. I grew up in a small town called Bingley. Just a few miles north and west you could find some of the most spectacular countryside anywhere in the world—waterfalls, streams, rugged cliffs, heather-clad moors—places of sublime natural beauty. Yet just a few miles south were post-industrial cities, which at the time were blackened by a century of pollution and ravaged by unemployment and urban decay. Imagine putting Detroit next to Muir Woods.

As a child, the contrast was hard to reconcile, and sparked a strong interest in nature and conservation. I think this is why, when the chance came to work on environmental issues early on in my career, I jumped at it!

5. What are you most looking forward to about joining the Parks Conservancy and Institute at the Golden Gate?
Working with great people on an important cause pretty much sums it up for me. I was aware of the Conservancy's stellar reputation long before this particular role came up. Meeting the staff, the board, and some of our partners and supporters in the past few months has only reinforced my sense that this is a remarkable group of people dedicated to a worthwhile mission.
June 3, 2012