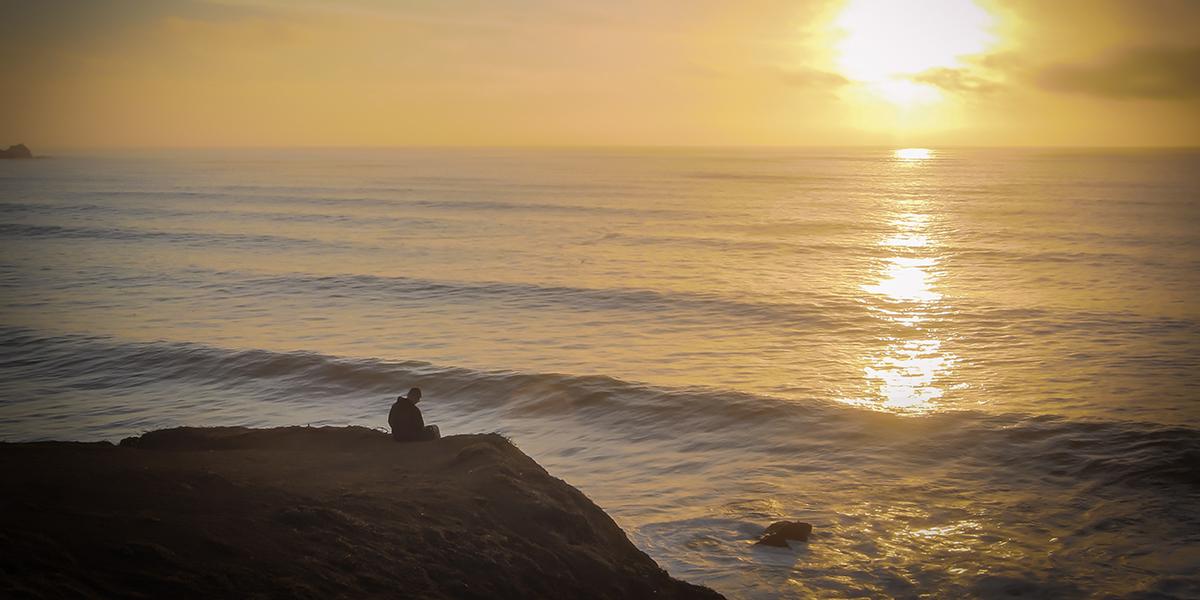 Sunset meditation at Mori Point
Curran White/Parks Conservancy
Grab your cameras and head for the coast—it's sunset season in the parks! With Daylight Savings around the corner (March 10), soon we'll have an extra hour to capture the sun setting at breathtaking coastal vistas.
Here are some must-visit locations in the parks—and a few tips—for any photo enthusiast during this late winter season:
1. Black Sands Beach
This is a favorite lesser-known sunset location in the Golden Gate National Parks. A colorful mélange of boulders scattered throughout the black sand slopes gives way to prominent sea stacks—perpetually battered by the forceful tides of the Golden Gate. The short, pleasant hike to Black Sands will provide you with coastal drama at its best.
The conditions here make for unparalleled opportunities to capture motion in water. Take caution, though—sporadic sets of tremendous waves can easily catch you off guard at Black Sands. Take a few steps inland to safely capture the ongoing battle between land and sea.
Since the beach is relatively south facing, sunsets are best here in the late winter and early spring. Point Bonita lies to the west and provides a great backdrop for a bounty of stellar foreground options.
2. Sutro Baths
There are plenty of reasons why Sutro Baths is a classic sunset location. It's very easy to get to and has just about everything a landscape photographer can hope for. The landscape here is rugged and wild, yet still easily accessible by public transportation.
The ruins of the baths provide great opportunities for a juxtaposition of photographic elements—wild nature and a strong presence of human history. Walk below the baths and you can still capture frontier-like scenes that appear far withdrawn from the hustle of contemporary urban life.
Sunsets can be good here all year 'round—even the foggy summer evenings lend to some truly eerie looking images. Every day brings something different at Sutro Baths.
3. Pirates Cove
Pirates Cove is the place to go for more adventurous shutterbugs seeking refuge from the flocks of photographers at the more popular locations like Sutro Baths. It's not easy to get there, but the seclusion and beauty of Pirates Cove make the arduous hike worth every step.
Sunsets are hit or miss—especially on the coast—so you have to be willing to roll the dice if you're planning to make the trip to Pirates Cove with the sole intention of taking photographs. Early spring clouds offer the best potential for colorful sunsets, so try not to let clear skies lure you in.
If you're planning on shooting sunset at Pirates Cove, be sure to bring a headlamp for the long hike out!
4. Mori Point
Mori Point is the ultimate spot for springtime wildflowers in the Golden Gate National Parks. The auspicious combination of vibrant flora and dramatic coastline makes it a truly one-of-a-kind location for landscape photography.
The short hike to the point itself will lead you to the best views and the largest patches of wildflowers. Spend an evening here composing lush foreground elements with "edge of the world" views—the possibilities are endless.
The blooms vary slightly from year to year, so sometimes it takes a little bit of persistence and luck to catch it at the right time. Even if there are no flowers, you will not leave disappointed.
5. Marshall's Beach
Tucked between Baker Beach and the Golden Gate Bridge, Marshall's Beach offers beautiful and unique perspectives on otherwise commonly photographed landscapes.
A short hike down the Batteries to Bluffs Trail takes you to this relatively secluded beach that offers incredible photographic potential. In the spirit of shooting sunsets, challenge yourself to point your camera away from the Bridge—the beach itself is beautiful too!
Now get out there and start shooting! Share your images with our Flickr group at www.flickr.com/groups/parksconservancy and post to Instagram with the hashtag #parks4all.
March 31, 2013