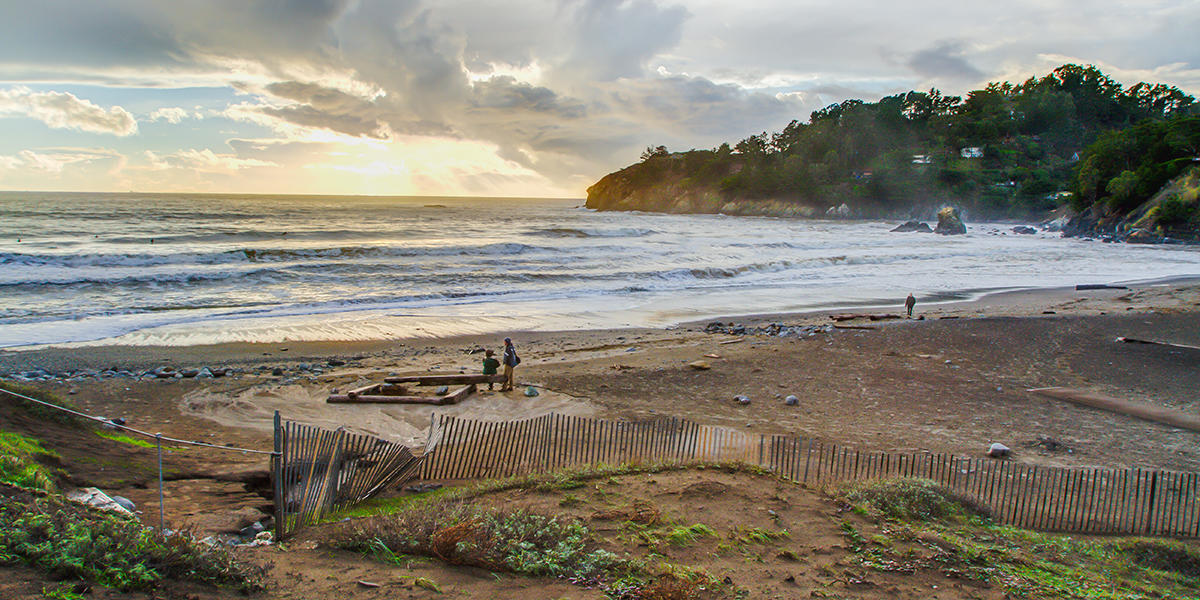 Muir Beach
Kirke Wrench/National Park Service
Muir Beach is now open! We invite you to come explore the restored landscape and see the brand-new facilities for yourself. This opening marks the end of a multi-year project aimed at restoring the ecosystem processes of Redwood Creek. The parking lot was realigned to allow the creek channel to be connected to its natural floodplain. These restoration efforts have created habitat for threatened and endangered species including coho salmon, steelhead trout, and California red-legged frogs.
During your visit, you'll probably notice the erosion-control material, called coconut fabric, spread throughout the floodplain. This fabric is used to protect the soil in this vulnerable floodplain. To learn more about this technique, check out last month's Park E-ventures article.
Additionally, the pedestrian bridge was extended 225 feet to span the floodplain and reach the new parking lot, while new picnic areas, restrooms, educational models, and trail maps further enhance the visitor experience. Ongoing plans for this area include bike rack installation, winter and spring plantings, new trees in the parking lot median, and continued monitoring of the restoration.
Since water lines in the area pull from Redwood Creek, you won't find water facilities at the beach. Please bring your own and help us in our efforts to conserve water!
The park now offers two accessible wheelchairs on site for the public to checkout. Visit the beach wheelchair website, e-mail goga_accessibility@nps.gov, or call (415) 561-4958 to reserve a wheelchair for your next visit. We ask that you contact the park at least five days in advance to ensure availability.
Though construction is complete, restoration continues as planting season is in full swing! For more information on how you can help support the restoration of Redwood Creek, visit our volunteer webpage.
Come back often and witness how the landscape evolves as plants begin to grow. While you're there, keep an eye out for endangered species returning to this area, peer down from the new bridge to watch Redwood Creek complete its journey from Mount Tamalpais to the ocean, and enjoy the brand-new visitor amenities on site!
See you at the beach!
February 27, 2014