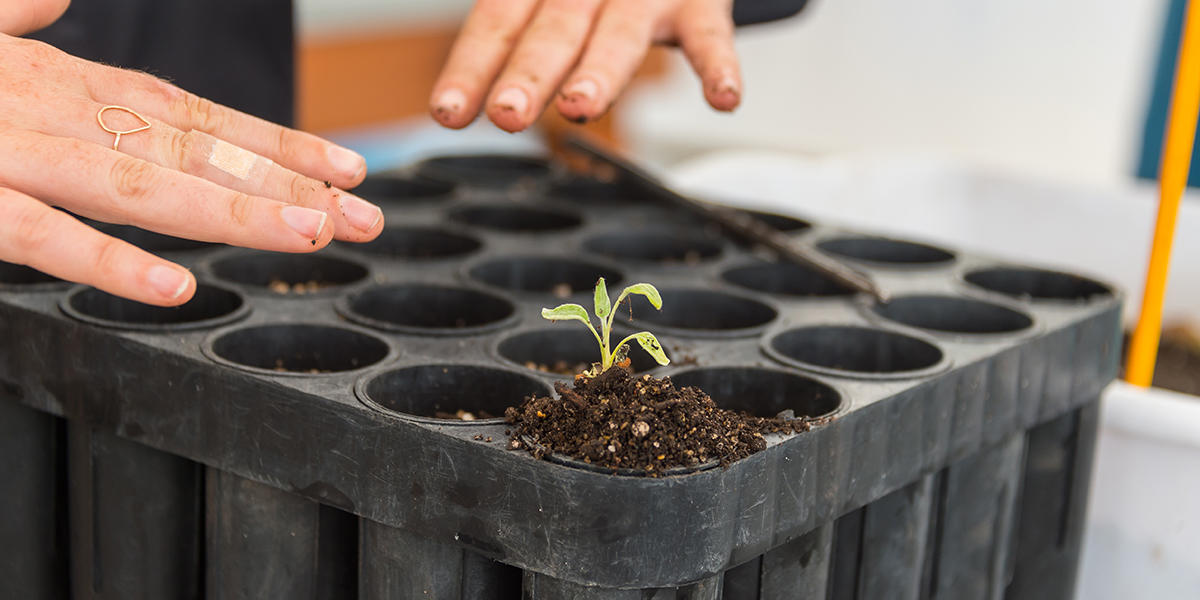 Let's plant at the Presidio Native Plant Nursery!
Alison Taggart-Barone/Parks Conservancy
After talking to our restoration crew in the previous last episode of the "Seed to Ecosystem" podcast, our correspondent Sami Fink takes a step back in this new episode* and investigates the very beginnings of the restoration cycle—from the tiny and humble seed. Though summer is just around the corner, the spring activities of the nurseries are still in full swing! 
At most, the Native Plant Nurseries will grow 157 different species, representing 12 different plant communities (dune, riparian etc.), and adding up to 150,000 plants. There are six nurseries in the park and this episode gives you a snapshot of how the staff grow plants for restoration, through the lens of our biggest production nursery—Presidio Nursery.
Michele Laskowski (Seed Collection Ecologist/Research Manager) and Brianna Schaefer (Production Manager) explain how the nurseries collect seeds, carefully treat them,  and nurture and care for them until they go to their new homes in the field at various restoration sites.  
Another big part of this thoughtful process of growing thousands of plants for restoration is our amazing crew of volunteers. Their enthusiasm for learning the process is truly inspirational! One of our many star volunteers, Diane Darling, talks about how she got started at the Presidio Nursery and what it has meant to her.
To listen to the first part of this podcast, please visit our archives. If you're are inspired to get involved at the nurseries this summer and help build a sense of community while learning about these incredible plant communities we invite you to visit and explore our program pages or contact us for more information!
*If the podcast doesn't automatically play, right-click on the "new podcast" link above, select "Save Link As," and choose a folder in which to save the mp3 file. Then choose your computer's player to listen to the podcast.
June 29, 2014