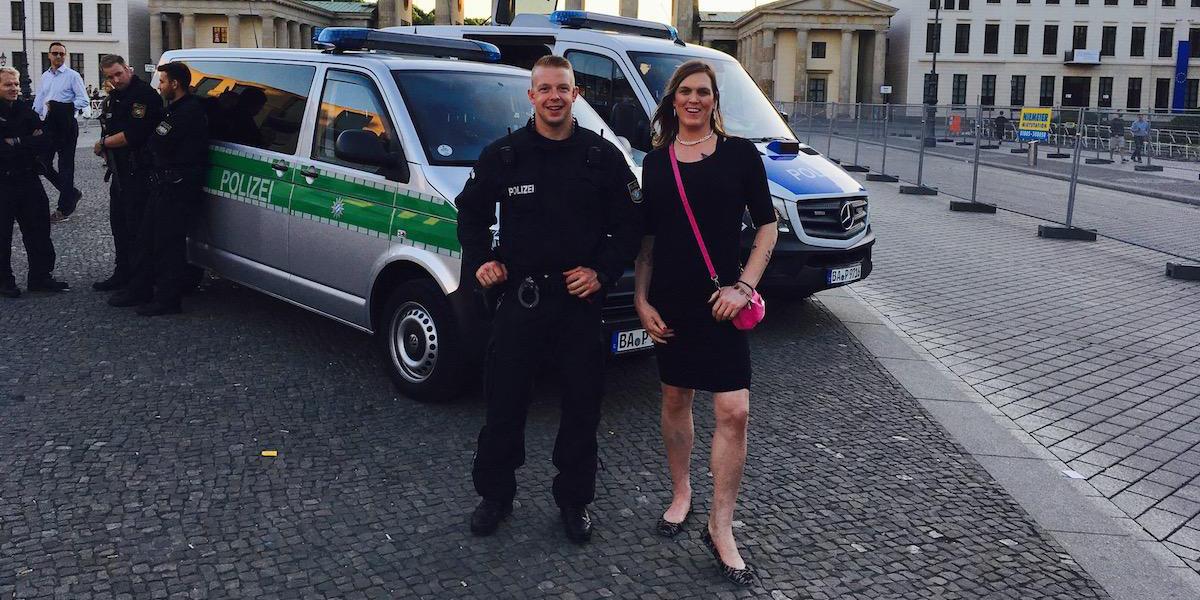 Penny Tibbets in Berlin, Germany
Photos Courtesy of Penny Tibbetts
Even in the sometimes impersonal medium of email, National Park Service Ranger Penny Tibbetts' warmth and commanding presence shine through. She even signs her emails with a simple and sweet "Namaste."
Upon meeting her, her unflappable nature is unmissable. And her voice--that kind voice--is reminiscent of a laid back SoCal surfer paired with the benevolence of a caring schoolteacher. Her positive disposition and frankness irrepressible; she is an open book. She is not afraid to "get real." As she readily admits, she's a bit of an "overshare queen."
Tattoos of butterflies, mermaids, flowers, and other homages to transformation and natural and supernatural wonders adorn her arms, detailing a storied past. And like that permanent ink, Penny carries her heart smack dab on her sleeve.
Penny initiated a new journey only a couple of years ago, a journey to find herself--her true self. A part of herself that she always knew was there. A journey that she's willing to share publicly to give people a window into the types of lives of others like her. And though Penny's story is purely her own (she does not speak for everyone), her pilgrimage is one well worth sharing and understanding.
Penny used to be Paul. She holds the distinction of being the first National Park Service ranger to transition genders while on duty.
And that's only one dimension of her ongoing journey.
Rappelling from Helicopters
Representing the third generation of a law enforcement and military family, Penny practically knew the Miranda rights before she knew her ABCs. Her grandfather fought as a fighter pilot in WWII, and her dad was a part of Naval Intelligence during the Vietnam War, then later a member of the San Diego County Sheriff's Department.
"There was a really strong push to be that [a career in law enforcement] in my family," Penny notes.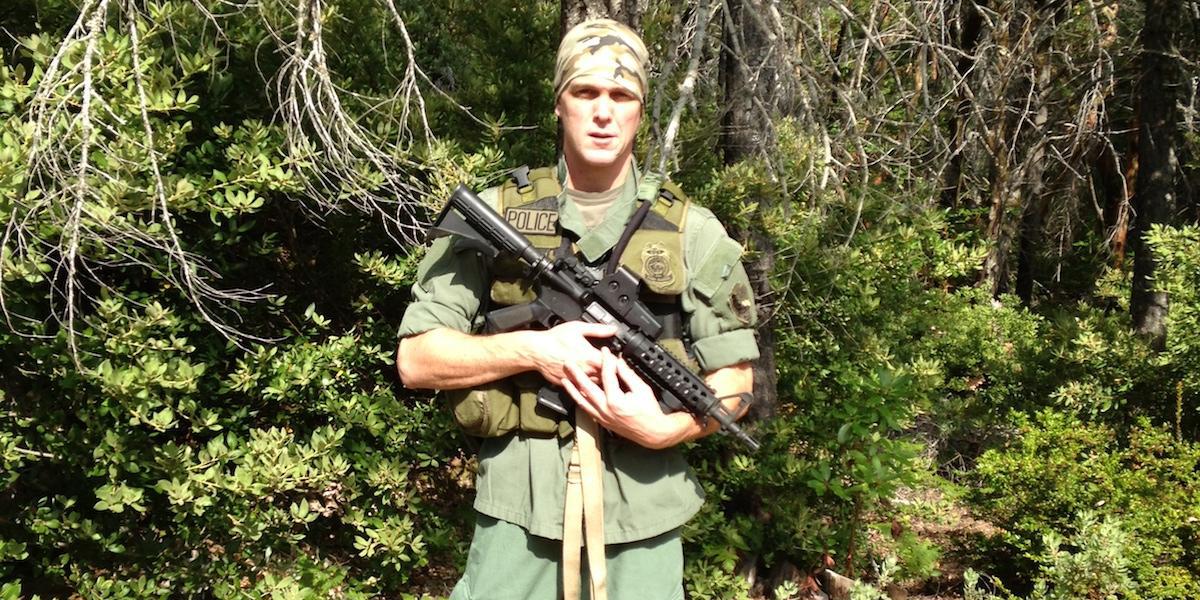 Penny Tibbetts before her transition
Penny Tibbetts
From 2001 to 2014, Penny worked as a law enforcement ranger with the National Park Service at Redwood National and State Parks. During her tenure, Penny participated on a multitude of intense law enforcement operations.
These operations included investigating cartel-run cannabis production operations on public lands, hanging from helicopters just above forested mountain terrain, 100-mile-per-hour pursuits of violent felons, and even an officer-involved shooting. Not many missions were out of the question up in the Emerald Triangle.
"That's what I did up there: get wild and hang out of helicopters," Penny says earnestly.
In most situations, cartel members would be armed to the teeth with assault weapons and handguns that could effortlessly pierce through soft body armor. As Penny recounts, most of the times she chose not to wear that body armor, due to the oppressive heat. Becoming a heat casualty was statistically more likely than being shot.
Over time, Penny's emotional armor also began to be unwearable. She could no longer suppress those feelings--and that growing certainty--that she wasn't living as her true self. And it began to show to everyone in Penny's life.
"I couldn't handle it anymore," Penny admits. "I had to address it head on. And [Redwood National Park] wasn't a good place to transition. There's no transgender medical care up there; there's no real community; there wasn't any support."
So Penny went in search of more trans-friendly pastures--and community. She landed in the queer-tropolis of San Francisco, a world-renowned oasis for anyone who doesn't fit society's mold.
Finding Penny
Penny always knew she was "some type of queer," but she didn't understand the full spectrum--and gravity--of what that meant.
"I was cross-dressing. I knew there was something really different about me that I could not explain. I wasn't ready yet, I was too afraid," Penny explains. "So I ended up surfing big waves and distracting myself with work and school. A lot of us [trans people] do that. That's why Caitlyn Jenner was able to win the gold medal, because she just trained, and trained, and trained, and trained. You just push it [your gender dysphoria] out of your head."
Penny Tibbetts surfing
Penny Tibbetts
The gender dysphoria Penny is referencing is a term coined by the American Psychiatric Association's Diagnostic and Statistical Manual. And that manual--considered the bible of modern psychiatry--explains gender dysphoria as involving a conflict between a person's physical or assigned gender and the gender with which he/she/they identify.
"Dysphoria is the antonym of euphoria, so if you do the math on that, it's just this horrible feeling that you're living the wrong role in life--and in your own body," Penny explains. "It's very disconcerting."
Along the the path towards self-discovery, Penny met a trans woman--a firefighter in fact--who helped put things into perspective by talking about her experience. Once Penny realized she was dealing with gender dysphoria, she embarked on the episodic "coming out" journey to outwardly confirm what she always knew deep down: Paul was really Penny.
"There are two transitions: A social transition where we start dressing--grow our hair long, paint our nails, start using different pronouns," Penny explains. "It's just a huge process. You need a whole new wardrobe. You have to find sizes that'll fit you, especially hard when you're 6'2''."
Penny started her social transition in March 2014.
"I didn't tell anybody until the summer. I had a lot of anxiety. It was a really hard summer, I wasn't doing well. To be completely honest, I got really suicidal," Penny says. "It was real."
She found allies and supporters in her immediate family, especially her mother and former spouse. They could clearly see the pain she was in.
"That's why we end up having surgery; our bodies aren't congruent with our emotions," Penny explains. "It's very real--and it's this stress of not being able to be who you really are, and that leads to depression and anxiety, suicide."
Penny was inspired to begin the physical transition in May 2015 after two trans rights milestones: President Obama's Executive Order prohibiting federal agencies and contractors from discriminating on the basis of sexual orientation or gender identity; and Laverne Cox, a transwoman actress, being on the cover of Time Magazine.
"I was already struggling with how to proceed, feeling like I would not be able to remain in law enforcement," Penny says. "After Obama's Executive Order, I just sort of 'tore the Band-aid off,' for lack of a better term."
She began with hormones, and is currently in the beginning stages of the surgical portion of the gender confirmation process.
"Estrogen is a very, very different feeling than testosterone," Penny says. "You're really tired and you're basically going through a second puberty at 41 years old. It just takes a lot out of your body, and the anxiety and depression that accompanies it often requires medication. Physically I can't do what I used to do--I don't have that physical intensity anymore, especially as you age."
As her body began to undergo physical changes, Penny also experienced the trappings of what happens when you transition from a white male into a white female.
"I didn't realize how much status I would lose," she admits. "You don't feel white, male privilege until you lose it."
But she wouldn't trade that privilege back for anything. She admits she knew the transition would be difficult (to put it lightly).
"I didn't think I'd be able to stay in law enforcement," Penny says. "I thought it'd be too difficult. It has not been easy. It's doable, and I knew it was going to be hard."
Those physical changes begat interpersonal changes at the office too.
"The thing that was really difficult was how other officers perceived me," Penny says.
Penny might have physically changed, but that tenacity and spirit of camaraderie in her heart didn't.
"I'd run into a gunfight to help my partners now, as I would back then," she says with a steadfast tone.
Alienation can plague trans people, especially those in law enforcement. Penny points to the hypermasculine culture as an explanation for the toxic treatment of transgender individuals in officer roles.
"That really hurt, the way that other officers treat me different," Penny says. "They just don't talk to me, they don't ask my advice anymore, they don't want me as backup, they kind of don't want me around."
According to Penny, this is not a new trend for transgender law enforcement officers.
"A lot of trans women end up retiring because the culture doesn't support it," Penny admits. "The agency can put whatever it wants down on a piece of paper [in reference to a zero-tolerance policy]; it won't change the culture".
Penny is a part of TCops, an international peer support network for transgendered law enforcement officers. It's here that she's been able to connect with other transgendered officers--and rangers--from across the planet.
"[Through my participation with the organization,] I did inspire a State Park Ranger in New York to come out [as trans]," Penny says. "I spoke to them at length about my experiences at the time. I haven't spoken to them in some time; I don't think it has been easy for her. Upstate New York is not San Francisco by a long shot."
Penny notes that this organization continues to grow--albeit slowly--even as trans people still fight for basic human decency.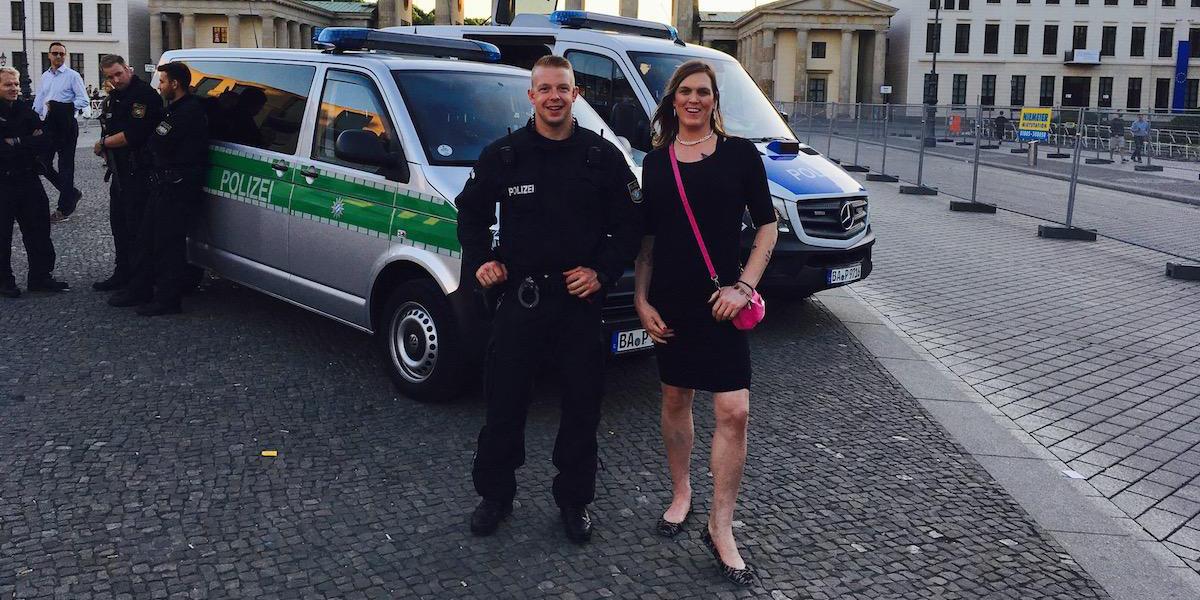 Penny Tibbets in Berlin, Germany
Photos Courtesy of Penny Tibbetts
"A lot of transwomen don't feel like we're wanted anywhere, so that's why I think our suicide rates are 40 times higher than the average American," Penny says. "It's just the way it is."
Indeed, according to the American Foundation for Suicide Prevention and the Williams Institute at UCLA: "The prevalence of suicide attempts among respondents to the National Transgender Discrimination Survey (NTDS), conducted by the National Gay and Lesbian Task Force and National Center for Transgender Equality, is 41 percent, which vastly exceeds the 4.6 percent of the overall U.S. population who report a lifetime suicide attempt, and is also higher than the 10-20 percent of lesbian, gay and bisexual adults who report ever attempting suicide."
Moving Mountains, One Mound at a Time
A more welcoming workplace is a mission for Penny; hence her determination to remain visible. The National Park Service, especially here at Golden Gate, is also striving to make sure its workforce is as diverse as the people who visit these national treasures.
According to Michele Gee, Chief of Interpretation at Golden Gate National Recreation Area, a committee dedicated to diversity and inclusion initiatives has been meeting regularly to advance that work.
"I think it's not only an opportunity for people to grow--and grow in different paces--but it's also a chance for staff to take a leadership role within their own park to develop an inclusive atmosphere, a place they want to come to work and enjoy and bring their full selves to," Gee says.
The National Park Service's Office of Relevancy, Diversity, and Inclusion, based in Washington, D.C., chose Golden Gate and a few other parks to spearhead a dialogue series called "Allies for Inclusion."
This program helps break down those unconscious, socially constructed implicit biases between colleagues--and teaches staff how to navigate future personal interactions with a deeper understanding of unintentional bias. Now in its third year, the Allies for Inclusion is now mandatory for all 417 national parks as well as the U.S. Park Police. Penny has been trained on how to lead these dialogue series.
"Visibility [for trans people] is key," Penny emphasizes.
Penny also has been a part of LGBT-focused panels during the NPS weeklong staff celebration of diversity. She shared the advice that she continues to give to those seeking to move the needle forward for trans people.
"Respect our identity," Penny says simply. "Respect our pronouns. Just realize that transition later in life is extremely difficult, and try to have some empathy."
As awareness grows and conditions improve for trans individuals, Penny believes she can crack a few more historic ceilings--and bust down some more doors. She wants to become the first transgender federal special agent.
"To my knowledge, there has never been a successful openly transsexual special agent in the history of the entirety of federal service," Penny stated. "It would be stratospherically rarefied air, and one hell of an equality statement. I also have 15 years of intense law enforcement experience and I have a penchant for investigative work."
Penny is ready to keep ascending. It's up to us--society as a whole--to ensure the path is level and fair so that she can keep climbing.
 
Save
Save
Save
Save
Save
Save
Save
July 1, 2017