The rewarding LINC program, in high schoolers' own words
A summer of restoration, backpacking, and bonding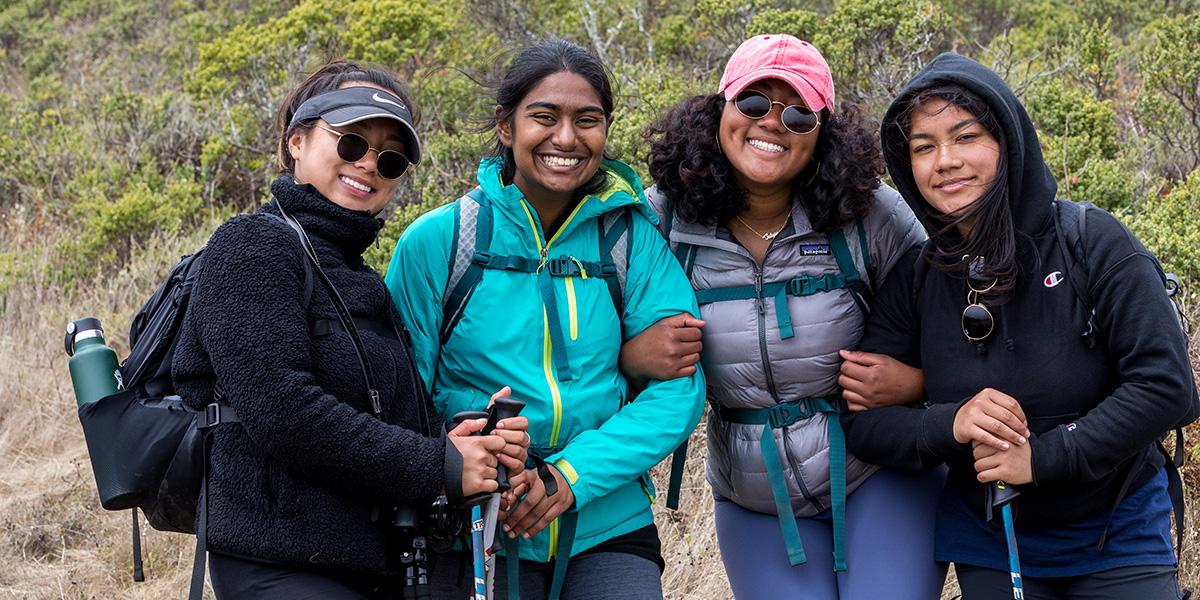 High schoolers from around the Bay Area participated in the LINC outdoor leadership program in summer 2018
Paul Myers/Parks Conservancy
By Anu Thirunarayanan, Maximillian Bormann, and Zoe Vavrek
LINC program participants
On an epic trek across varied terrain under moody weather, from Stinson Beach to the Crissy Field Center, two LINC intern groups became one. We transformed into one community working toward a common goal, one collection of humans treasuring the beautiful area we live in, and most importantly, one family.
LINC stands for Linking Individuals to their Natural Communities. This summer internship program for high schoolers is provided by the Golden Gate National Parks Conservancy, with groups based in Marin and San Francisco. Throughout this internship we worked within our local national parks on restoration projects to gain job and leadership experience.
Both of our LINC groups came together at the end of the program for a four-day outdoor adventure to bond and share what we'd been doing in our communities. From swapping life stories to uniting over the similar battles fought against invasive plants like French broom and ice plant, a strong sense of camaraderie was created on this hiking adventure.
Bonding over invasive species
Before the backpacking trip, both LINC: Golden Gate and LINC: Tam had their own separate programs for more than a month. As part of LINC: Golden Gate, we embarked on our service with a camping trip in Yosemite, where we worked to reestablish meadow land. LINC: Tam participants began their program with a challenging backpacking trip to Point Reyes National Seashore. But Yosemite and Point Reyes were more than just sites where we volunteered. We slowly let down our walls and showed our vulnerabilities, not just becoming friends, but also, a family.
Though the groups mostly did their own service projects, we combined forces to kayak to Aramburu Island in Richardson Bay. It was a foggy morning that turned into a sweltering afternoon; along with the day, we warmed up to each other too. We spent the day ripping out ice plant from the island. Ice plant, an invasive species, creates monocultures at Aramburu with its matted roots. It's never about uprooting one plant, but the entire region of tangled ice plant roots.
That might not be a bonding activity for the average high schooler, but for us, it was perfect. The upcoming backpacking trip seemed sweeter knowing the other half of the LINC crew would be the best backpacking buddies to join for the final journey.
Perfect finish in the parks
The backpacking trip began on July 25 with participants saying goodbye to our families, at least for a little while, in favor of a new family. We said goodbye to our feathery beds and climate-controlled homes in favor of rough ground and tents which brought little protection from the elements. Then we had a thousand little adventures, made close friends, and made memories.
But every start has an end, and it ended with all of us saying goodbye to a shared campsite with friends in favor of solitary rooms and individual beds. It ended with us saying goodbye to a beauty unseen by most, giving in to the convenience of modern living, now with a sense of what the work was for.
The six weeks were all for the parks. Walking through the mountains and forest outside San Francisco had finally shown us the nature we worked to protect. It ended with saying hello to a merging of what is now and what was, but still can be.
Editor's note: Anu Thirunarayanan, Maximillian Bormann, and Zoe Vavrek were interns in the LINC program with the Golden Gate National Parks Conservancy in summer 2018 and agreed to write this article from their own perspective for E-ventures. If you'd like to participate in the LINC program or any of our youth leadership programs for various ages, click here.
October 10, 2018