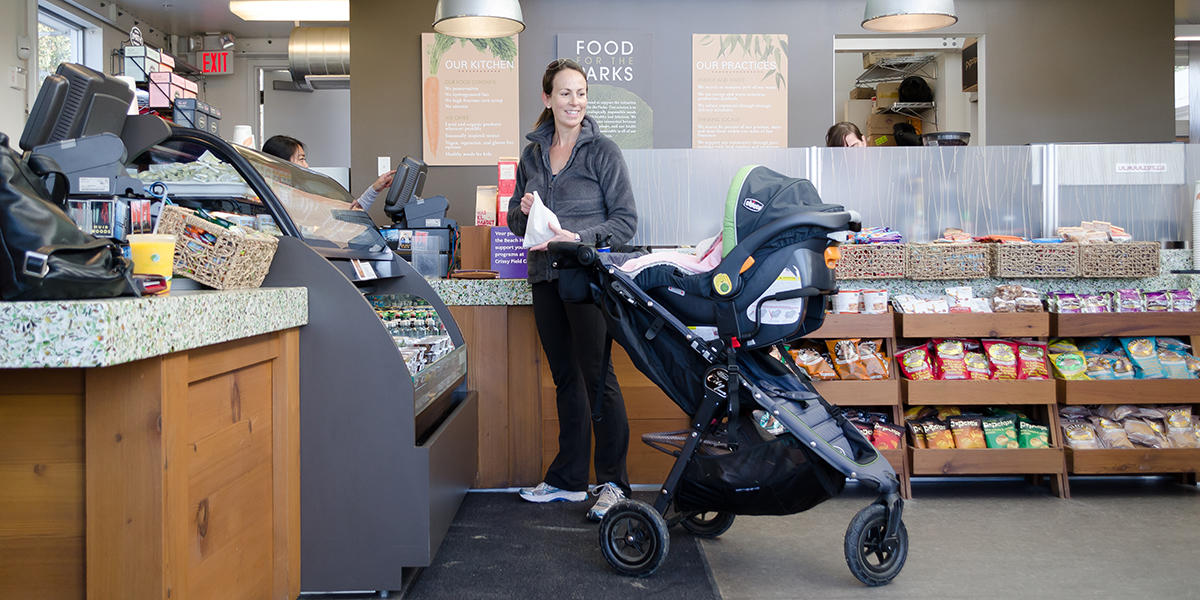 Beach Hut Cafe
Alison Taggart-Barone/Parks Conservancy
As we enter the New Year in 2013, we look ahead to what's next for the Institute at the Golden Gate. With a newly approved action plan and launch deadlines quickly approaching, we are excited to jump feet first into our program work.
Parks and Public Health
Since 2009 the Institute at the Golden Gate has been championing a vision to connect parks and healthcare by promoting innovative programming across the country and internationally. Here in San Francisco, the Institute has quickly moved a great policy idea to implementation through our Healthy Parks Healthy People: Bayview Hunters Point pilot, in partnership with Kaiser Permanente.
Since July 2012 we have been working alongside community leaders to create a Park Prescriptions program that will have long-term sustainability and success for the neighborhood. In early 2013 the pilot will launch at the Southeast Health Center, a clinic of the San Francisco Department of Public Health.
In addition to this local pilot project, we are helping to launch Healthy Parks Healthy People: Bay Area in June 2013. This coordinated regional approach is committed to offering regular, culturally appropriate park programming in partnership with public health and healthcare partners for the purposes of promoting health and wellbeing. We look forward to sharing how the Parks & Health program is improving the quality of life in Bay Area communities and beyond.
Food for the Parks
In 2010, the Institute at the Golden Gate began leading the Food for the Parks program in an effort to expand the availability of healthy and sustainable food to park visitors nationwide. The Institute has taken the local success of Muir Woods Café—which has become a culinary hot spot featuring healthy, sustainable, and 90% locally sourced food options—to directly inspire and influence national policy change. Over the past year, the Institute partnered with the National Park Service to design healthy and sustainable food standards for concessionaires in all parks across the nation, which will ultimately impact over 30 million meals a year.
In 2013, the Institute plans to continue to promote the adoption and implementation of healthy and sustainable food service. Locally, the Institute will convene leading food experts and park leadership to pilot-test new ideas in the Bay Area. Regionally, the Institute will support the national policy changes by conducting food service assessments, hosting regional food forums, and brokering collaboration. Nationally, the Institute will host the Summit on Sustainable Food Service in partnership with the Rockefeller Brothers Fund and the Stone Barns Center in New York. This gathering will convene cross-sector leadership from corporations, hospitals, schools, and nonprofits to share best practices and design solutions to create environmentally responsible and sustainable food systems.
Climate Education
The Institute's climate program enters its second year in 2013 and we will be hitting the ground running with new information and convenings. The climate program is working to highlight and promote climate-change educational programs and partnerships in parks locally, nationally, and internationally. Our overall goal is to support parks of all types in leveraging their educational platform to help the public understand climate change and take action.
 
Our 2013 plans include publication of Climate in the Parks early in the year. This report will highlight examples of parks and protected areas that are communicating climate change to their visitors and local audiences. Then, through the spring and summer, we will continue collaboration and momentum building for the connection between parks, climate change, and education. The year will culminate with a gathering of park leaders and interpretive staff to discuss best practices and program design for effective climate-change education in parks of all types. We're looking forward to building a strong base for the years ahead!
Also on the horizon is the launch of a brand new program: Urban. With this new venture we will ask and answer big questions on how parks can be better integrated in an increasingly urbanized world.
A New Year and a new adventure! We are excited to keep you apprised of our progress in the upcoming months. Stay tuned!
January 29, 2013