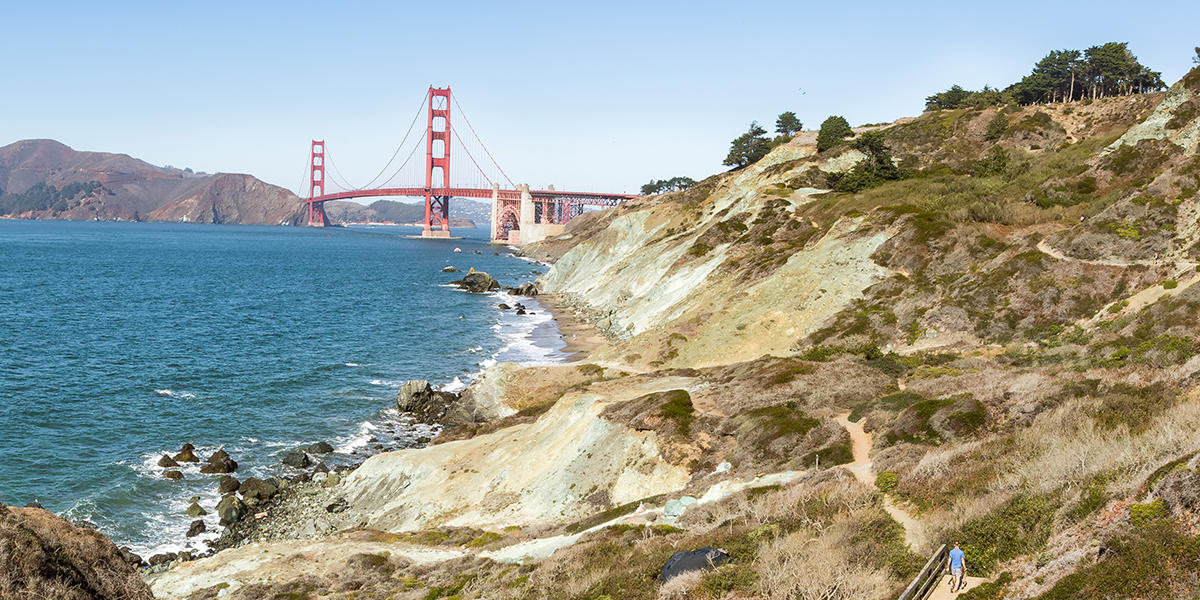 Batteries to Bluffs Trail
Kirke Wrench/National Park Service
Since the Presidio began its conversion from Army post to national park, a myriad of projects were completed to preserve the rich history of the Army's legacy while promoting a vibrant ecosystem that can be enjoyed by all. The soil remediation project on the Presidio Bluffs, southwest of the Golden Gate Bridge, is the most recent example of the continuing transformation from post to park.
The focus of the Presidio Trust project has been at two sites, located on the west sides of Merchant Road and the Langdon Court parking lot, where the Army dumped debris and roofing material off of the coastal batteries. This summer, project contractors were hard at work excavating contaminated soil from the dump sites and replacing it with clean soil. The new soil makes the coastal bluffs a healthier place for native plants and animals to thrive.
The Parks Conservancy's team of Project Information Coordinators (PICs) is also supporting the effort. PICs help the public safely navigate around project sites, provide park information, and answer visitor questions. During the Presidio Bluffs Remediation project they speak to international visitors who choose to visit the Golden Gate National Parks as their first stop in the United States; they greet local hikers and joggers who use the Coastal Trail every day; they help school groups find their way to Rob Hill for their first-ever camping experience; and they interact with birders and photographers visiting the Golden Gate Overlook. The list of their interactions goes on! The PICs attest that the Presidio Bluffs is a perfect vantage point to witness the diverse community in the Bay Area.
It is fitting, then, that the remediation project lies at the convergence of diverse park improvements. The next step in this project includes replanting the area with over 25,500 native plants provided by the Presidio Trust and Parks Conservancy, and upgrading the Coastal Trail to reach accessibility standards—all while protecting the historic batteries! The new trail standards will allow cyclists unprecedented access from the Golden Gate Bridge to the coastal bluffs and beyond. Thank you for your continued patience when you visit this ever-evolving site!
Though the remediation is coming to an end, the PIC team will still rove around the park. Look for them at the Pacific Overlook in the Presidio, Eagle's Point at Lands End, and on the Bay Trail near the Golden Gate Bridge. They are often spotted wearing bright vests and bright smiles. They would love to talk with you about the exciting projects in our magnificent park!
November 29, 2013