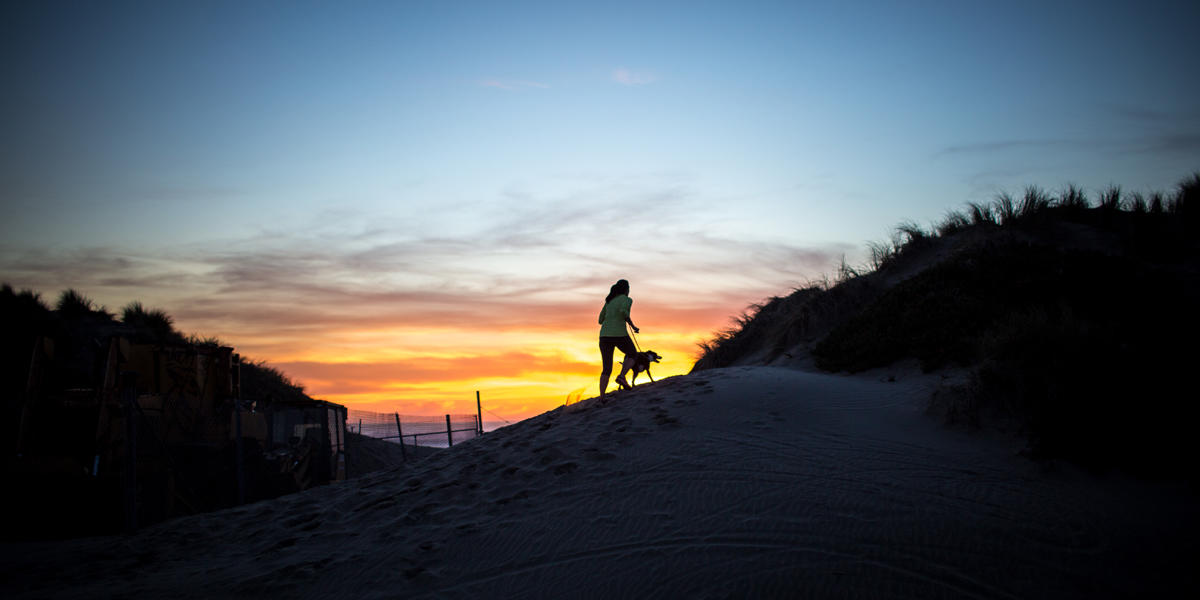 Ocean Beach at sunset
Paul Myers/Parks Conservancy
On September 9, the U.S. Surgeon General, Vice Admiral Vivek Murthy, launched a nationwide Call to Action on Walking. As chronic disease, depression, and obesity rates in the country soar, "America's Doctor" is extolling the health benefits of walking.
The "Step It Up!" campaign challenges the nation to make walking a national priority in all facets of American life. Dr. Murthy's Call to Action seeks to promote development of communities where it is safe and easy to walk, launch walking programs, and conduct research on walking.
As lovers of parks and open space, we at the Institute at the Golden Gate (a Parks Conservancy program in partnership with the National Park Service) are doing our part to answer the Surgeon General's call. In fact, our belief in the health benefits of parks is so great that we're taking many approaches to promote parks as places to walk and recreate.
Individually, we use park trails and paths to experience first-hand the physical, mental, and social benefits of walking.
Locally, we have dozens of programs (such as Healthy Parks Healthy People, the Crissy Field Center, LINC) that bring communities into the park to walk and enjoy the parks.
Regionally, we work with thousands of park stewards to maintain safe and accessible walking paths in parks.
Nationally, we convene the top researchers, practitioners, and advocates of the parks/health nexus to develop policies that amplify the role of parks in healthy, walkable communities. We're excited about our growing role in fulfilling the Surgeon General's Call to Action on Walking—and we invite you to join us.
To take the first step, reconnect with the physical, mental, and social benefits of visiting a park. Here are some accessible, family-friendly walks to get you started:
October 1, 2015