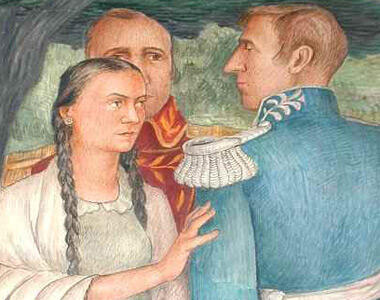 Nikolai and Conchita
Parks Conservancy
After a brutal winter during which he and his men nearly starved in the fur-trading outpost of New Archangel (Sitka, Alaska), Nikolai Petrovich Rezanov—Russian statesman, ambassador to Japan, and talented polyglot—set sail in 1806 for the New Spain province of Alta California.
Dropping Juno's anchor near Yerba Buena (San Francisco) in April of that year, Nikolai hoped to secure a trade agreement that would regularly provision the Russian colonies with California's ample bounty.
Although his delegation was wined and dined with warm hospitality in the Presidio, Nikolai was informed that Spanish law strictly prohibited her colonies from trading with foreign powers. But, as it would turn out, his southern sojourn was not entirely for naught.
Georg Heinrich von Langsdorff, the doctor aboard the Juno, wrote effusively of Maria Concepcion Arguello—the 15-year-old daughter of the Presidio commadante, Don Jose Dario Arguello: "She was distinguished for her vivacity and cheerfulness, her love-inspiring and brilliant eyes and exceedingly beautiful teeth, her expressive and pleasing features, shapeliness of figure, and for a thousand other charms besides an artless natural demeanor."
And so, just as the distinguished Russian nobleman caught the eye of "Conchita," Nikolai became enraptured by the Spanish beauty. "The bright sparkling eyes of Dona Concepcion had made upon him a deep impression, and pierced his inmost soul," observed von Langsdorff.
While hard-bitten skeptics may aver that Rezanov's heart was moved more by political than romantic motives (after all, bolstering ties with mighty New Spain was his original mission), it is not hard to imagine a couple falling swiftly in love under a warm spring sun, brought together by this most beautiful of lands, and the wind and waves of a beguiling bay.
Indeed, after just six weeks, Nikolai and Conchita made plans to spend their lives together in Russia. Although her parents were initially worried about their differences in religion, Nikolai eventually won the Arguellos' approval. The last obstacles were obtaining royal consent and approval from clergy in St. Petersburg for a mixed Russian Orthodox/Roman Catholic wedding.
On May 21, Nikolai set sail for New Archangel—plentiful foodstuffs in the Juno's hold, and a locket from Conchita in his hand. Then, after a stop in Petropavlovsk on the Kamkatchka Peninsula, he began his overland journey to St. Petersburg—over 4,000 miles away, across interminable Siberian wilderness.
Along the way, Nikolai caught pneumonia three times; each time, in his eagerness to reach his destination, he ventured on without recovering completely. In the end, his illness and the rigors of subzero winter travel caught up to him. On March 1, 1807, Nikolai fell from his horse, feverish and exhausted, and died near Krasnoyarsk in the middle of Siberia. He was still 900 miles away from securing permission to marry his beloved Conchita.
Back in the Presidio, Conchita waited for her lover's return, without a word of his fate, for many long months (some sources say years). And then, one day, an officer under Rezanov's command finally relayed the news to her: "He is dead…his last words were of you." The officer returned the locket she gave Nikolai, before he left on that spring day.
Conchita devoted the rest of her life to serving others—caring for her parents, and performing good works across the provinces of New Spain. Despite her family's encouragement to marry, she rebuffed all suitors. Conchita later joined the Dominican sisterhood in Benicia, California, where she lived until her death in 1857.
The love story of Nikolai and Conchita inspired a ballad by famed writer Bret Harte, a popular Soviet-era rock opera Juno and Avos (the names of Rezanov's ships), and countless other painters, poets, and lovers. In Krasnoyarsk, where Rezanov is buried, there is a simple memorial to the Russian statesman—and his tragic love.
On one side of a white cross are the words: "Nikolai Petrovich Rezanov 1764–1807. I will never forget you."
And on the other side of the cross: "Maria Concepcion de Arguello 1791–1857. I will see you never more."
February 1, 2015