After a very successful and award-winning partnership of the National Park Service, San Francisco Public Library, and the Parks Conservancy in 2016 under the theme of "Create Your Adventure: Explore Your Library, Read Your Book, Find Your Park," the team has come together again this year to offer new programs.

In addition to the Summer Stride reading/learning program, ranger talks in branch libraries, and community shuttles to park sites, one of this year's signature programs will be StoryWalks: a way to explore the park and read at the same time.

In partnership with Chronicle Books, pages from children's books will be put on signs and sprinkled along a trail, and visitors are encouraged to walk the trail and read a story. Two StoryWalks will run June through August 2017:

I Wrote You a Note by Lizi Boyd at Presidio, Mountain Lake
Follow a note's unexpected journey and encounter a cast of charming characters along the way. This StoryWalk will start at the south end of Mountain Lake Trail near the playground.

The Fox Wish by Kimiko Aman at Lands End, San Francisco
This charming story follows two siblings who look for their jump rope and discover a glimpse of magic on the way. This StoryWalk will start at the trailhead of Lands End Trail, just north of the Lands End parking lot.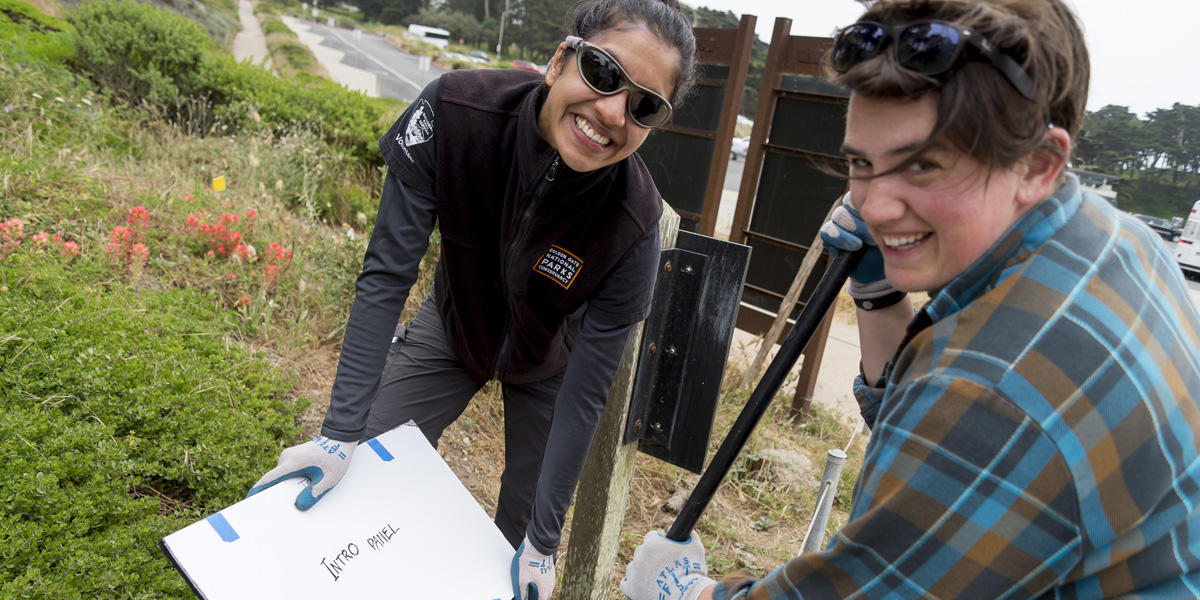 Parks Conservancy staff working on the installation of the StoryWalk at Lands End
Alison Taggart-Barone/Parks Conservancy

The partnership of the national parks and San Francisco Public Library also will offer free community shuttles from nine branch libraries to national park sites such as Lands End, the Presidio, Crissy Field, Fort Point, and more. You can learn more about the shuttles, dates, and program details at parksconservancy.org/communityshuttle.

"The San Francisco Public Library enjoyed a wonderful partnership with the Parks Conservancy, National Park Service, and Presidio Trust in the summer of 2016, delivering programs that celebrated the NPS Centennial while engaging new park visitors and library patrons," said Luis Herrera, City Librarian for the San Francisco Public Library. "The partnership brought together aspects of wellness, exploration, literacy, learning, and recreation—all crucial to our children. We are excited to expand on our successful program from last year and continue this partnership."

In 2016, a total of 953 community members enjoyed the 31 ranger-led interpretive programs at the branch libraries, and 572 people went on the 10 library shuttle rides to nearby national park sites.

In the city's librarians and staff, the Parks Conservancy has found strong allies with a common mission of bringing public resources to a broader diversity of the population for the benefit of all people. The branch library locations—scattered across the city and in many neighborhoods where residents traditionally have experienced significant barriers to the parks—are a vital connecting point between communities and their national parks.

"The Conservancy has a long history of creative and productive collaborations with our public agency partners the NPS and the Presidio Trust," said Kate Bickert, Senior Director of Engagement & New Initiatives at the Parks Conservancy. "The popular Summer Stride reading program, themed around exploring parks and the outdoors, engaged more than 18,000 people in 2016, and 67 percent of them were young people—the next generation of park and public land supporters. Our goal for 2017 is to not just maintain the momentum from last year but to also surpass our milestones from last year."

Visit your local library or parksconservancy.org to find more ways to create your adventure through StoryWalks, ranger talks, free community shuttles from nine branch libraries to national parks, including the new Presidio Visitor Center, and learn about the Presidio Tunnel Tops—a brand-new national park destination coming soon to San Francisco.
Photos by Alison Taggart-Barone and Kathleen Knighton
June 1, 2017