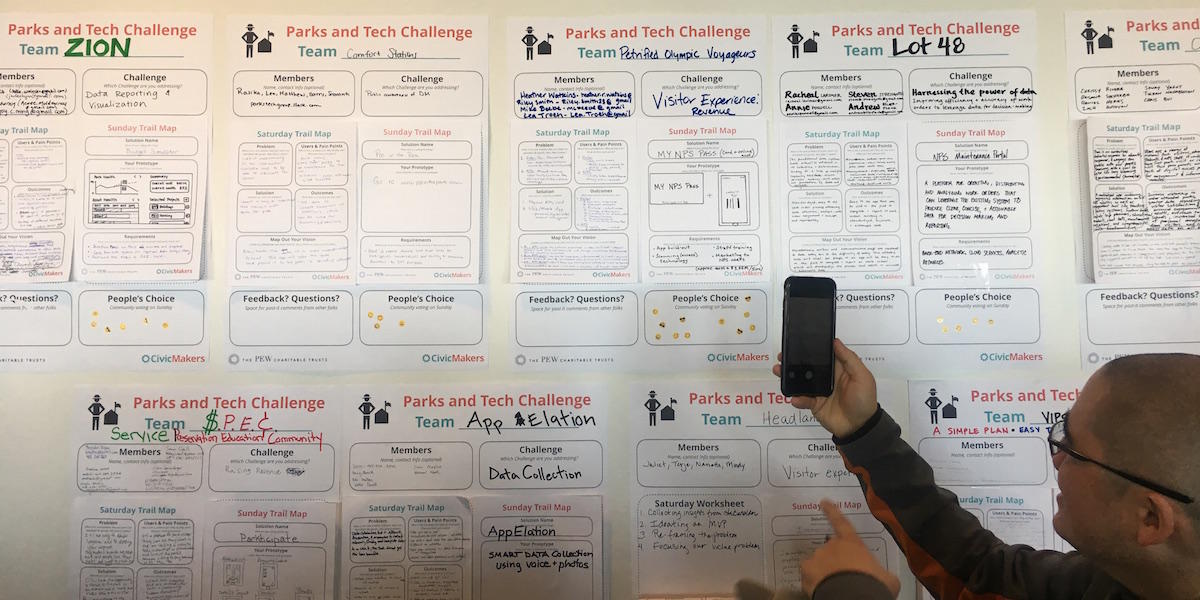 Brainstorming solutions to deferred maintenance in the parks
Parks Conservancy
By Oksana Shcherba
Program Manager, Institute at the Golden Gate
Shirking the gorgeous sunny San Francisco weather, more than 50 park enthusiasts representing the tech, business, and sustainability sectors gathered on Feb. 10–11 in the Golden Gate National Recreational Area to brainstorm solutions to deferred maintenance in the parks.
While not the most captivating subject on its face, these seemingly small issues—like deteriorating buildings and unfinished trails—become significant when considered collectively.
This became immediately apparent on early Saturday morning when attendees—many of whom were hearing about deferred maintenance for the first time—peered out of the General's Residence at Fort Mason to see Alcatraz and San Francisco Maritime National Historical Park, both of which have millions of dollars in maintenance backlogs.
As the Institute at the Golden Gate explores how technology can engage surrounding communities, we became active participants in the "Parks & Tech Challenge." This event, modeled after hackathons, aimed to shine a light on this issue and create a space to build innovative technological solutions that will help the National Park Service (NPS) tackle its nearly $12 billion maintenance problem.
The Challenge was the brainchild of Pew Charitable Trust's Restore America's Parks campaign, which partnered with CivicMakers, a consulting firm that works at the intersection of democracy and technology. Together, the organizers packed a lot of problem-solving into the two-day workshop.
With only around 48 hours (and the help of all-day coffee refills), self-selected teams were tasked to come up with inspired ideas that would then be pitched to an esteemed panel of judges representing both parks and tech on the second day of the challenge. The winning team was promised the chance to share their idea with the Department of the Interior, which oversees the NPS.
Proposed projects were required to speak to two challenge areas. The first focused on harnessing the power of data to empower the NPS to collect, visualize, and utilize data in game-changing ways. Some innovative ideas that came out of this challenge group included a simplified NPS volunteer portal to allow for quicker, electronic processing of volunteer forms.
The second challenge area was about improving the park visitor experience, which catalyzed the winning idea—a MyNPS ("FastPass for parks") and park loyalty program, making it easier for visitors to gain quick access to parks without the need for bulky physical structures or staffing to handle visitor intake.
Above all, the Challenge demonstrated that there is a huge opportunity to explore how technology can make life easier for park staff and visitors. It showed, too, that people outside of the parks space care deeply about helping the parks—and are eager to share their skills and expertise to help address park challenges.
March 1, 2018