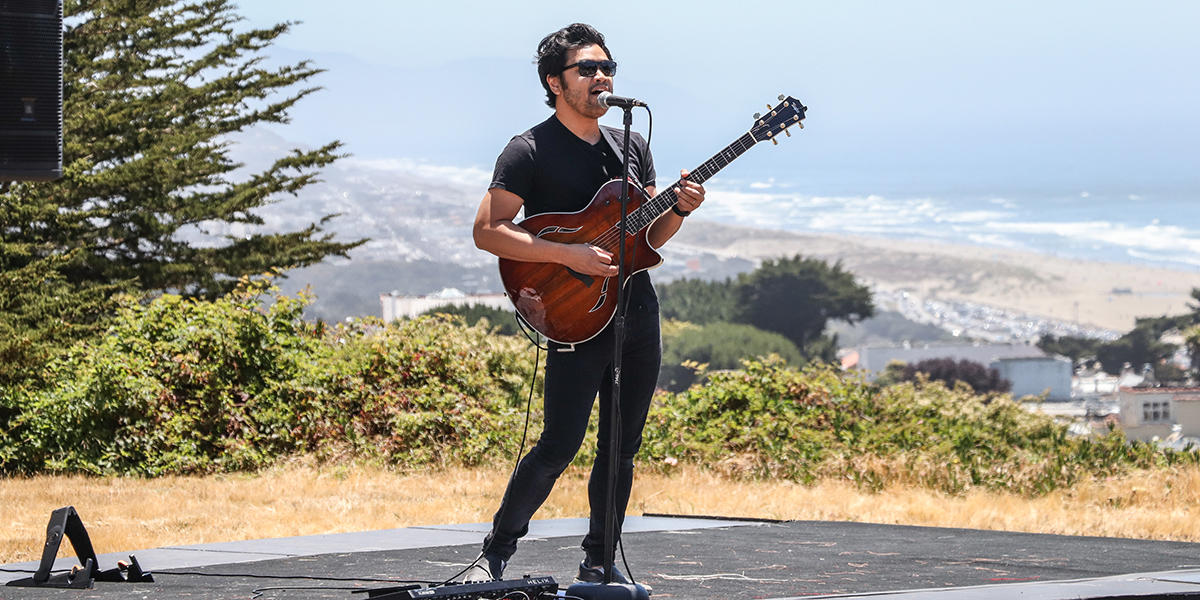 Gabe Bondoc performs at a Trail Mixer
Alexandro Paz
Music and song—like the Golden Gate National Parks—are wrapped around so many of our best memories. We asked park staff to share their favorite songs that evoke the landscape, the spirit, their adventures, and their work across the parklands.
We'd love to hear from you, too! Contribute to our collective soundtrack by sharing your playlist of Trail Tracks in the "Leave a Comment" section below.
---
"Go Outside," Cults
I love to think of this song any time it's raining in our park sites that have great water features, like Muir Woods or Muir Beach.
—David Pon, Youth Development Coordinator, Park Stewardship, Golden Gate National Parks Conservancy
"Saturday in the Park," Chicago
"San Francisco Bay Blues," Jesse Fuller
"Save Me, San Francisco," Train
"Big Yellow Taxi," Joni Mitchell
The line "They paved paradise, and put up a parking lot" brings to mind the ethic that saved local open space—including the lands of the Golden Gate National Recreation Area.
—George Durgerian, Park Ranger, Golden Gate National Recreation Area
"Merry Happy," Kate Nash
I often bike up Hawk Hill around sunset to end the workday, and this song refers to being alone while watching the sunset—which I find to be a perfect way to end the day.
"Movement and Location," Punch Brothers
Another Hawk Hill biking song.
"Magnetic," Traphik (ft. Tori Kelly)
This song is on my running playlist; I generally run up to the Golden Gate Bridge and then along the bluffs. Good tempo to get me up the hills.
"3005," Childish Gambino
This song is on my running and biking playlist, so you know it must good.
"Electric Feel," Kygo remix of Henry Green cover of MGMT song
On my longer bicycle rides along Sir Francis Drake Boulevard or Shoreline Highway, or through various parts of the Golden Gate National Parks, this is my favorite "in the zone" song. Nice steady beat.
—Elyse Wood, High School Programs Instructor, Crissy Field Center
"Dream On," Aerosmith
I absolutely love this song and think of it often as I hike around our Golden Gate National Parks. The history of the park reminds me that we just need to dream on until our dreams come true. I have found my dream job at the Presidio Nursery, but I will keep on dreaming on!
"Livin' on the Edge," Aerosmith
I love thinking of this song when I teach about plant adaptations—especially our plants that have adapted to growing on cliffs or rocky outcroppings.
"Beautiful Day," U2
This song usually plays in my mind as I am walking to work. Even on the foggiest day, I just keep thinking how majestic our park is.
"Nothing Else Matters," Metallica
This song kept playing in my head as I entered Muir Woods National Monument for the very first time.
"Dónde Jugarán los Niños? (Where Will the Kids Play?)," Maná
This song is about environmental awareness, and I'll think of this song when we are teaching kids in the garden.
—Ely Huerta Ortiz, Community Programs Manager, Presidio Nursery, Golden Gate National Parks Conservancy
Bird songs, in all parks
I can't ID birds by ear but like to hear them anyway.
Wind in the trees, trees in any park
Reminds me of cool, pine forests of Northern Arizona, where I grew up.
Ocean waves
Rodeo Beach.
"Concierto de Aranjuez," Jim Hall
Specifically, Ron Carter's bass line. Park connection: the cosmic hum.
"Deacon Blue," Steely Dan
Parks versus urbanity.
—Bill Prochnow, Design Director, Golden Gate National Parks Conservancy
---
"Bicycle Race," Queen
A great tune to rock out to when I bike to work at Fort Baker.
"Smoke on the Water," Deep Purple
Always reminds me of the Golden Gate Bridge 75th Anniversary fireworks and celebration in 2012.
"Beautiful Day," U2
Brings back memories of my years in New York living near Central Park. On a sunny spring day, it's hard to beat!
"The Sea," Morcheeba
Always pops into my head when I'm on the Coastal Trail. It's such an evocative tune—just like Lands End.
"Big Yellow Taxi," Joni Mitchell
The iconic line: "They paved paradise and put up a parking lot." How lucky are we to live in a place where we didn't let that happen?!
—Chris Spence, Director, Institute at the Golden Gate
---
"Happy," Pharrell Williams
It's the song of the moment, but that makes it no less dance-y. And Pharrell's hat obsession strengthens my belief that Park Rangers should spoof it yesterday.
"Lisztomania," Phoenix
Such an upbeat song named after the intense fan frenzy directed toward 19th Century piano sensation Franz Liszt. Upbeat song + nerdy historical reference = perfect to listen to while enjoying the sunshine.
"We are Family," Sister Sledge
Recently the Institute Health team made this video thanking our Healthy Parks Healthy People: Bay Area family. Now every time I see a family or rangers walk by me in a park, I can't help but think of this song.
"Four Seasons," Antonio Vivaldi
As the seasons change one into the next, Vivaldi's concertos evolve from spritely upbeat Spring to a calm sleepy warm Summer, through to the warm, rich notes of Autumn, and finishes with snow falling in Winter. It's perfect to listen to under the trees.
"(Sittin' On) The Dock of the Bay," Otis Redding
A San Francisco classic and playlist must. There's nothing like sitting down at Horseshoe Cove at Fort Baker enjoying the views of the City and watching Karl the Fog roll on in—while Otis Redding provides the soundtrack.
—Honoré Pedigo, Operations and Outreach Manager, Institute at the Golden Gate
---
"The Redtail Hawk (Golden Rollin' Hills of California)," Kate Wolf
"The Red-tailed Hawk writes songs across the sky…." How could I resist this? It's the unofficial theme song of the Golden Gate hawk migration. Kate was the folk song laureate for the north coast of California.
"Cast Your Fate to the Wind," Vince Guaraldi
A relaxing, soulful, letting-go tune that for me describes a long weekend afternoon walk in the Marin Headlands. Also, Guaraldi was a Mill Valley resident, so you know he was on these trails.
"Ain't No Sunshine," Tracy Chapman and Buddy Guy
My favorite version of Bill Withers' popular R&B song. "Aint no Sunshine" is the ultimate self-pitying, trapped-in-the-fog song. It's simple, urgent, repetitive, and yet, it resolves—moving from emotions to mere lovely sounds: "I know, I know, I know, I know, I know."
"Ode to a Butterfly," Chris Thile
Mandolinist Thile from Nickel Creek created this literal flight of fancy to accompany the unpredictable, this-way-and-that flight of butterflies. Butterflies are in constant year-round motion in all parts of the Golden Gate National Parks, migrating, mating, visiting flowers. We monitor mission blues and San Bruno elfins, but our daily park hikes are guided by buckeyes, fritillarias, California ringlets, painted ladies, red admirals, and pipevine swallowtails—each one even more colorful than its name suggests.
"Boots of Spanish Leather," Bob Dylan
As a hawk-watcher, I have to admit to also being a boat-watcher. The ebb and flow of watercraft through the Golden Gate is hypnotic. Where is that boat going? Will it return? How many lands will it touch? How many people? Travelling in boats is such an old story of commerce and emotion—is there a better capture of these elements than in Dylan's song of two voices?
—Allen Fish, Director, Golden Gate Raptor Observatory
---
"Untitled #3 (Samskeyti)," Sigur Rós
"Hoppípolla," Sigur Rós
"Olsen Olsen," Sigur Rós
"Festival," Sigur Rós
"Sæglópur," Sigur Rós
I was first introduced to Sigur Rós while working in the Spiti Valley, located high in the Himalayas. Then Sigur Rós provided my soundtrack while I trained for my first marathon in Mumbai. And their music has continued to inspire me, on the trails here in San Francisco.
I soon realized that I knew these few songs so well that each tune was clear in my mind, as if I had memorized them for an important exam. When I went out for a run on these trails, I stopped carrying my ipod with me. I wanted to be more in tune with nature, with these songs playing on the back of my mind.
As I explored the beauty in our parks, I invented new lyrics for these songs. With the freedom to interpret them in any way I want, I created new stories that have helped me build connections and become friends with whatever I see on the trails—the birds, bees, flowers, plants, people, and other random things. I found myself talking to the coyote bush, the Indian paintbrush, and the lizard tail. I could see the grasses dancing with joy sometimes, and sometimes in a thoughtful, introspective state.
—Yakuta Poonawalla, Community Programs Manager, Park Stewardship, Golden Gate National Parks Conservancy
August 31, 2014