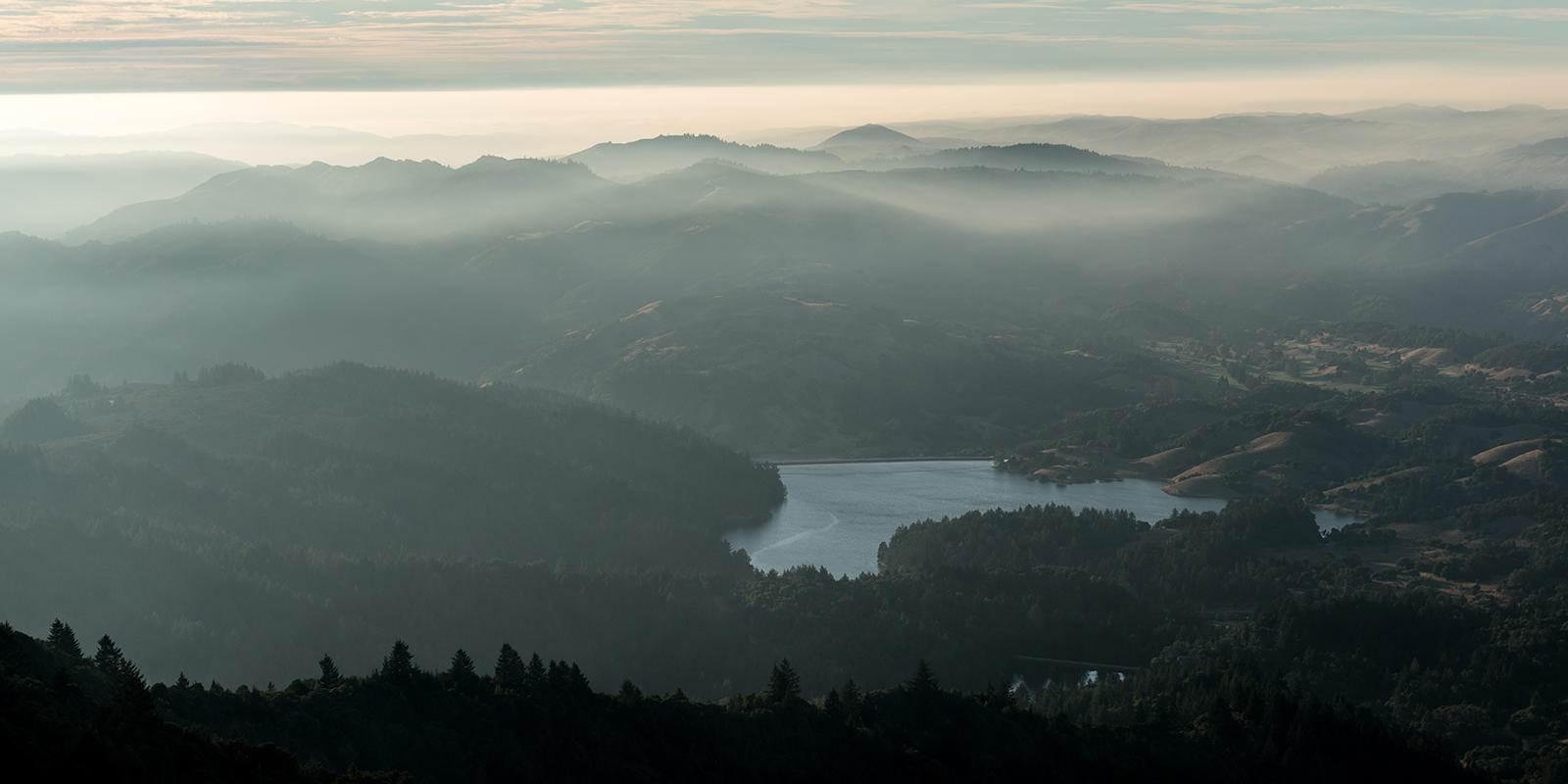 East Peak, Mount Tamalpais
Paul Myers/Parks Conservancy
"Tamalpais beckons with the mystery and delight that high places evoke…Just a mountain, but fixed in the imagination of a city."
—Tom Killion artist and co-author of Tamalpais Walking: Poetry, History, and Poems. 
This year Mount Tamalpais State Park will not celebrate Earth Day alone. On Saturday, April 26 the agencies and organizations of the newly formed Tamalpais Lands Collaborative (TLC) will embrace their partnership and lend a hand to the keepers of the mountain and the great mountain itself, which has inspired generations of artists and poets.
Two questions may be brewing in your mind: what sort of celebration will occur on Mount Tamalpais for Earth Day? And what exactly is the Tamalpais Lands Collaborative? 
Let's start with Mount Tamalpais Earth Day. Each year, the rangers of Mount Tamalpais State Park organize a volunteer workday that celebrates this magnificent mountain. They coordinate projects such as restoring native habitats, removing noxious plant species, rebuilding and repairing highly used trails, and cleaning up popular camping areas. Volunteers also hear from the rangers about the history, ecology, and current uses of Mount Tam.
New this year, project leaders from other entities of the Tamalpais Lands Collaborative will also be on-hand to answer questions and pitch in. This newly forged collaborative unites the four agencies responsible for the management of Mount Tamalpais and its expansive lands (National Park Service, California State Parks, Marin Municipal Water District, and Marin County Parks) with the nonprofit Golden Gate National Parks Conservancy to combine resources, talent, and know-how for the long-term benefit of the mountain.
In essence, the TLC aims to bring together previously disparate strands of conservation work and public stewardship. Coordinating and cooperating on these efforts will better foster a future for Mount Tamalpais that enhances, preserves, and restores its many treasures. For more information about the Tamalpais Lands Collaborative, visit www.parksconservancy.org/tlc. 
Don't miss out on the opportunity to meet the stewards of Mount Tamalpais, and to become a steward of the mountain yourself! Join the Parks Conservancy and the Tamalpais Lands Collaborative in celebrating Mount Tamalpais and Earth Day on Saturday, April 26.
Detailed information: 
Mount Tamalpais Earth Day
Saturday, April 26, 2014
9 am–12:30 pm
Lunch, gloves, and tools provided
Meet at the Pantoll Ranger Station
Please register for this event by e-mail at Tam.Events@parks.ca.gov
April 29, 2014