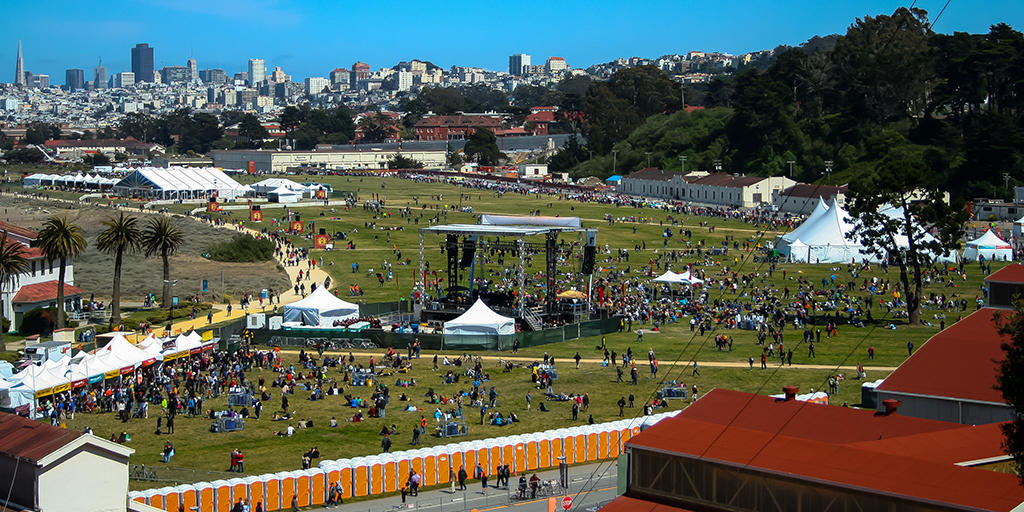 Golden Gate Bridge 75th Anniversary
Michael SIlverman/National Park Services
By Kim Skeltis
Golden Gate National Parks Volunteer
A few weeks ago, I was preparing my home for a very large party with a long guest list. Outfitted in grubby jeans and work gloves, I started the day outside, weeding pesky invasive plants that had crept onto my driveway. Next, I moved to the interior—washing windows, dusting sills, and sweeping floors. Some mopping for good measure. Wow—this place shined. The next day, it was time to set up chairs and tables. Move furniture around. Other finishing touches.
I was glad to have lots of help—a few hundred people to be exact.
What was the party? The Golden Gate Bridge 75th Anniversary. And yes—it felt like my party.
If you stopped by the weekend of the celebration, you couldn't help but run into people sporting "Team 75" shirts, pins, and hats. These were some of the 300 volunteers who came out in the wee hours and stayed through the waning daylight to help throw the biggest party the Bridge has seen in 25 years. I was one of those 300, and I never felt more proud.
Why?
I'm a recent transplant to San Francisco, so I don't have a history with the Bridge like those who grew up here. Nor do I have a family member who helped build the Bridge, like the amazing group of people who arrived Saturday morning at the History Tent for a special gathering. Nor am I one of the Golden Gate Bridge staff people who amazed visitors with stories about the Bridge and what it takes to maintain the spectacular landmark.
Nor am I an engineer like the volunteers from the American Society of Civil Engineers (ASCE) who answered technical questions throughout the weekend about the Bridge's engineering and architectural feats. Heck, I'm not even one of the many San Francisco City Guides who educated visitors about San Francisco's history.
But nevertheless, I felt as much ownership of that Bridge as everyone else around me that week. I wore my volunteer garb with pride as I greeted people at the information tent, gave directions on the grounds, and dropped off deliveries to sponsorship tents in the golf cart.
Maybe it's because the Bridge—and the Golden Gate National Parks—truly is all of ours. She is an icon for our city, our region, and our country. She brings out what is best in all of us. People who came out that weekend were happy—to be part of the festivities, to be able to say "I was there when" to their children years later, and to sport their version of International Orange. And she is something we can all rally around. No matter your politics, persuasion, or preferences—there is something unifying about a bridge.
Maybe that's why the theme for the anniversary was "Bridging Us All."
So when I weeded the bicycle lane of Lincoln Boulevard and washed the windows at Fort Point, I truly felt like I was getting ready to play host for a party. We all did—every one of us volunteers, working side by side. Bridged together for a moment in time.
Kim Skeltis is a public relations professional by trade, avid outdoor enthusiast by nature. A recent transplant to the Bay Area from the Midwest, she quickly fell in love with the Golden Gate National Parks as a place to feed her hiking habit, and she joined the Conservancy in October as a member and volunteer in the Park Stewardship Program. She especially loves planting natives—like the Dudleya farinosa "live-forever" succulent—with her Thursday San Francisco Park Stewardship team.
Photos & Video:

Team75 Photo Collage
Alison Taggart-Barone's GGB75 Gallery (Volunteer Festival Photographer)
Beth Lichter - Volunteer Festival Ambassador Video

Learn more about ongoing park volunteer opportunities here
Learn about becoming a Golden Gate Bridge Pavilion Volunteer here
 
July 4, 2012