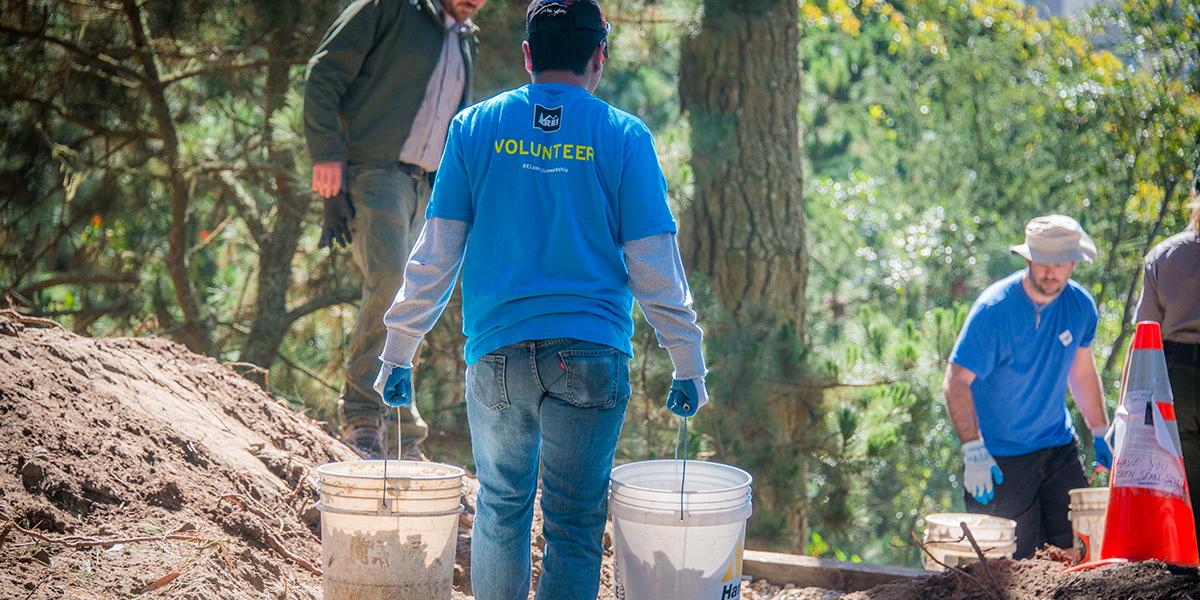 Volunteers at work
Mason Cummings/Parks Conservancy
We had a blast on National Trails Day, thanks to all of our amazing volunteers and generous sponsors—and beautiful weather and great service projects! We can't thank the volunteers enough for rallying, bringing such great energy, and working hard to give some TLC to our Golden Gate National Parks.
Making our day even more enjoyable, our friends at REI came out to the event and bestowed us with their fan favorite volunteer T-shirts and cool raffle prizes. And Peet's Coffee & Tea started our day of service off right with plenty of tasty coffee. We'd also like to give a shout-out to the American Hiking Society for making this nationwide event possible every year. It was a great day with great folks and great results!
More than 160 motivated volunteers worked alongside National Park Service, Presidio Trust, and Golden Gate National Parks Conservancy staff to weed and clear vegetation, plant, mulch, remove fence posts, and rehab and build trails. Collectively, the volunteers made a huge positive impact on the park:
Installed 500' of new trail tread by moving, spreading, and tamping 60 cubic yards of soil
Finished tread work on a new staircase
Decommissioned and rehabbed 200' of social trails
Planted 235 plants
Removed 20 fence posts and 152' of cable
Relocated 2 trail signs
Removed 115 bags of weeds and vegetation along trail corridors
Tended 30 Monterey cypress and pine trees
Built a drainage berm with 6 cubic yards of hand-excavated and shaped soil
Get a taste of the festivities and check out this fun selection of photos taken by our park staff.
The impressive work and efforts of the volunteers contributed nearly 500 hours of vital service to Dias Ridge, new trails at Fort Miley, Immigrant Point and Bay Area Ridge Trail in the Presidio, and Bootlegger Steps at Mori Point. Now these spectacular trails and park sites are ready for the busy summer season.
Make plans with your family and friends to head out to the parks soon—whether it be volunteering, exploring the trails, enjoying the breathtaking vistas, or all of the above. Email us at volunteer@parksconservancy.org or visit our website to keep updated on activities and opportunities and visit our volunteer pages to learn more about our programs and projects. We look forward to seeing you in the parks!
July 29, 2013