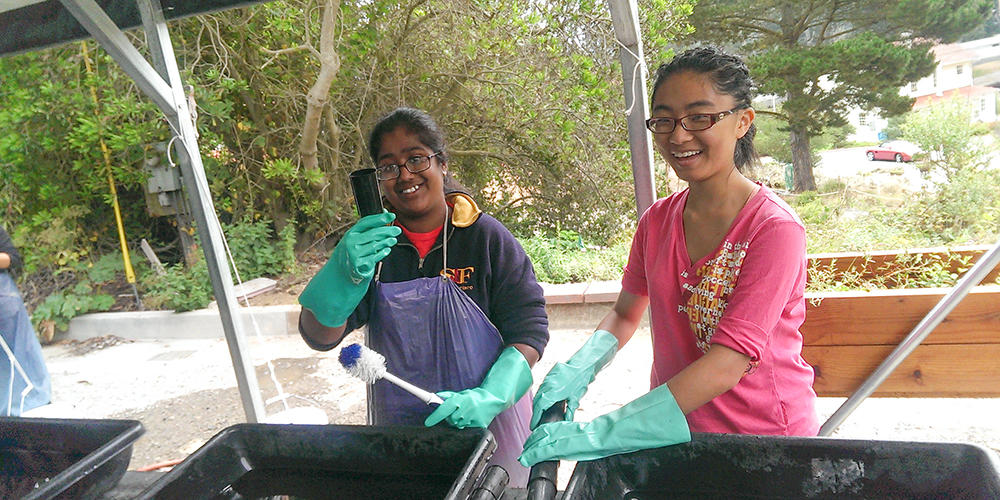 Presidio Native Plant Nursery volunteers
By Ely Huerta Ortiz
Community Programs Manager, Presidio Nursery
Every summer, as the fog rolls in, so do our wonderful youth who come to cheer our spirits and give us the most marvelous gift: their leadership in service. A variety of community groups come to the Presidio native plant nursery, from high school students seeking leadership skills to Boy Scouts leading Eagle Projects to Girl Scouts teaming up to earn their Silver Award.
These extraordinary youth leaders help the nursery with a variety of activities, including pot washing, transplanting, seed cleaning, pruning, and planting and weeding in our Habitat Demonstration Garden. Many of them also have helped us teach different experiential learning activities to their peers and to our visiting little ones (the "knee high naturalists!").
In addition to our regular nursery activities, a few of the youth leaders have also built trails, wooden potting benches, and window boxes; others created artful stepping stones to bring beauty and color to our garden.
Our amazing youth have greatly enriched our Presidio Nursery community. I am humbled by their passion and commitment to our environment, and by their energetic spirit and the wonderful cheer they bring with them. I feel truly honored to work alongside these amazing stewards of our natural world!
If you'd like to join them, come to our drop-in volunteer hours: Wednesdays and Saturdays, 1–4 pm. For more information, visit /get-involved/volunteer/drop-in-programs/presidio-nursery.html.
Ely Huerta Ortiz is the Community Programs Manager for the Native Plant Nurseries, and is in charge of providing vibrant and interactive volunteer and education programs year round. She started working at the Presidio Nursery in January 2009, and has found her dream job! She enjoys all aspects of science education and finally found a place where she can merge her passion for teaching and her love for plants. Ely loves the outdoors; she spends most of her weekends hiking, sketching wildflowers, and backpacking in our beautiful National and State Parks. She also enjoys watching sunsets and falling asleep under the stars!
June 29, 2013