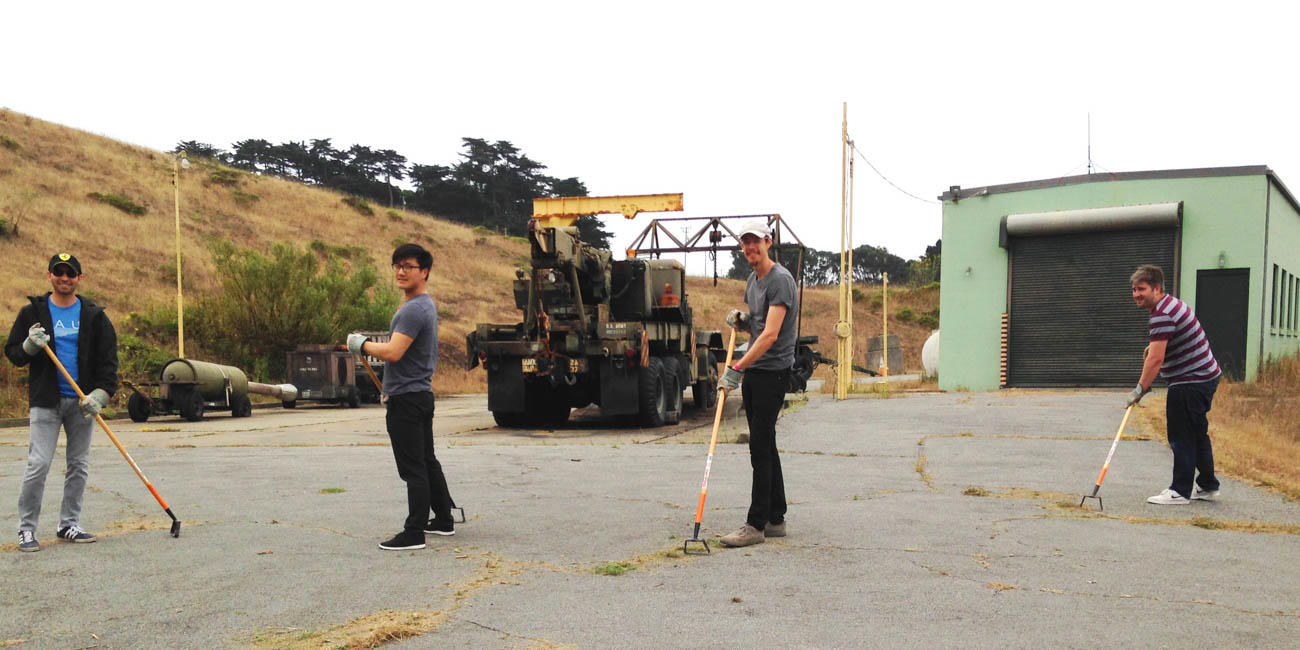 Nike Missle Site Volunteers
Maria Durana/Parks Conservancy
COVID-19 Response: Latest on Volunteer Programs
The Parks Conservancy, along with our partners at the National Park Service and Presidio Trust, have been significantly impacted by the global health pandemic. Resumption of park volunteer programs will be delayed as we adjust staffing to ensure a positive volunteer experience. Up-to-date volunteer opportunities will be reflected on the calendar of events for individuals and families and our list of available projects for groups of 5 or more.
When: 4th Fridays, 9:30 am–12:30 pm
Where: Nike Missile Site
Nike Missile Site Preservation: Join us in helping to preserve the historic Nike Missile Site! We are located in the beautiful Marin Headlands with spectacular views overlooking Rodeo Beach and historic Fort Cronkhite. In an effort to restore this site back to its peak operational condition of 1964, many hands are needed for vegetation removal, painting historic features, and general upkeep of the site. As an added bonus, you get the chance to join behind-the scenes tours!
Groups
Groups of five or more may require special arrangements and must be confirmed in advance. Fill out the Group Project Request Form.
Age, Skills, What to Bring:
Volunteers ages 10 and up are welcome. Read our Youth Policy Guidelines (PDF) for youth under the age of 15.
Bring your completed Volunteer Agreement Form (PDF). Volunteers under the age of 18 must have the parent/guardian approval section signed.
We'll be working rain or shine. Wear clothes that can get dirty. Long pants and closed-toe shoes are required. Bring layers for changing weather and rain gear if necessary.
Bring a personal water bottle and sunscreen.
No experience necessary. Training and tools will be provided. Fulfills community service requirements.
---
The Golden Gate National Parks Volunteer Program is a cooperative parkwide effort of the Golden Gate National Parks Conservancy, the National Park Service, and the Presidio Trust.