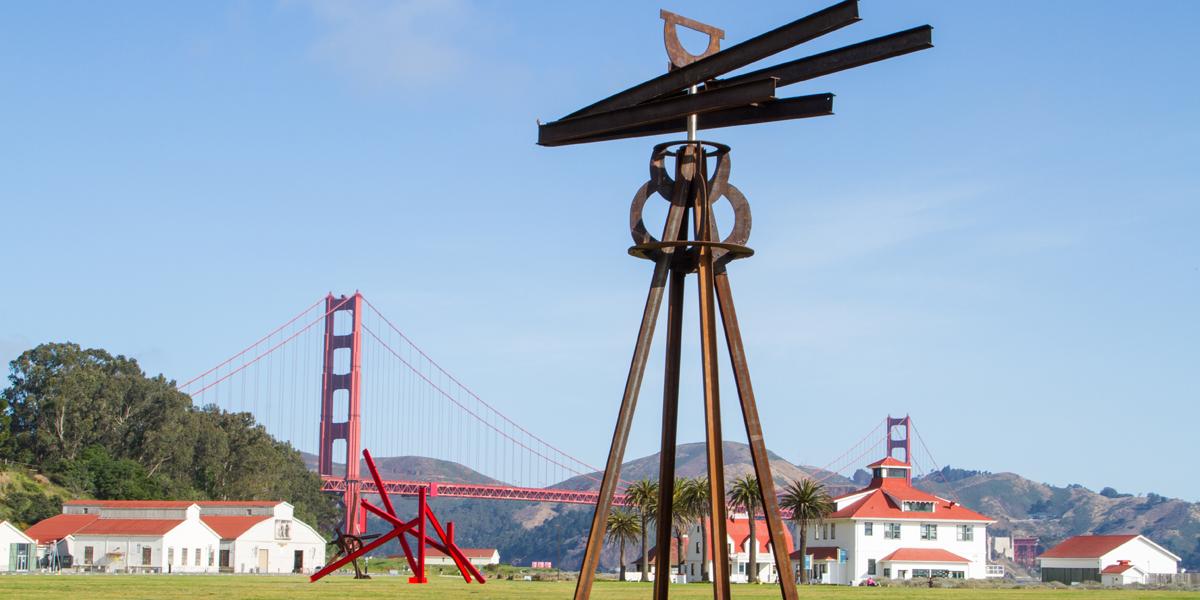 Mark di Suvero at Crissy Field surveys five decades of the artist's work
Kirke Wrench/National Park Service
May 22 2013-May 26, 2014 | Crissy Field | sculpture
Eight large sculptures were displayed across Crissy Field from May 2013 to May 2014, with the Golden Gate Bridge serving as a source of inspiration and a narrative backdrop. At the age of seven, artist Mark di Suvero immigrated from China to the United States, the massive orange arches curving overhead, marking his entry to San Francisco. Said the artist of that day: "It was like a rainbow, a bridge coming to the New World starting a new life."
Each sculpture, up to 50 feet high and 40 feet wide, is from a distinct time during the first five decades of di Suvero's career. Although these steel structures were created separately, they were brought together on the cusp of di Suvero's 80th birthday to emphasize what they have in common. They provide snapshots of the jumbled memories and emotions the Bridge inspired in the young boy who would one day become one of the most influential artists of our time.
For more information about the artist, please visit his website: www.spacetimecc.com.
Mark di Suvero at Crissy Field was presented by the San Francisco Museum of Modern Art (SFMOMA) in partnership with the National Park Service and the Golden Gate National Parks Conservancy.