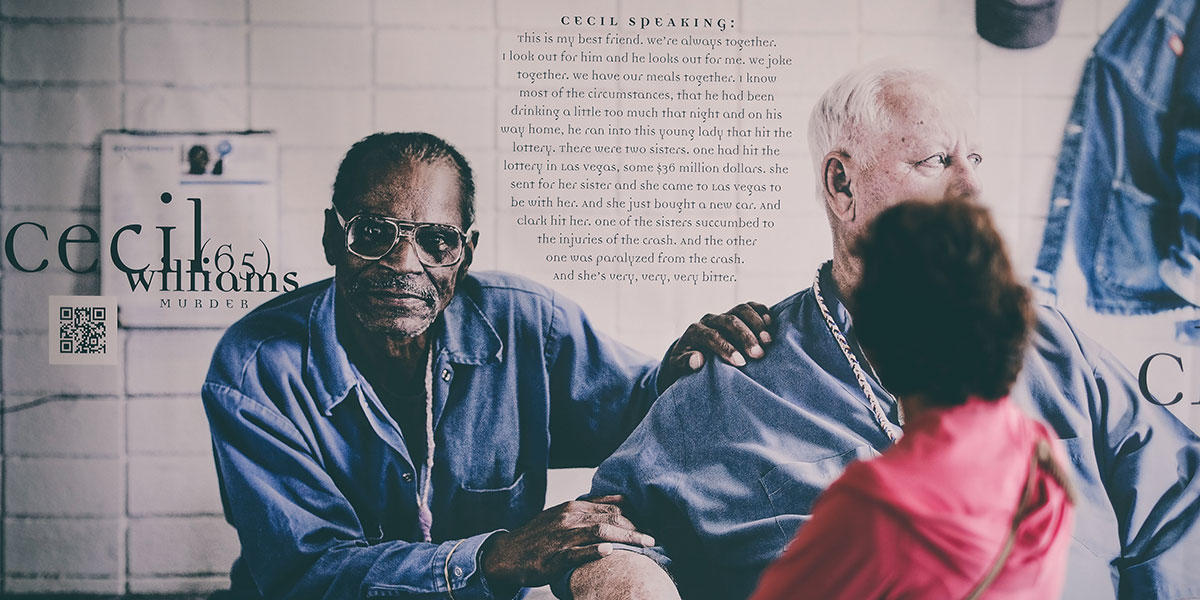 Prisoners of Age exhibit on Alcatraz
Specializing in documentary photography spanning decades, Ron Levine's work is internationally known for spurring introspection as well as inspection of relevant social issues.      
Featured in cities and prison museums across North America, Europe, and Australia, Prisoners of Age found a temporary home at Alcatraz in the New Industries Building from June 2015 - June 2016. A product of over 18 years of work, Prisoners of Age seeks to connect faces and stories of aging inmates with numbers and statistics. With around 8% of the prison population 55 or older growing, the exhibit shows dozens of intimate, larger than life portraits of aging inmates complete with their prison sentence, age, and personal statement. In one portrait of an inmate, Billy Owen, says, "If they can tell their story, if they can show their picture to a young man, and make them understand that this is what happens to you after 20 or 30 or 40 years of crime, I think they'd like to make that point." Ultimately, Prisoners of Age sheds light on the complexity of providing geriatric care among its rapidly growing elderly population, and the real lives that are affected by imprisonment. Thoughtfully orchestrated, the exhibit provokes discussion among all ages about crime, prison, aging, and empathy.
To connect with more information, visit hrw.org and prisonersofage.com, as well as communityworkswest.org to learn more about The Sentence Unseen, a project on youth of imprisoned parents on display in the Dining Hall on Alcatraz Island. 
Prisoners of Age was presented through the partnership of The National Park Service, The Headlands Center of the Arts, and The Golden Gate National Parks Conservancy.